East Boston resident saw the horrors of war upfront in 1950 in many theaters
by Frank Conte
Dominic Grieco was ready to leave the Navy after serving a short term that began in 1947. But then he was told he was about to serve in the Korean War. "Mr. Grieco you gotta spend another year," he recalls. "The next thing I knew, we were on our way to Korea."
To this day, the 93-year-old veteran remembers vividly the attack on Inchon. He drove the "amphibious assault vehicle (AAV) or "landing craft" carrying U.S. Marines.
"I can remember the waiting; it was nerve wracking. All of a sudden, over the PA system, came this loud voice. 'Away all boats.' I was shaking like a leaf.
"The troops climbed down the rope ladders into the landing crafts. We pulled out and circled like we were told to. Then from the speakers we heard *this *is no drill. The invasion of Inchon was on.
"I was in the first wave and had about 20 troops in my landing craft, as we headed to the beach.
"Most of the kids and myself were making the sign of the cross and saying prayers. Our ships' guns were really doing a job on the shore line. As we hit the beach, I opened the door on the landing craft. The troops dashed out yelling 'Get the son of bitches.' Some made it out and some did not."
"I was lucky. These kids I fought with were the bravest kids. I hope some are still alive, like myself."
But today more than 73 years after the beginning of the war, Korean War veterans are passing on. Grieco is one of the few remaining veterans of the war which was bracketed in history between World War II and the Vietnam War.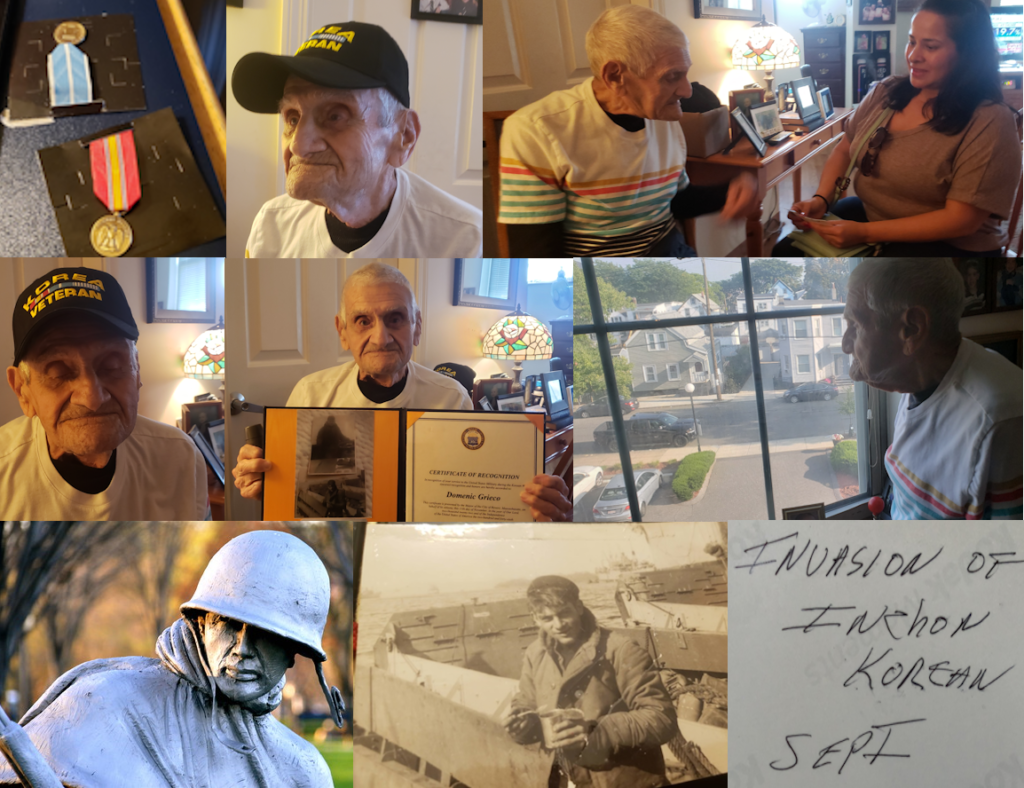 At this late stage in life, Grieco is determined to remind people of the Korean War veterans who often are overlooked over the veterans of other conflicts.
"Yeah, I hope America never forgets. And they did forget," says Grieco wistfully. "Tell me, I want to know if you hear anything about the Korean War? Yeah man. They going to remember the Korean War?"
A total of 40,000 lives were lost serving in the US Military and in the UN Forces. Over 7,400 are still unaccounted for. And many veterans, like Grieco, have yet to receive all their well-deserved medals.
"It saddens me that there is so little public interest nor acknowledgement of those who fought in the Korean War," says Loretta McGovern, Greico's neighbor at the Cheverus School Apartments. "As they are now well into their golden years, Dominic is 93, they feel the slight deeply and painfully. We should honor their sacrifices by listening to the stories that men like Dominic have to tell."
In his studio apartment at the senior living apartments on Moore Street, Grieco lives modestly. He has lived his entire life in East Boston. A short man full of energy, Grieco speaks with an "electrolarynx" the result of having his larynx removed from ill effects of smoking. His current residence is not far from where he grew up: on Leyden Street up in Orient Heights. As a child, Grieco attended the Curtis Guild School. After the war, Greico worked in the Boston Naval Shipyard as a machinist until "Nixon closed it down in 1973."
The son of Italian immigrants who emigrated from Sicily at the age of 16, Grieco was a product of the hard scrabble neighborhood of tough guys, tight families, and big dreams. Grieco's was to serve his country at the age of 18. "I left the second year of high school, and I wanted to go in the Navy because a bunch of my friends were going in; we felt that we could do whatever we could do to help," he remembers. "I'm glad I did."
Grieco remembers how James Michael Curley helped his mother get a loan. And he remembers his good friend the well-known street-savvy police officer Bobby Fawcett. And he remembers hanging out at the Willis Caffe near the Seville Theater on Meridian Street.
On the walls of his apartment are family pictures and pictures from his military service as well as some certificates of recognition for his service. He is eager to proudly show some of the medals he finally received. And more are on the way. For Grieco the medals are important heirlooms for his three grandchildren who live in Maine. He wants them to remember what it means to serve and protect the American way of life.
"Like I say, it's for my grandkids. I don't care about myself," says Grieco, "I want to let them know what it was all about. And I hope they never have to go through what I did."
Grieco has had some help in getting the medals.
"What happened in Korea, and you probably know this, is that a lot of the guys were sent home and were told: 'We'll mail you your medals'," explains Julia Cervantes, USO Veteran Service Officer for the City of Revere. Cervantes, herself a Navy veteran, has been helping Grieco get a fourth medal that he so valiantly earned. "We got to run through some hoops to get them, but we will," she adds in one her many visits to Grieco's apartment.
Cervantes has been part of an effort to gather the remaining Korean War veterans in the area mostly because memories fade. "Meeting Dominic and bringing all the Korean war veterans together was incredible, because I got to kind of relive a little bit of genuine history through their eyes."
"If I asked the younger generation right now about the Korean War," remarks Cervantes, "They'd say, I never heard of it!
It wasn't just the attack on Inchon that left an indelible mark on Grieco the young man. He also participated in the Hungnam evacuation, also known as the "Miracle of Christmas." It is one of those stories that Cervantes and those helping Korean War veterans say should be remembered.
In a note that he shares, Grieco recalls the turbulence of the day at Hungnam. "The Chinese pushed us to the sea. We had to evacuate troops – men, material. My landing craft alone took many bodies and wounded back to the hospital ship. I must have made 12 trips after many hours of being tired and cold we had to get out of there. The Chinese were only one-half mile away. The beach was being blown up so the enemy could not use anything. I got in the craft and headed back to the ship."
He also participated in the battles at Wonson and Sonjim. Over two nights, secret landings were conducted that delivered over 200 troops in the freezing cold. "It was 25 below zero," he remembers," And all we had to wear were Navy issue peacoats." The appropriate winter gear wouldn't arrive until much later in the war
"Boy was I happy to get back to the ship. I knew I was going to go home. But I also knew many weren't."
Grieco doesn't have many colleagues left. A fellow 95-year-old Korean vet named Ernie from Medford calls him every other day.
Still, Grieco says he tries to get out and stay in touch with the neighborhood. Like many East Boston residents, he's worried about over-development in the neighborhood. Referring to a proposal to turn Suffolk Downs into a mini-city he remarks. "Right now I can go to Dunkin' Donuts; it takes me a minute. How long is it going to take when they do 11,000 units? It's crazy. When is it going to stop? It's going to backfire."
One afternoon he receives a package from Texas from an unknown sender. It's a baseball cap with the words "Korea" and "Veteran". He put it on for a photograph wearing it proudly.
"He has fascinating first-hand accounts of his experiences," says McGovern. "This is living history. These stories provide an education for all of us. And a reminder of the toll war takes on those warriors who protect us."
"All I want is for my country to love me," offers Grieco.
If more would listen to his stories and his modest request, the love would be boundless.
Frank Conte is editor and publisher of EastBoston.com, established in 1995. He can be reached at editor@eastboston.com.
Originally posted September 23, 2023