The GlobeDocs Film Festival has selected the documentary short film "The Beautiful Worlds of David Riley" to be part of the line-up of their 2022 film festival. The film will be shown Sunday, October 16 at 11:00 AM at the Brattle Theater in Cambridge as part of the GlobeDoc's "Local Shorts: Sharing Our World" program.
Following the screening, there will be a question and answer session with the director. "The Beautiful Worlds of David Riley" recently screened as part of the 2022 Newburyport Documentary Film Festival where it received a Special Jury Award.
The 15 minute short film is a collaboration between East Boston artist David Riley and Waltham documentary filmmaker Cathleen O'Connell. Riley is a self-taught artist who was exposed to high levels of lead as a child. He began painting in his 40s, drawing inspiration for his colorful canvases from the streets of Boston as well as pop culture, movies and television. O'Connell is an independent documentary producer whose work has been broadcast on PBS, Discovery and the History Channel.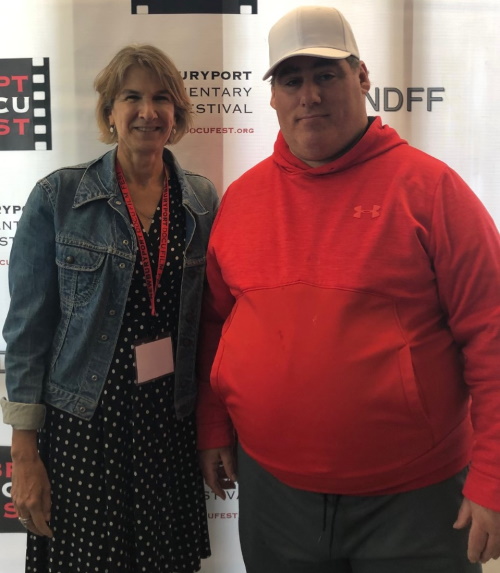 O'Connell first met Riley at open studio event in East Boston in 2018. "When I first saw David's work, I was blown away," recounts O'Connell. "And when I met him in person, I immediately saw that he was a very charismatic person and a great storyteller, so I knew there potential for a film project." Shortly after meeting, the pair sat down for several interviews about David's life and work. When Covid interrupted their plans for additional filming, O'Connell crafted the footage they had into a short film during the shutdown.
The film also features an interview with David's mother and long-time East Boston resident Fran Riley who traces her son's journey as an artist. Fran hopes the film will lead to greater awareness about the long term impact of lead poisoning on both individuals and families. "Maybe as an older parent I can share something with a younger parent and give them hope and inspiration," said Riley.
According to director O'Connell, "'The Beautiful Worlds of David Riley' is not only the story of a unique and talented artist, but it's also a love letter to Boston." The documentary references local landmarks including Cheers, Revere Beach and Route 1's Hilltop Steakhouse cactus sign. O'Connell also found archival footage of Boston TV personality Captain Bob, whose "how to" art show was one of David's early inspirations. She filmed on the MBTA and at BLICK art supply on Massachusetts Avenue, and to show the breadth of David's work, O'Connell assembled dozens of his paintings and had them professionally photographed for the film. "We borrowed paintings from everywhere, including from Massachusetts State Representative Adrian Madaro, loaned us two of David's paintings from his State House office," said O'Connell.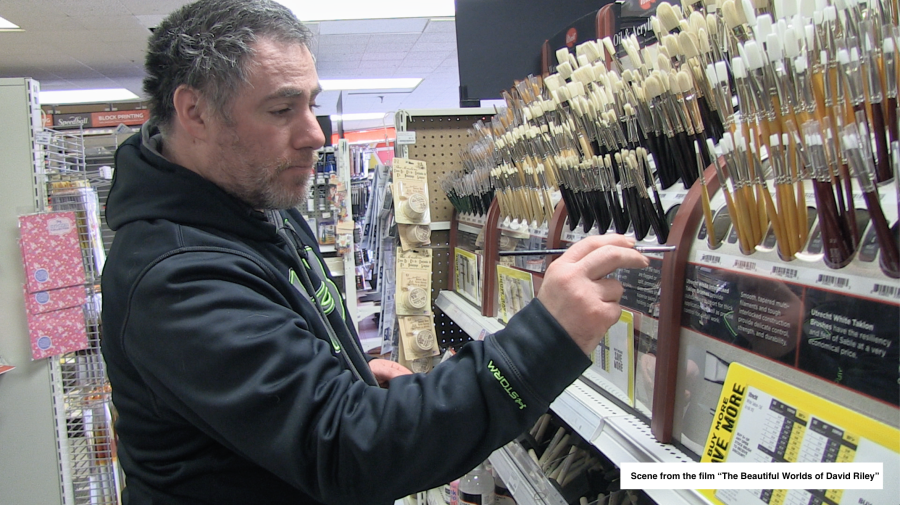 In addition to the short film, Riley and O'Connell have collaborated on a virtual gallery of his work at www.davidrileyartist.com. "I'm honored to work with David to help bring his art to a wider audience," says O'Connell. "How David sees the world has inspired me to see the world differently, and we both want to share that vision and positivity with others."
The GlobeDocs Film Festival is a five-day documentary film festival designed to engage, promote, and celebrate film and production talent. The festival, which takes place in select theaters across Boston, is specifically curated to include lively, hosted post-film conversations with Boston Globe journalists to turn screenings into an opportunity for the community to come together and have an open dialogue.
For more information about David Riley, visit www.davidrileyartist.com
Originally posted on October 5, 2022
Updated April 10, 2023