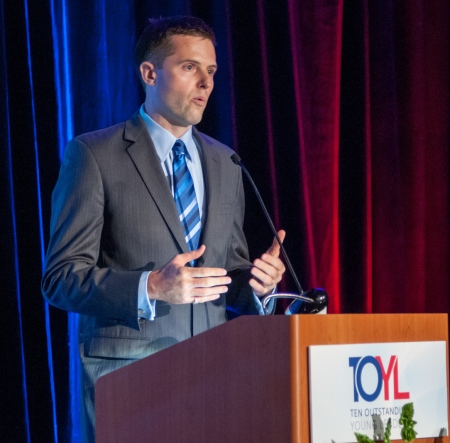 Justin Pasquariello addresses attendees at the Boston Chamber of Commerce's 2015 Ten Outstanding Young Leaders Awards at the Westin Waterfront Hotel October 29, 2015
(BOSTON – October 30, 2015) Justin Pasquariello, executive director of Children's HealthWatch, was honored last night as one of the Boston Chamber of Commerce's 2015 Ten Outstanding Young Leaders (TOYL) at the Westin Waterfront Hotel. Pasquariello and the other young leaders were nominated by members of the community and selected by a committee of Chamber members for their talent and various contributions to the region. Children's HealthWatch, founded at Boston Medical Center, is a nonpartisan network of pediatricians, public health researchers, and children's health and policy experts committed to improving children's health in America.

Pasquariello also is the founding executive director of Silver Lining Mentoring and currently serves on the organization's board. In addition, he serves on the advisory board of the Taubman Center for State and Local Government at the Harvard Kennedy School, and previously worked as a nonprofit consultant with the Bridgespan Group.
Past recipients of the Chamber's TOYL Award include President John F. Kennedy, conductor Leonard Bernstein, business leader Jack Connors, Jr., and community advocate Carol Fulp.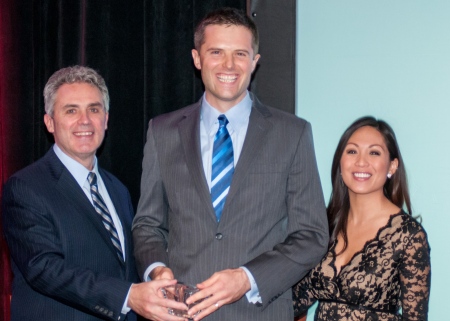 From left to right: James E. Rooney, president & CEO of the Greater Boston Chamber of Commerce, Justin Pasquariello, and Antoinette Antonio, anchor, WCVB-TV and the Emcee of the awards ceremony.