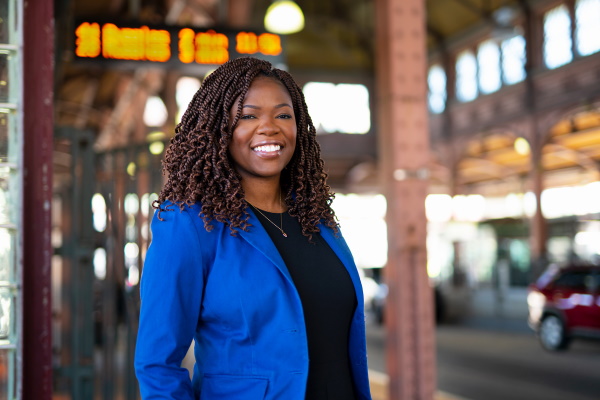 [Editor's note, At-large city council candidate Ruthzee Louijeune recently visited East Boston attending last week's Salesian Boys and Girls Club auction.]
(BOSTON, MA, June 11th) – On Friday, Ruthzee Louijeune, candidate for Boston City Council At-Large, announced that she had received the endorsements of the Massachusetts Nurses Association (MNA) and Boston Teacher Union (BTU).
The MNA has been a powerful and effective voice on nursing and health care in the Commonwealth, since its founding in 1903. The MNA is the largest union and professional association of registered nurses and health professionals in the state, and the third largest in the nation, representing more than 23,000 members working in 85 health care facilities.
Katie Murphy, RN, President of MNA said in a statement, "MNA Nurses and healthcare professionals are proud to endorse Ruthzee Louijeune for Boston City Council At-Large. Ruthzee has demonstrated through her tireless efforts as an attorney and advocate that she will stand up for working class families like her own, many of whom are nurses and nursing assistants. She understands the need to achieve equitable access to healthcare and provide supportive and sustainable working conditions for those caring for our communities at the bedside. Ruthzee will be an advocate who ensures access to affordable, quality care for all Boston residents on the Boston City Council and the MNA looks forward to working with her on these priorities"
The Boston Teachers Union represents more than 10,000 teachers and other professionals including school nurses, psychologists, guidance counselors, paraprofessionals, and substitute teachers. The union serves to advocate for the interests of students, parents and education professionals throughout the Boston Public Schools.
"Ruthzee Louijeune is a BPS graduate who served both as the top lawyer in Sen. Elizabeth Warren's presidential campaign and as an attorney fighting for tenants against evictions here in Boston. She will be the first ever Haitian-American City Councilor in Boston, helping to amplify the voices for one of Boston's (and BPS') most underrepresented communities. Her track record, her campaign messages, and conversations with our educators have thoroughly convinced us that she will be a committed and effective advocate.," Jessica Tang, President of BTU said in a statement.
Louijeune brings seven years' experience working on political and advocacy campaigns, fighting for working people and Black and Latinx communities on issues of housing, education access, and voting rights. Most recently, Louijeune started her own legal and advocacy business, The Opening PLLC. Previously, Louijeune served as Senior Counsel for U.S. Senator Elizabeth Warren's presidential campaign. Prior to that, she was a lawyer at Perkins Coie LLP.
The daughter of Haitian immigrants, fluent in Haitian Creole, French, and conversant in Spanish, Louijeune would be the first Haitian-American to hold elected office in Boston city government. You can find more information about her campaign at: www.ruthzeeforboston.com.