New England premiere of short film about East Boston artist set for September 17
The Newburyport Documentary Film Festival (NDFF) has selected the short film "The Beautiful Worlds of David Riley" for their 2022 film festival. The film will be shown Saturday, September 17 at 11:30 AM at The Screening Room theater on State Street in downtown Newburyport as part of the festival's "Off
The Beaten Path" shorts program. Following the screening, there will be a question-and-answer session with the director. For those who are unable to attend the screening in person, the film will stream as part of the NDFF's virtual film festival the following week. Tickets are available on-line at the Newburyport Documentary Film Festival's website: https://www.nbptdocufest.org/
The fifteen-minute short film is a collaboration between East Boston artist David Riley and Waltham documentary filmmaker Cathleen O'Connell. O'Connell first became aware of Riley's art when she admired one of David's paintings at a friend's home in Chelsea. That led to an introduction to the artist at an Open Studio at the Atlantic Works Gallery in East Boston in 2018.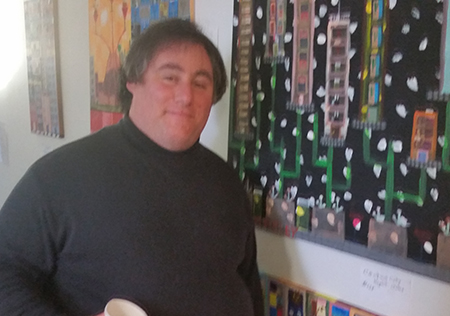 "When I first saw David's art, I was blown away," recounts O'Connell. "And when I met him in person, I immediately saw that he was a not only a very charismatic person but also a great storyteller, so I knew there potential for a film project." Riley agreed and the pair sat down for several interviews about David's life and work. When Covid interrupted their plans for additional filming, O'Connell took what they had already shot and crafted it into a short film during the shutdown.
The film also features an interview with David's mother and long-time East Boston resident Fran Riley, who traces her son's journey as an artist and describes some of the health issues David has faced after being exposed to high levels of lead as child. Fran hopes the film will lead to greater awareness around lead poisoning and its long-term health impacts. "Maybe as an older parent I can share something with a younger parent and give them hope and inspiration," said Riley.
And according to director O'Connell, "The film is not only the story of a unique and talented artist, but it's also a love letter to Boston." The documentary is filled with references to local landmarks like Cheers, Revere Beach and the famous Hilltop Steakhouse cactus sign. O'Connell also found archival footage of Boston TV personality Captain Bob, whose "how to" art show was one of David's early inspirations.
She filmed on the MBTA and at BLICK art supply on Massachusetts Avenue, and to show the breadth of David's work, O'Connell assembled dozens of David's paintings and had them professionally photographed for the film. "We borrowed paintings from everywhere, including from Massachusetts State Representative Adrian Madaro, who has two of David's paintings in his office; I'm very grateful to Representative Madaro and his staff loaning them to us for the film," said O'Connell.
In addition to the short film, Riley and O'Connell have also collaborated on a website that showcases his work at www.davidrileyartist.com. "I'm honored to work with David to help bring his art to a wider audience," says O'Connell. "How David sees the world has inspired me to see the world differently, and we both want to share that vision and positivity with others."
For tickets to the Newburyport Documentary Film Festival visit https://www.nbptdocufest.org/
For more information about David Riley, visit www.davidrileyartist.com
Trailer for "The Beautiful Worlds of David Riley" from Cathleen OConnell/DPP on Vimeo.
Originally published August 30, 2022