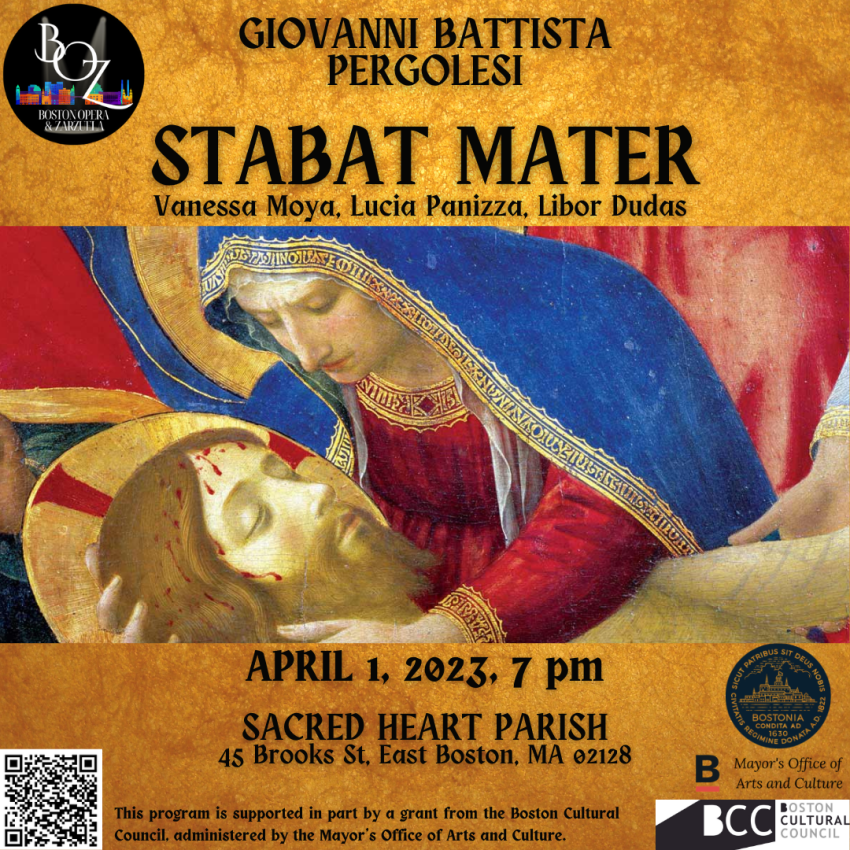 This family friendly concert consists of Pergolesi's Stabat Mater, an Early Music masterpiece divided it into twelve movements, including solos and duets sang by a soprano and an alto, accompanied by piano.
Featuring international artists: Libor Dudas, Vanessa Moya, and Lucia Panizza.
The ticket cost for this event is $10 for Seniors and Students, and $20 for General Admission.
This program is supported in part by a grant from the Boston Cultural Council, administered by the Mayor's Office of Arts and Culture.
Boston Opera & Zarzuela, a non-profit organization for the Performing Arts, strives to enrich the cultural landscape within its community through performance, research, and education of the vast lyric repertoire, including Opera, Zarzuela, and Oratorio.
The organization inspires audiences of all ages through performances while educating the audience in the history and background of Performing Arts, thus contributing to the preservation and development of its founders' musical heritage.
It is also an important part of Boston Opera & Zarzuela's mission to provide singers of all ages and diverse backgrounds with the opportunity of developing and growing their artistic skills. From the young to the seasoned artist, everyone has an opportunity to audition and volunteer at Boston Opera & Zarzuela.