Atlantic Works Gallery is celebrating its 20th anniversary with an exhibition showcasing member artists throughout its twenty-year history. From its founding members to new members, our gallery represents artists from diverse backgrounds of art and culture.
The Atlantic Works Building on Border Street was built in 1893 and was used to build and repair naval ships. In the 1990s the building was gradually taken over by artists looking for affordable studio space. In 2003 the occupants of the building rented a top floor studio as a space for art and ideas, naming it Atlantic Works Gallery. This evolved into a cooperative gallery with member artists doing all the work of running a gallery, with new exhibitions each month.
In 2006 the building was purchased by the East Boston Community Development Corporation who gutted and rebuilt the old leaky, but colorful building providing the Atlantic Works Gallery with a larger and improved space. The EBCDC has now, in our twentieth year, built a sparkling new space for Atlantic Works Gallery on the ground floor. This old marine building is located on the edge of the Boston Harbor and has dramatic views of the Boston skyline.
The arts community is an integral part of the East Boston community as a whole and Atlantic Works Gallery: 20 Years on the Edge is a celebration of that relationship.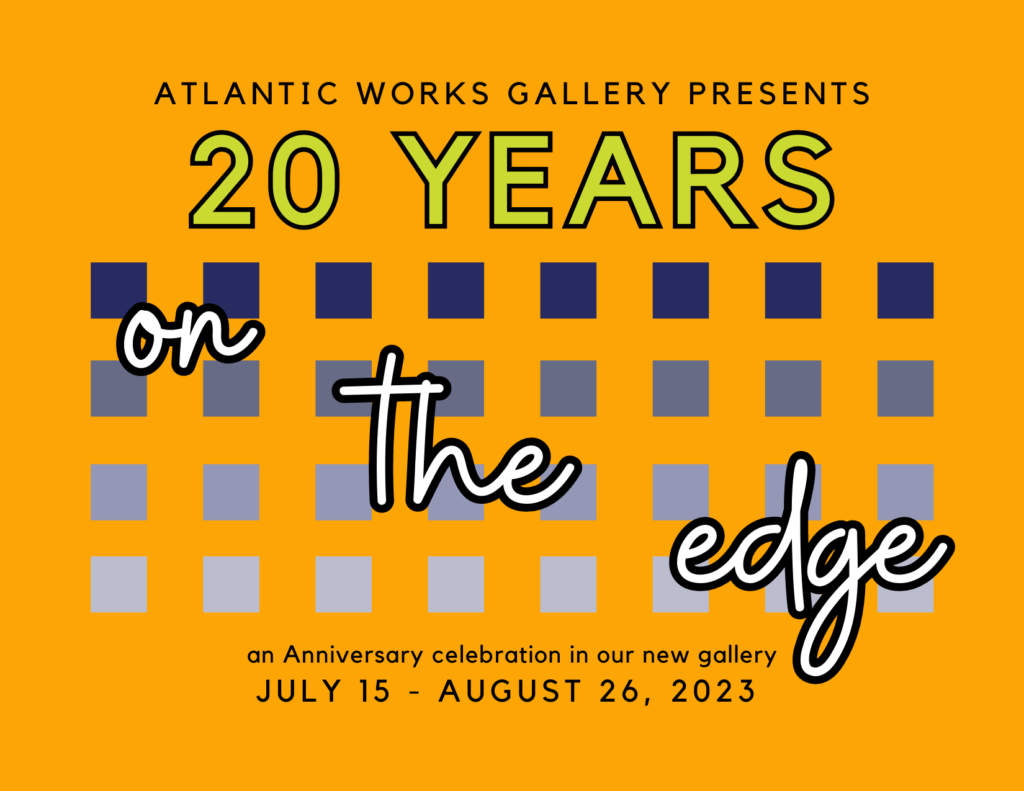 Atlantic Works Gallery: 20 Years on the Edge will also celebrate AWG's new ground floor gallery space in the Atlantic Works building at 80 Border Street. We would like to thank the EBCDC for creating this new space for our artists to continue to share their work with the community.
Show dates: July 15th – August 26th 2023 Opening reception: Thursday, July 20th 6:00 – 9:00pm Closing reception: Thursday, August 17th 6:00 – 9:00pm
Gallery hours Friday & Saturdays 2:00 – 6:00pm or by appointment ATLANTICWORKS.ORG I CONTACT@ATLANTICWORKS.ORG I 857-302-8363