Promoting from within, East Boston Neighborhood Health Center expands the roles of current executive leadership team members.
BOSTON, MA (November 1, 2023) – East Boston Neighborhood Health Center (EBNHC) today announced the promotion of two current executive leadership team members to expanded roles within the organization. Ernani J. DeAraujo, Esq., former Vice President and Chief Legal Officer, will assume the role of EBNHC's Chief Administrative Officer, and Amanda McGee, former Vice President and Deputy General Counsel will take the helm as EBNHC's General Counsel.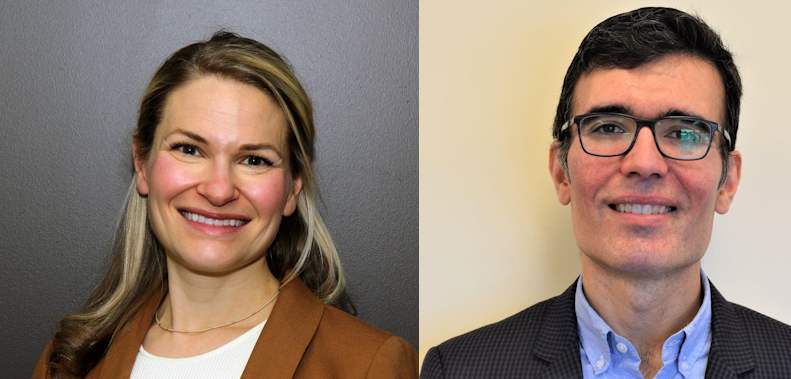 "The healthcare needs of our community are complex and require sophisticated leadership able to drive our health equity agenda," said EBNHC president and CEO Greg Wilmot. "Both Ernani DeAraujo and Amanda McGee have demonstrated their ability to skillfully guide our organization as we actively work to reduce health disparities among those we serve. With their expanded roles, they will be well positioned to advance our mission and shape the continued success of our organization."
In his new role as Chief Administrative Officer, DeAraujo will oversee EBNHC's government affairs and regulatory work at the federal, state, and local levels. In collaboration with the organization's Chief Operations Officer and Chief Medical Officer, DeAraujo will shepherd operational projects and expand the organization's presence in other business areas. He will also assist in developing existing and new external partnerships.
"As a lifelong resident of East Boston and patient of EBNHC, I've been fortunate to grow my career over the past 10 years at an organization that directly impacts my community," said DeAraujo. "I am excited to pass the baton to my trusted colleague and successor, Amanda McGee, who will serve our organization well as General Counsel. In my new role, I look forward to helping our organization and patients through an operational lens and to deepen my work on advocacy and government affairs while continuing to serve my community."
As General Counsel, McGee will focus on providing broader legal and strategic advice on the overall activities of the health center, as well as providing counsel and training to staff around legal and compliance matters.
"It is an honor to be recognized by my colleagues and peers as I take on a larger role within EBNHC," said McGee. "I will continue to carry out the vision of my predecessor, Ernani DeAraujo, in creating a department of engaged creative legal minds, energized by the community-driven and multi-layered nature of our work. As one of a handful of women General Counsels in the Commonwealth, I appreciate this unique opportunity to encourage other women lawyers to follow their passion and pursue leadership at the highest levels of an organization."
One of few Latino general counsels in the state, DeAraujo previously served as the East Boston Liaison for the late Boston Mayor Tom Menino; as an attorney at Foley Hoag LLP; and as an investment banker at JPMorgan Chase. DeAraujo is a Colombian-Brazilian American and lifelong East Boston resident and continues to stay engaged in the community organizations and committees including the John William Ward Fellowship and the Boston Latin School Association. He graduated from Harvard College and the Washington and Lee School of Law.
McGee's practice spans all aspects of legal and corporate compliance for the health center, including regulatory compliance, litigation, and general corporate matters such as contract management, mergers and acquisitions, employment and labor issues, immigration, real estate, and tax matters. Previously, McGee was a senior litigation associate at the international law firm Morgan Lewis & Bockius. She graduated from Amherst College with a Bachelor of Arts in History and earned her J.D. at the University of Virginia School of Law.
EBNHC is dedicated to diversifying its workforce, including their leadership team which is now 50% women, 40% who identify as racial and ethnic minority, and about 30% who are active clinicians. The health center has been recognized by The Boston Globe as a Top Place to Work eight times since 2014.
About East Boston Neighborhood Health Center
East Boston Neighborhood Health Center (EBNHC) is one of the nation's largest Federally Qualified Health Centers (FQHCs) and the largest community-based primary care health system in Massachusetts, serving over 100,000 patients and recognized by the Health Resources and Services Administration (HRSA) as a Health Center Quality Leader. For more than 50 years, EBNHC has offered access to comprehensive care for the underserved populations of Chelsea, East Boston, Revere, Winthrop, Everett and Boston's South End. EBNHC is dedicated to promoting and sustaining healthy communities, families, and individuals by providing accessible, person-centered, compassionate, and high-quality health care services, including primary care, 24/7 emergency care, behavioral health care, specialty care, and various other health and wellness programs, to all who live and work in our service area. For more information, please visit www.ebnhc.org