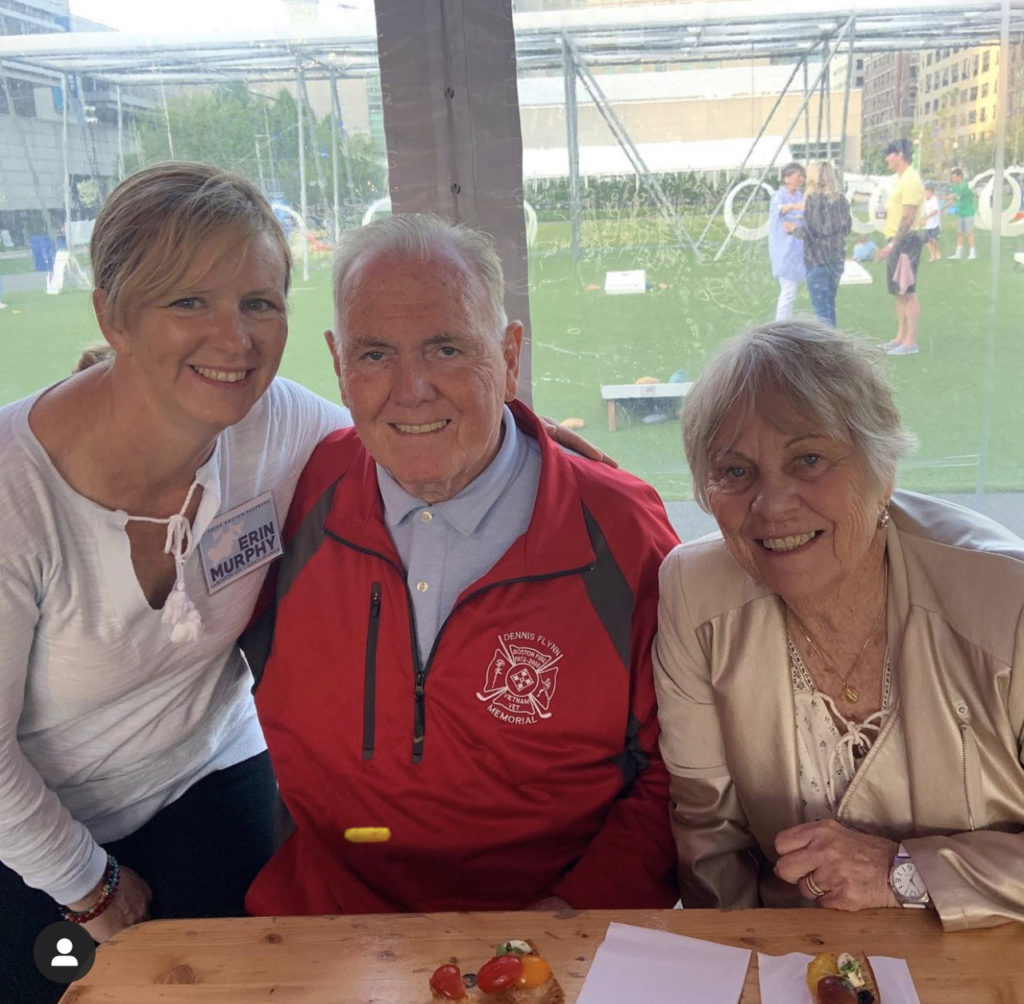 BOSTON, October 27, 2021 — Raymond L. Flynn, former United States Ambassador to the Holy See and former Mayor of Boston, and Kathy Flynn have endorsed Erin Murphy's candidacy for At-Large City Council, saying her election would continue a long tradition of selfless public service in Boston.
The Flynns, lifelong Boston residents who have raised children and grandchildren in the city, called Erin a leading light in a new generation of leaders who will extend leadership to every neighborhood in the city.
"Erin is an exemplary candidate for an extraordinary time in our city," said Ambassador Flynn. "She has the empathy that defines public service, the energy that makes for a great city councilor, and the passion we need at City Hall. She will represent working families across Boston with vigor, and I am proud to endorse her candidacy."
"Erin taught in the Boston Public Schools for 22 years, she raised her family here in the city as a single mom, and she's been an advocate for her community long before she ran for office," said Kathy Flynn. "She has fought on the frontlines of the substance abuse and addiction crisis, and she's perfectly suited to represent our neighborhoods on the City Council."
City Councilor Ed Flynn, a South Boston Democrat and the son of Ambassador and Kathy Flynn, endorsed Erin in September.
"I'm so proud to have the endorsement from Ambassador and Mrs. Flynn," Erin said. "They are a legendary family that has never stopped giving to our city, and a wonderful example for us all. Their decades of giving back to their neighborhood and their city are a cause for celebration, and I'm grateful that they're in my corner. From South Boston to the Vatican, they represent the best of our city."
The Flynns' support comes as Erin has been expanding her grassroots operation before the November 2 election, when Erin will compete for one of four At-Large City Council seats, and as citywide support has been building. Her outreach has extended to every neighborhood in the city, the same energy she would bring to the City Council.
Erin's campaign has been gathering steam all year, with a string of high-profile endorsements and a surge in grassroots support and volunteerism across the city.
Erin has also been endorsed by, among others, US Representative Stephen F. Lynch, activist and mentor and former At-Large candidate Said Abdikarim, State Senator Nick Collins, House Ways and Means Chairman Aaron Michlewitz, State Representatives Dan Hunt, Jon Santiago, Michael J. Moran, Ed Coppinger, Dan Ryan, and David Biele, former state Representatives Jeffrey Sanchez and Carlo Basile, City Councilors Frank Baker and Ed Flynn, and former City Councilors Diane Modica, Sal LaMattina, and John Nucci, Register of Deeds Stephen J. Murphy, International Union of Painters and Allied Trades District Council 35, United Steelworkers Local 12003, Teamsters Union Local 25, AFSCME Council 93 (which represents Boston municipal employees), the Massachusetts Nurses Association, Boston Firefighters Local 718, Laborers Local 223, the Massachusetts Women's Political Caucus, and Boston EMS.
A lifelong Dorchester resident, Erin has centered her campaign around being Boston's go-to call at City Hall.
Erin's vision for Boston and her campaign are built on her core beliefs:
Thriving, best-in-class public schools for every student in every neighborhood

A friendlier city for seniors, with a more compassionate policy focus

Stronger outreach to veterans, out of respect for their service and supporting their needs

Safer streets and policing across the City, prioritizing community policing

A firm plan to relieve the crisis at Mass & Cass that respects all stakeholder

Reducing income inequality by promoting good jobs for all Bostonians
East Boston News