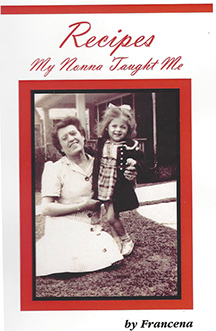 Dedicated to my Nonna who inspired me to cook.
When I was a little girl I remember visiting my Nonna's house on cold winter days. The aroma from her kitchen warmed my soul and the taste of her food provided me with comfort.
To purchase my cookbook "Recipes My Nonna Taught Me" send $12 plus $3.50 shipping and handling to:
FRANCENA Hall,
125 Boyce Road,
Centerville,OH 45458,
937-433-7313,
I have several Italian old world meatless recipes for the Lenten season including warming soups. No cheese is eaten on St.Joseph's Day to remind us that we were poor. Pasta is topped with bread crumbs to symbolize the sawdust of St Joseph, the carpenter.
–Francena
Posted 2/23/2022