Editor's Note: The field for district city council has grown by one. Former chief of staff to city councilor Lydia Edwards,longtime East Boston residents Gabriela Coletta has announced her candidacy in an email sent to prospective supporters this afternoon.
From the email.
"My name is Gabriela Coletta and I'm running to be District One's next Boston City Councilor.
Charlestown, East Boston, and the North End face unique challenges and this moment requires an experienced leader to tackle some of our most urgent issues. I will be the bold, effective, and inclusive advocate that this district deserves to fight for the community's best interest, center the lived experiences of residents, and protect the vibrancy of our neighborhoods on day one.
Fighting on behalf of my community is the only thing I've ever known. Raised by community advocates in East Boston, I grew up attending civic association meetings, neighborhood events, and even multiple protests against airport runway expansion with my mom, Nina. I've dedicated my entire life working in service to others and giving back to the beautiful, diverse neighborhood that has given me so much.
I'm ready to listen to residents and lead with integrity on behalf of our beloved communities as your next City Councilor."
You can learn more about Gabriela by visiting her campaign website at https://www.gabrielacoletta.com/about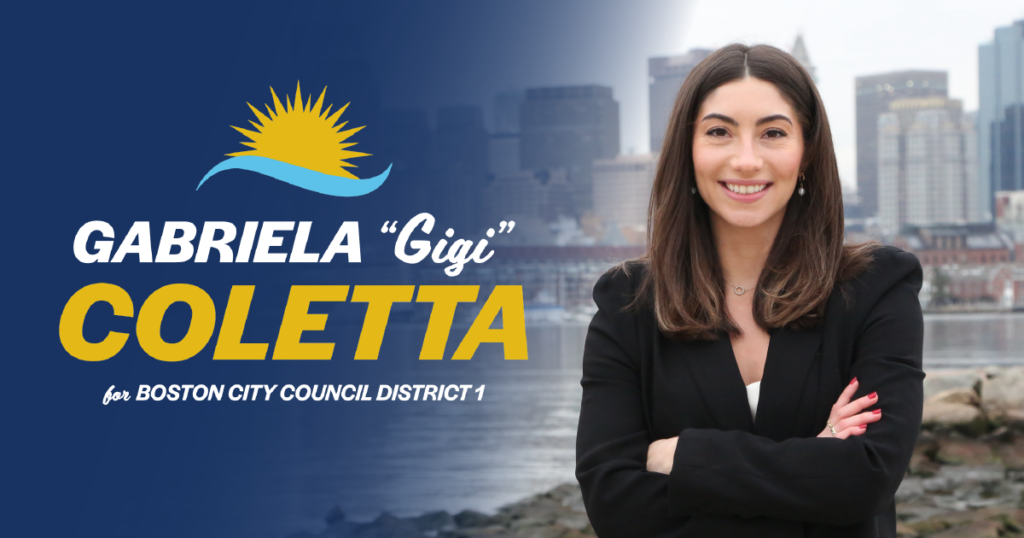 Related from the EastBoston.com archives: Gabriela Coletta, Chief of Staff for Councilor Edwards, joins New England Aquarium as External Relations Manager
EB Residents Launch Grassroots Campaign for New Ward 1 Democratic Committee
Update: Formal announcement statement.
Coletta_AnnouncementPressReleaseFINAL