East Boston Public Art Initiative
EAST BOSTON — HarborArts, a premiere public art initiative dedicated to bringing local, national and international artists to the East Boston region, is proud to announce its partnership with nonprofit PangeaSeed Foundation to bring the Sea Walls: Artists for Oceans program back to the city this week.
The program will run July 19-26, and will create roughly a dozen new ocean advocacy murals and host a variety of public events to increase interest and engagement in marine stewardship within the East Boston community.
The New England Aquarium will serve as the Honorary Conservation Partner to help welcome the internationally acclaimed initiative to Boston for the second consecutive year.
The new series of public murals in East Boston will add to the seven murals created as part of last year's inaugural Sea Walls Boston pilot project. Artists and activists will come together to create a powerful new collection of landmark artworks, each with an important message that aims to inspire residents and visitors to foster a sense of ownership and pride for the artworks and natural resources.
"The talent level of the artists we have compiled for this year's Sea Walls Boston program is remarkable. They have distinct visions for their impactful artworks, and each will contribute to making Sea Walls Boston 2021 a truly unique and powerful experience," said HarborArts Director Matthew Pollock, who also serves as Project Director for Sea Walls Boston. "Through this program we will continue to realize HarborArts' and PangeaSeed's shared vision of building community in East Boston at the intersection of environmentalism and artistic expression."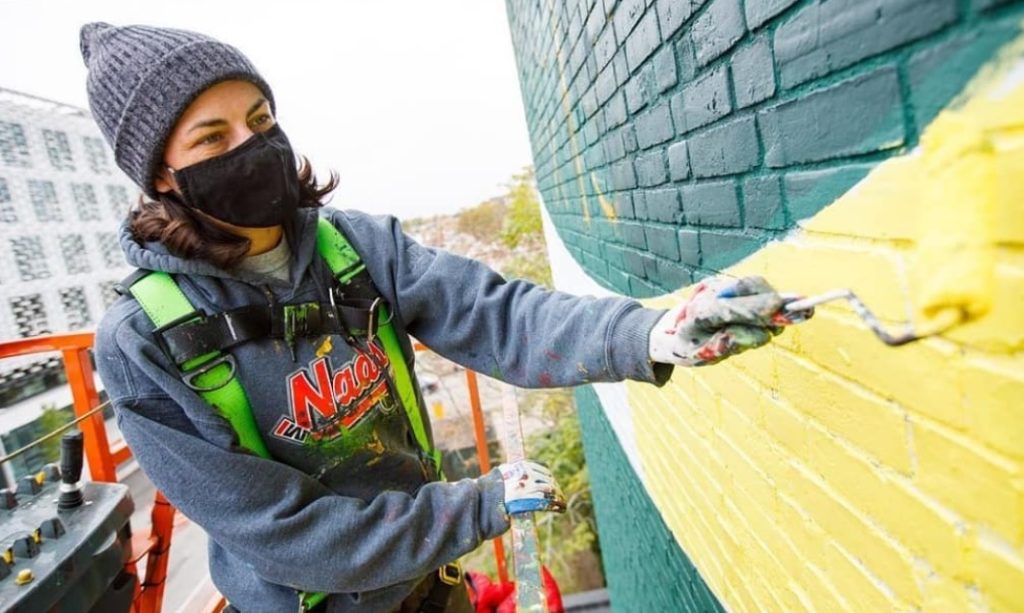 For this year's featured artists click here.
HarborArts has worked diligently with PangeaSeed on the planning and preparation to make the return of Sea Walls Boston a reality. They were also heavily involved in the curation of the artists invited to take part.
Transforming East Boston
In 2019 Pollock had been looking for ways to invigorate the East Boston shipyard through arts and culture initiatives when he first read about the work PangeaSeed Foundation was doing around the world. He first thought about traveling halfway around the world to visit PangeaSeed before asking himself a simple question: "Why not invite PangeaSeed to Boston instead?"
What followed was a year of planning, preparation and discussion with key stakeholders — including those who live in the East Boston community who are directly impacted by its development. Last year, despite the challenges of the pandemic, Sea Walls Boston brought seven murals to the area.
"We are committed to helping make this year's event even bigger, with more murals, events, partnerships and more," Pollock said. "While COVID restrictions did not ease up in time for us to plan a major in-person event directly tied to the program, it will still be a spectacular effort that will transform the community for years to come."
Bringing Community Together
The Sea Walls murals and festivities in East Boston will be taking place as part of Eastie Week, a collaborative initiative of East Boston partner organizations hosted by Boston Harbor Now from July 11-25, which will provide a wealth of opportunities for the community to get involved.
Beyond the curation of purposeful, ocean-themed environmental public art, Sea Walls Boston will also feature week-long public programming designed to help facilitate an ongoing relationship between the East Boston community, the murals, and their environment. Youth workshops, waterfront cleanups, mural walking tours, and a film screening and panel discussion at the Aquarium will make it a well-rounded experience for all ages.
For information on Sea Walls Boston and sponsorship inquiries, please visit seawalls.org/boston or contact the local Sea Walls team at SeaWallsBoston@pangeaseed.org.
About PangeaSeed Foundation & Sea Walls: Artists for Oceans
PangeaSeed Foundation is a globally engaged nonprofit organization acting at the intersection of culture and environmentalism to further the conservation of our oceans. Their mission is to empower individuals and communities to create meaningful environmental change for the oceans by raising public awareness of critical environmental issues through SCIENCE, EDUCATION, and ARTIVISM (S.E.A.). Through their groundbreaking Sea Walls: Artists for Oceans public art program, PangeaSeed Foundation has created over 400 educational, ocean advocacy murals in 17 countries, bringing the ocean into streets across the globe.
About HarborArts
HarborArts is the East Boston-based initiative creating public art as a platform for dialogue. Since 2009, they have served as the catalyst for the 14-acre Boston Harbor Shipyard & Marina becoming an outdoor gallery holding Boston's largest collection of outdoor art. Through the installation of monumental artworks across the waterfront and beyond, HarborArts is transforming Boston Harbor into an international destination for public art, and building community at the intersection of environmentalism and artistic expression.