EAST BOSTON NEWS
Endorsements come from advocacy organizations and labor unions representing teachers, nurses, firefighters, working families, advocates
EAST BOSTON – Today, Councilor Lydia Edwards announced a group of major endorsements for her re-election campaign from organizations representing hundreds of thousands of working families and advocates across Massachusetts:
EMILY's List 
Massachusetts Women's Political Caucus
Planned Parenthood Advocacy Fund of Massachusetts
Massachusetts Nurses Association
The Sierra Club
Environmental League of Massachusetts
The Greater Boston Labor Council AFL-CIO
Boston Teachers Union
Boston Firefighters Local 718, International Association of Fire Fighters, AFL-CIO
32BJ SEIU
IBEW Local 2222
IBEW Local 103
SEIU Local 509
UAW Region 9A
UNITE HERE Local 26
Boston Plasterers' & Cement Masons Local 534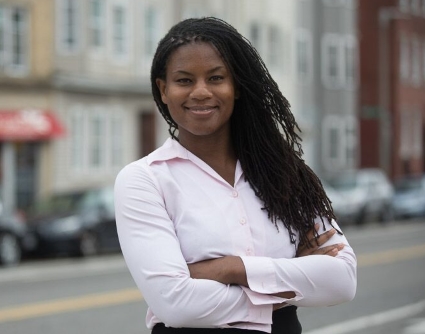 "Lydia Edwards is a committed advocate, activist, and public interest attorney who fights for the most vulnerable. As a city councilor, she led efforts to protect Boston's affordable housing through innovative and bold policy proposals. EMILY's List is proud to endorse Lydia in her reelection campaign for Boston City Council, District 1," said Sarah Curmi, vice president of state and local campaigns at EMILY's List.
"We are excited to endorse such a star in Massachusetts politics. We are grateful to Lydia and the other courageous female candidates across the Commonwealth running for election this year," said MWPC Chair, Samantha Kelly. "Representation in government matters, and we are proud to back such a strong, competent leader who cares deeply about their community. Lydia is still the exception, not the norm, in a state where fewer than 31% of state offices are held by women."
The Greater Boston Labor Council AFL-CIO endorsed Lydia's re-election, noting that as Massachusetts rebuilds and recovers, our elected officials have an opportunity to reshape and build an equitable economy that works for everyone. IBEW Local 2222 applauded Lydia's work and her commitment to working families everywhere. The Boston Teachers Union shared their enthusiastic endorsement and the Sierra Club called Lydia "an environmental champion and ally."
Councilor Lydia Edwards is a career advocate, activist, and voice on behalf of society's most vulnerable. She is currently the Chair of the Committee on Government Operations and the Committee on Housing and Community Development in the Boston City Council.
Learn more at lydiaedwards.org