BOSTON – Monday, March 25, 2019 – Mayor Martin J. Walsh and the Mayor's Office of Arts & Culture, in collaboration with the Boston Art Commission and Boston Police Department, today announced a call to artists to create a permanent piece of public art that complements a new police station in East Boston that was funded through Mayor Walsh's Imagine Boston 2030 Capital Plan.
"Incorporating public art into the construction of this new police station is exciting because it gives us the opportunity to make the building more welcoming, approachable, and reflective of the rich culture in East Boston," said Mayor Walsh. "Through the Percent for Art program, we will continue to make more public art available for people to enjoy all across the City of Boston."
This call to artists is part of the City of Boston's Percent for Art program, announced by Mayor Walsh in 2016, which sets aside one percent of the City's annual capital borrowing as a budget for the commission of public art. The City also has Percent for Art projects underway in Jamaica Plain and Roxbury.
The public art will be placed on the future new Area A-7 Police Station in East Boston, which recently received an investment of $29 million through the Mayor's capital plan for design and construction of a new 27,505 square foot station that will be situated at the intersection of East Eagle and Condor Streets. The new building will be welcoming to the community, while having a civic presence through public art.
"Any opportunity, be it through police work or art work, that allows the men and women of the BPD to expand their capacity to protect and serve our community members while drawing attention to and highlighting the accessibility of our neighborhood police stations, as well as the approach-ability of our hard-working police officers is most certainly a project that we want to participate in and fully support," said Police Commissioner William Gross.
Artists are encouraged to consider three key qualities of the East Boston neighborhood in their applications: its deep history within a wide variety of immigrant communities, its geographic location and how that has put it on the front lines of climate change, and its strong neighborhood identity and close-knit community.
"In a changing, diverse, and growing neighborhood like Eastie, public art can bring people together by communicating at several levels to several folks," said Kannan Thiruvengadam, director of Eastie Farm and an East Boston resident. "It can beautify space, make people stop, see, and wonder, and provoke thought and conversation."
The City has identified several potential sites for the artwork, including the entrance lobby, the community room, and three locations outside of the station. The project is expected to take approximately two years to complete.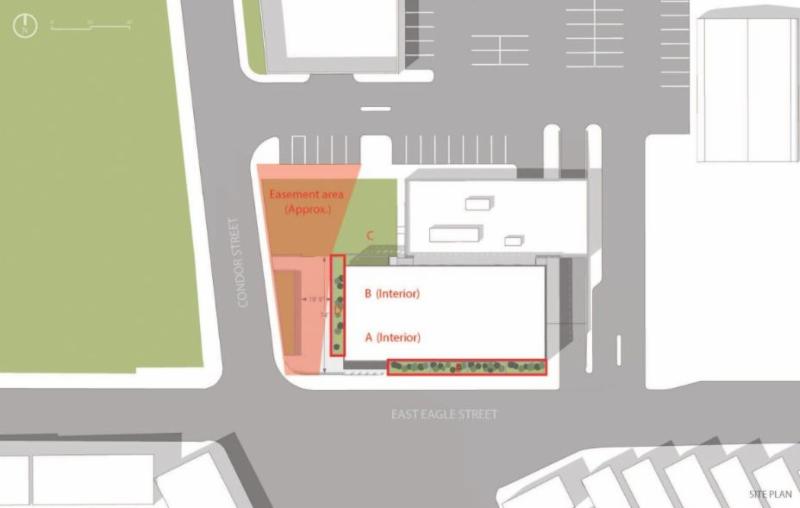 This call to artists is open to all artists, artisans, architects, landscape architects, or teams with experience in public art, site responsive design, project management, and construction administration.
"This project is the perfect opportunity to showcase the power public art can have on uniting communities and fostering cross-cultural exchange," said Kara Elliott-Ortega, Chief of Arts and Culture for the City of Boston. "I look forward to seeing how this project helps us reach a new level of creative problem solving and bridge the gap between law enforcement and local residents."
An Artist Selection Committee comprised of representatives from the Boston Art Commission and local arts professionals representing East Boston will review applications using criteria including experience, past work, knowledge of materials and their durability, experience working with multiple stakeholders, and how well the artist/team responds to the goals and community values outlined in the call.
The deadline to apply for the project is Thursday, April 25 at noon EST. To apply for the project, visit here.
About the Mayor's Office of Arts and Culture
The Mayor's Office of Arts and Culture's mission is to support artists, the cultural sector, and to promote access to the arts for all. The office houses the Boston Cultural Council, the Boston Art Commission, and the Poet Laureate program. Responsibilities include implementing the City's cultural plan, Boston Creates; commissioning public art, managing the Boston Artist-in-Residence program; curating exhibitions in City Hall; and operating the historic Strand Theater in Dorchester. For more information go to:www.boston.gov/departments/arts-and-culture
About the Boston Art Commission
The Boston Art Commission (BAC), an independent board of arts leaders charged with the care and custody of all artworks on City of Boston property, advocates for the creation of innovative and transformative art and promotes its accessibility to enrich the lives of Boston's diverse citizens and visitors. The Art Commission advises, supports, and consults with artists and communities, City departments, and others. It commissions, approves, and conserves the City of Boston's collection of art and historical artifacts. For more information, go to: www.publicartboston.com
###
Source: Mayor's Press Office March 25, 2019; For more information please contact the Press Office at 617-635-4461