by Michael Laurano
Notes on the Great Luongo Fire of 1942
November 15, 1942
We Remember: That cold wind swept wartime Sunday morning November 15,1942 is forever etched in memory as the day of the "Luongo Fire". So called because a café and restaurant of that name then occupied the site of a horrific disaster that occurred at the corner of Henry Street and Maverick Square, East Boston.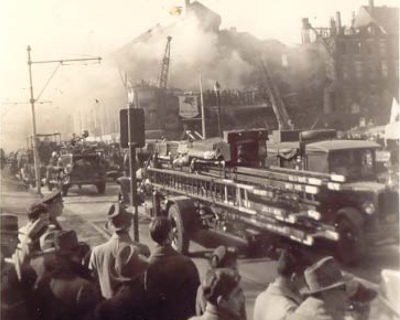 A kitchen grease fire had first flared in the early morning hours. A few hours later the fire seemed to be under control. Then a brick wall suddenly collapsed and the scene erupted into a devastating inferno. The conflagration claimed the lives of six Boston firefighters trapped inside by the collapse with several dozen more firefighters injured, some permanently. It fast became a day of heart wrenching tragedy most devastating for the inconsolable loss of human life. The ultimate sacrifice of those six men we still do and always will mourn. It was also a day of witness to stirring courage and valiant bravery as firefighters attempted rescue of their trapped comrades.
It was a day of faith too. Clergy entered the still dangerous ruins extending the comforts of faith to those trapped there. As word of the disaster spread by radio, telephone and telegraph wire — then our only means of instant communication — soon at the horrific scene also were multitudes of other responders civilian and military. Coast Guardsmen, Police, ambulance drivers, medical and other support personnel, and newspaper reporters too each played a part by their devotion to duty in East Boston's epically tragic story of the "Luongo Fire."
Words must fall short. We remember them all in silent tribute.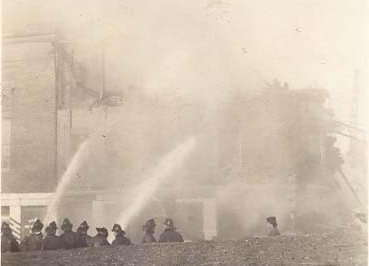 Historical Note: Three and a half story high, with granite faced and brick exterior walls, the interior wooden joisted building at the corner of Henry Street and Maverick Square in 1942 was one of the oldest buildings in East Boston. It was typical of mid 19th century Boston commercial construction. In accounts of the fire it is frequently referred to as "Old Armory Hall". "Armory Hall" is the name by which it was known in the early years of the 20th century. That building however never was actually an armory as such. There once was an armory in East Boston. It was located at the corner of Maverick and Bremen Streets in a wooden building that preceded the still standing brick Overseers of the Public Welfare Building. The building in which the "Luongo Fire" occurred was built sometime before 1858. It was known originally as "Ritchie Hall" likely from the name of its owner.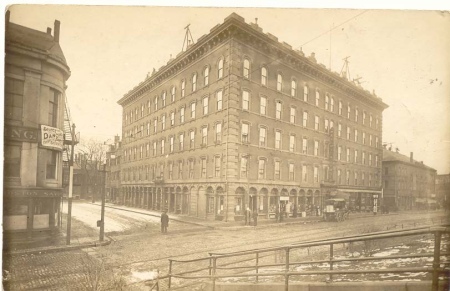 With stores on the street level fronting "Hotel", later renamed "Maverick" Square, a large space, "Ritchie Hall", on the second story hosted public events such as lectures and political debates. Groups such as churches and other organizations sometimes also rented space there. Immediately adjacent on "Hotel Square" the larger brick building fronting Hotel/Maverick Square and Sumner Street which was definitely built in 1844 had been the Maverick Congregational Church until 1870. Later it became known as "Lyceum Hall" and afterwards "Maverick Gardens".
From 1868 to about 1913 the building at the corner of Henry Street and Maverick Square housed banking offices on the street level. After the removal of the bank "Armory Hall" continued as a place of public, often political, meetings. Subsequently and at the time of the fire the building was occupied by a café, tap room and restaurant that was a popular place for dining and dancing and functions such as wedding receptions.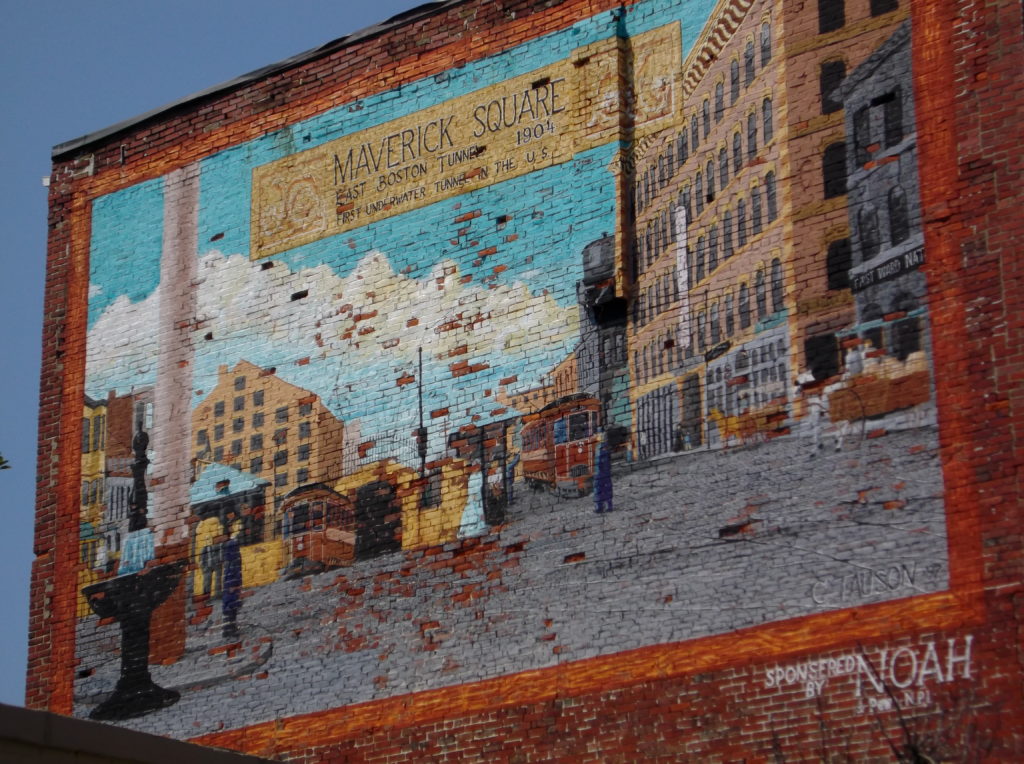 Originally posted January 16, 2021