Local and federal legislators come together for Piers Park III
by ELENA EBERWEIN
SPECIAL TO EASTBOSTON.COM
Local and federal legislators gathered Friday in East Boston to celebrate $2 million of federal funding that will be invested in the Piers Park III project.
"For too long Eastie has shouldered a disproportionate share of pollution and the impact of climate change," said Sen. Warren. "This park is an important step toward righting this wrong."
The project secured $2 million in federal funding on March 15, after efforts led by Sen. Elizabeth Warren, Sen. Ed Markey and U.S. Rep. Ayanna Pressley. The funding will be put directly towards construction expenses of the park.
"It is a modest, but meaningful contribution," said Nick Black, managing director of the Boston Waterfront Initiative in an interview with EastBoston.com in late March. It signifies a public commitment from Congress in backing the project and how it will benefit the community.
"It's important to fund Yosemite and Yellowstone, and the Grand Canyon. But it's also important that we have urban parks," said Markey. The park will also help with Boston's climate goals. He said the design will, "help buffer East Boston from storm or tidal flooding and sea level rise, it will help mitigate the heat island effect."
With the sea level predicted to rise nine inches by 2030, and 36 inches by 2070 East Boston is at risk of detrimental flooding. Climate Ready East Boston is currently working on coastal flooding planning, and including resilient elements in Piers Park III and Piers Park II is part of the larger goal of protecting East Boston.
The senators and congresswoman were joined by Boston Mayor Michelle Wu, State Sen. Lydia Edwards, State Rep. Adrian Madaro, and recently-elected City Councilor Gabriela Coletta to celebrate the park and East Boston's diverse history.
Madaro and Coletta are East Boston natives and shared remarks on the importance of having community spaces to create memories. Coletta became emotional as she recalled watching the waves on a Piers Park bench with her "Spicy Abuela Pepper" before she passed away.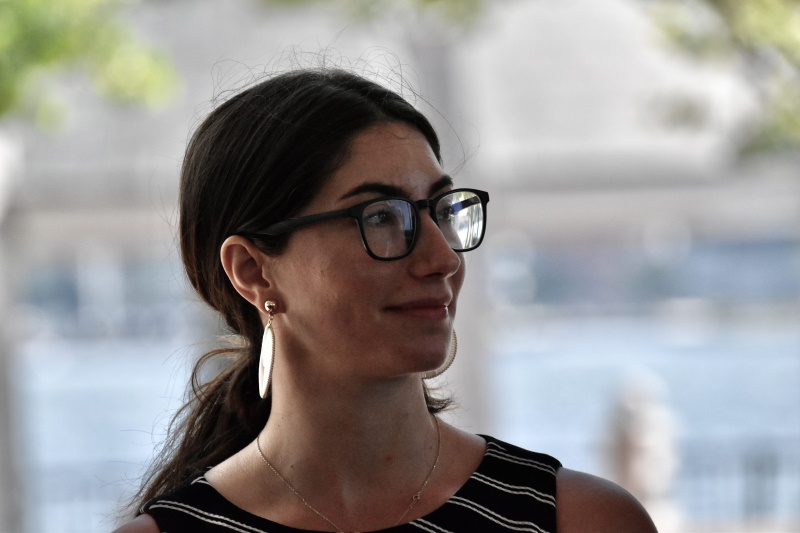 "This $2 million investment is not only a down-payment on what will be built in the public realm, but it's also a down-payment, on creating lifelong memories for families here in East Boston and across the city in perpetuity," said Coletta. "That is the priceless gift."
All speakers touched on the importance of equity and inclusion in the process of building this park in an environmental justice community. In her remarks, Pressley said it is important to think about, "being a better ancestor than you are a descendant." She said that through this type of community building we can "undo harm" from the past and that it is possible to create a fully inclusive city for generations to come.
Edwards discussed the importance of acknowledging the way the port was also used for slavery, and how it is important to undo the "horrible stain" by creating something free and green that can be a valuable resource to the community. She said, "We also have to remember the word equity can't just be in style."
To create equity within the design process, Black said the team has asked, "How can we build places that do the important job of protecting neighborhoods, but are also beautiful places for us to be?"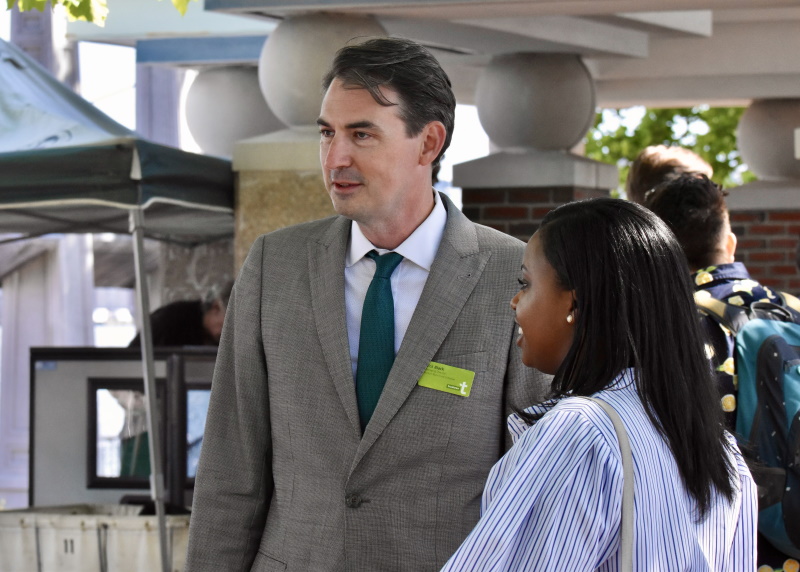 The Trustees hired Michael Van Valkenburgh Associates, Inc. to oversee the design process and the architectural firm has used community feedback to create an updated design. Since the most recent public design meeting in February, the feedback from the public has been largely positive, said Black. "People are excited to see how all three parks look together."
The One Waterfront team is using a platform called Courbanize to encourage community engagement. Community members can text feedback or go on the website to leave comments on the park design. The platform also features updates on the project, the project timeline, and images of the park design.
The third section of the park will be developed on the abandoned pier adjacent to Piers Park and Piers Park II. The most recent design will offer a trail for running or walking, salt marshes and tidal pools, a launching spot for kayaks and water taxis, as well as spots for a picnic.
The platform is part of an overall effort to help build community around the park. Black said, "We need community buy-in, we want this to be a park built by the people of East Boston so it feels like their park."
Black said the park is on track to be finished in 2025. Piers Park II is on track to open in 2023.