Dr. Gerald Hass, beloved local pediatrician, longtime community activist and co-founder of the South End Community Health Center gathers with leaders to honor the Center's 54-year history of serving its community.
Boston, MA (March 21, 2023) — On Saturday March 18, 2023, the South End Community Health Center (SECHC), part of East Boston Neighborhood Health Center (EBNHC), hosted a Legacy Reception Program alongside SECHC Co-Founder and Pediatrician Dr. Gerald Hass with many notable community leaders in attendance. The reception celebrated the Center's more than half a century of high-quality health care provided to the South End and surrounding communities, as well as the publication of Dr. Hass's recent book on the subject.
Since 1969, SECHC has provided primary care and specialty services like vision, dental and behavioral health care to thousands of city families. Prior to its opening, South End residents were directed to the large Boston City Hospital for all their health needs. Confronted with long waits and language barriers at the hospital, and, what young Latina mothers deemed insufficient services, they demanded more accessible health care. As a result, SECHC was founded – first as a pediatric clinic, immediately addressing the impacts of inequity and health disparities among this vulnerable population, such as high rates of infant mortality and premature birth.
In 2020, the center merged with EBNHC, the largest community-focused health system in Massachusetts and among the largest in the country.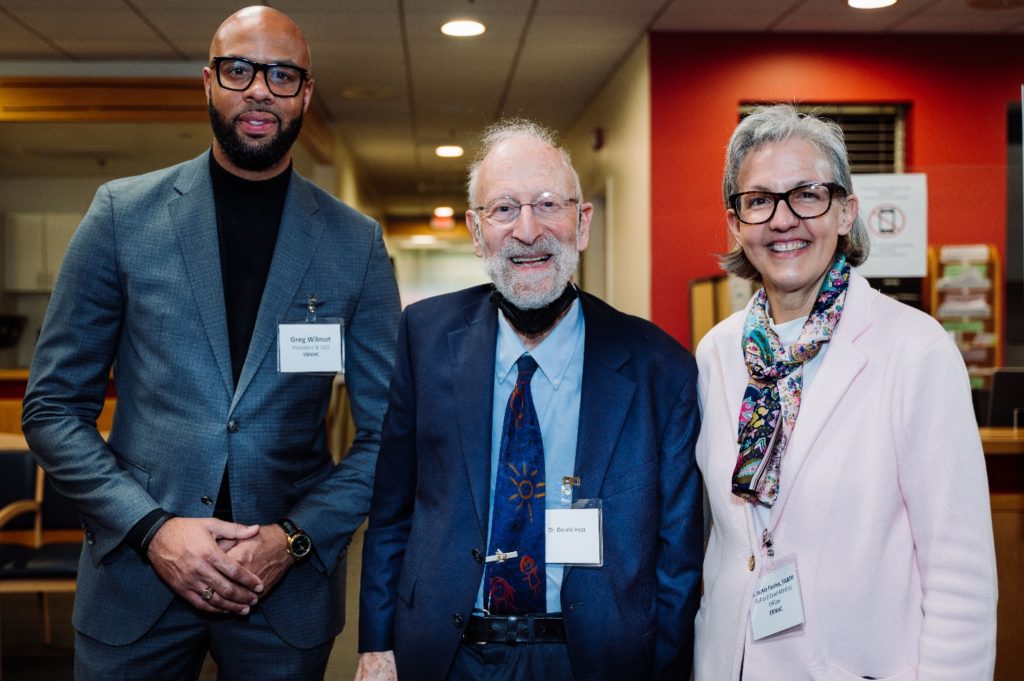 "Attention to community health is crucial in the battle for health equity across the Commonwealth," said East Boston Neighborhood Health Center President and CEO Greg Wilmot. "Leaders like Dr. Gerald Hass and EBNHC co-founder Dr. James Taylor paved a path that allows us to do the essential work we do today. These trailblazers in the community health movement understood the importance of taking care of the whole person — the need to wrap our services around a patient to improve the health of a community. More than 50 years later, our organization continues to embrace these tenets and I am grateful for the opportunity to carry them forward to the next generation."
The program included a welcome address and testimonials from notable community healthcare leaders including Rev. Gloria White-Hammond, MD, co-pastor Bethel AME Church and former SECHC pediatrician, and Paulette DiSpagna, Boston Public Schools social worker and former patient of Dr. Hass. EBNHC CEO Greg Wilmot, EBNHC Chief Medical Officer Dr. Jackie Fantes, FAAFP, EVP; SECHC Senior Director Donetta Barros; and EBNHC Medical Director Dr. Thomas Silva, a mentee of Dr. Hass, also spoke. Following the testimonials, Wilmot, Dr. Hass, and longtime WBUR radio host José C. Massó III participated in a guided discussion on the history and importance of SECHC to the community.
To cap off the community celebration, Dr. Hass distributed signed copies of his book – The Story of the South End Community Health Center: The Early Days. Told through interviews with its founders, board members, staff, and patients, the book highlights the fruitful history of the Center.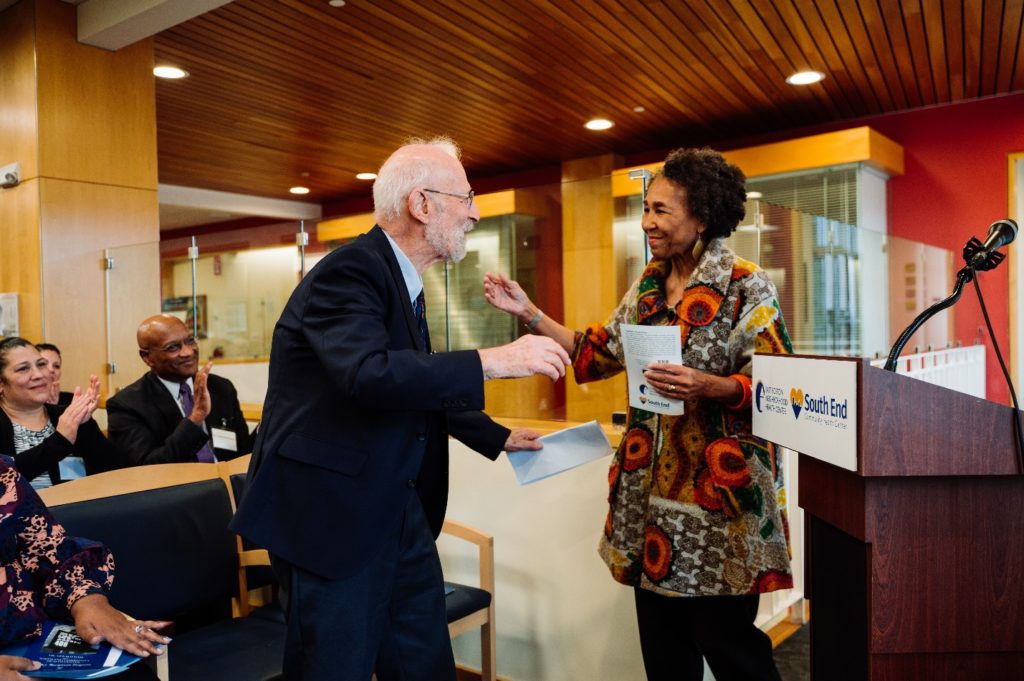 ABOUT EBNHC
East Boston Neighborhood Health Center (EBNHC) is one of the nation's largest Federally Qualified Health Centers (FQHCs) and the largest community health center in Massachusetts, serving over 100,000 patients and recognized by the Health Resources and Services Administration (HRSA) as a Health Center Quality Leader. For more than 50 years, EBNHC has offered access to comprehensive care for the underserved populations of Chelsea, East Boston, Revere, Winthrop, Everett and Boston's South End. EBNHC is dedicated to promoting and sustaining healthy communities, families, and individuals by providing accessible, person-centered, compassionate, and high-quality health care services to all who live and work in our service area. For more information, please visit www.ebnhc.org.