by Mike Freedberg
SPECIAL TO EASTBOSTON.COM
For the past two days, seeking an angle on the upcoming special election in the First Suffolk and Middlesex District, I've spent much time in Winthrop.
First, it is home to neither of the two candidates, Lydia Edwards and Anthony D'Ambrosio. Second, it is home to Joe Boncore, the Senator whose resignation some weeks ago prompted this "special" — just as the resignation of Anthony Petruccelli in January of 2016 led to Boncore winning the office in a special of his own.
In that contest, some 4500 Winthrop voters cast a ballot – almost 48 percent of the town's entire electorate. The turnout of voters in the rest of the district – Revere, East Boston, North End, Chinatown, the Leather District, Beacon Hill, Cambridgeport – averaging about 17 percent, Boncore won fairly easily over six rivals.
That will not be the case this time.
I discussed this race with a regular participant in Winthrop politics who knows the district well. I first asked, how did he like that Winthrop will no longer have a home-town Senator? He admitted that Winthrop got lucky; that it saw an opportunity to elect a Winthrop guy to a seat which was designed for an East Boston candidate who relies on the other Boston parts to succeed.
It remains so to this day. He has no problem with the different prospect that Winthrop now faces.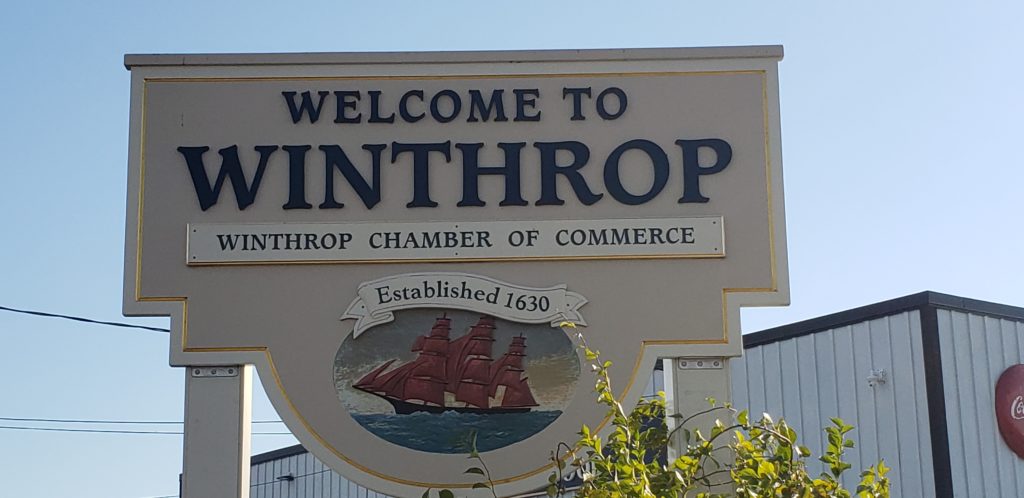 My friend in Winthrop did agree with me, however, that there won't be 4500 Winthrop votes cast this time, nor anything close. He sees a general lack of inspiration among voters and not only in Winthrop.
I agree.
In my own canvassing of voters in East Boston (for one of the two candidates, which will NOT bias the candidate opinions that I am offering in this piece), I've found hardly any who even know there's an election coming, despite the Democratic primary date being three weeks from now (Tuesday, December 14th).
The same goes for turnout at candidate "times." I've attended East Boston events for both D'Ambrosio and Edwards: not one of them drew more than 30 people. Compare this to the over 300 people who were at Joe Boncore's campaign kickoff back in 2016!
But onto the candidates…
My friend in Winthrop sees D'Ambrosio having a "slight advantage," and I would agree. He started his candidacy back in August. And getting in early into an election really matters.
Both candidates see the race as a "territorial" affair, and again, I agree.
Revere and Winthrop voters don't know much about Edwards, and Boston voters know almost nothing of D'Ambrosio. In a short, off-timed election there isn't enough daylight for either candidate to solve the lack of name recognition. As a result, most voters will incline to vote "the hometown" candidate.
The numbers in a weak turnout favor D'Ambrosio, who has about 10,000 proven voters to draw from, whereas Edwards has about 8,000.
Yet numbers aren't everything here. What my Winthrop friend calls "energy" could play a big part. And though he gives the advantage to D'Ambrosio right now, he has this to say about Edwards: "If Lydia can raise the energy level among progressives she can still win."
I somewhat agree with that.
There's also another kind of "energy" here the would-be heirs to her city council seat. If Edwards wins the Senate seat, her City Council seat is open; and I can think of three, maybe five, very well-liked and ambitious activists who would almost certainly run. They are with Lydia, as you would expect them to be, and they are actually doing stuff on her campaign.
As for my friend's observation about "progressives," I'm not so sure they're who might make the difference. Progressives nationally didn't drink many victory mimosas this past election.
Centrists – even conservatives – and even Republicans — won elections in New York City, Buffalo, Long Island, Seattle, San Francisco, Virginia, Columbia South Carolina, and New Jersey.
While in Boston a "progressive" Mayor did win the November 2nd contest (as did a few very progressive City Councilors), a centrist Council candidate also won (and another finished first in the at-large Council race). Yet the turnout showed quite a lack of "energy." Ten-thousand (10,000) fewer Bostonians voted than in Marty Walsh-John Connolly mayoral race of 2013.
This lower turnout happened in a city with 100,000 more residents than lived in Boston eight years ago.
Edwards seems to recognize that the Senate district is not a progressive catnip farm. She has begun a very public relationship with Governor Baker particularly on the housing issue. Baker won about 60 percent of the district vote in 2018 – and she has taken to campaigning as a friend of working class, union voters and of very Italian-American local icons.
This is smart, as the First Suffolk and Middlesex District is the premier Italian-American district in Massachusetts. (It is also sort of required of her, as this year she took it upon herself to critique Christopher Columbus, a stand that many of the district's voters have not forgotten.) The Columbus thing aside, however, she's running against a candidate named D'Ambrosio, grandson of Italian immigrants to East Boston, who also happens to be a Rhodes Scholar, and therefore himself an ethnic pride icon.
Yet Edwards is also smart, and an experienced negotiator, and is one of the most respected progressives in the state as well as one of the most uniting. She devised a significant city budget reform – requiring direct citizen input into budget decisions — got the Council to approve it, and can bask in its approval by Boston's November 2nd voters. I know of nothing that D'Ambrosio has done which compares.
That said, D'Ambrosio's op-ed in last week's East Boston Times authoritatively outlines details pro and con of the Bipartisan Infrastructure Bill as it affects Massachusetts in general, and the Senate district, in particular. Read that op-ed and there can be no doubt that D'Ambrosio is ready to command complicated administrative issues as well as major legislative drafts.
He too is working the district hard, as he must, and he has amassed significant political support. He looks strong in Revere and Winthrop, where the Edwards endorsements from Boston don't carry over.
If the big Boston politicians like and endorse Edwards – and they do — so do voters of many persuasions – indeed, she makes it a point to seek out and respect voters who disagree with her. The vote results in her three City Council races prove her success in winning voters who are not at all progressives, some not even centrists. Maybe that is why she has endorsements from all over the state (including from Attorney General Maura Healey) as well as the active support of Mayor Michelle Wu, who endorsed her this past Thursday, of Congresswoman Pressley, and of City Councilor Mike Flaherty, Governor Baker's longest-term supporter on the Boston Council.
Is it enough? Can Edwards – who has all the credentials a State Senator candidate could ask for — create not just energy but momentum? Can she excite enough voters? If so, she can win. If not, she won't.
—- Mike Freedberg
Mike Freedberg is a journalist and consultant with many years of experience writing for Boston media and participating in political campaigns. He publishes the blog Here and Sphere.
Related:
State Senate candidates: In their own words