by MATT ROBARE
The Massachusetts Bay Transportation Authority recently released its proposed bus network redesign, a major rethink of the mode moving the most people in the region. The most important change is that from a few key bus routes with 15-minute headways, to dozens across the MBTA service area, with such routes now designated with a "T" in front of their number.
In East Boston the number of bus routes will be reduced, with the 114, 117 and 116 merging into a T116 following the current 116 route. The 112 will become part of the T104 and the 713 and 712 in Winthrop will become part of the 120 and 119. According to the MBTA, the changes represent a 20 percent increase in service, as measured by revenue service miles.
In Chelsea, most routes aren't changing or merging, but are being upgraded to "T" routes, while the 90 is being extended west from Assembly (and will now terminate in Arlington instead of Somerville).
Routes that currently go from the North Shore to Haymarket, apart from the 111 will be rerouted to stop at Wonderland on the Blue Line, shortening trips and increasing frequency. The numerous 400-series routes that currently go through Revere will be reduced to four, the 426, 442, 450 and 455, which will have 30-minute frequencies. Two T routes with service at least every 15 minutes will also serve Revere, the T110, which will run in a rougly east-west route along Park Ave, Central Ave and Beach St, and the T116, which will mostly run up Broadway. Suffolk Downs, where HYM is planning to build 10,000 homes, will get additional transit service in the form of the 120 along Tomasello Way and 119 on Bennington St.
While the desire to increase service and frequency is most welcome, especially as car traffic approaches pre-pandemic levels, how they intend to do so is still unclear. The MBTA has a shortage of drivers, of dispatchers and of space to store extra buses and not every increase in service can be achieved with the smart redeployment of existing assets, according to Streetsblog Mass. In addition, the MBTA will need to work with municipalities and get dedicated bus lanes and possibly traffic signal priority (where traffic signals will be adjusted to keep buses moving down busy streets).
The plan is refreshingly ambitious and the changes, if they can be successfully implemented, look like they will increase bus service coverage as well as service. But it's a big "if" and there are many moving parts. The MBTA's chief of operations strategy, policy and oversight, Kat Banesh, told Streetsblog that the first changes will be implemented in summer 2023.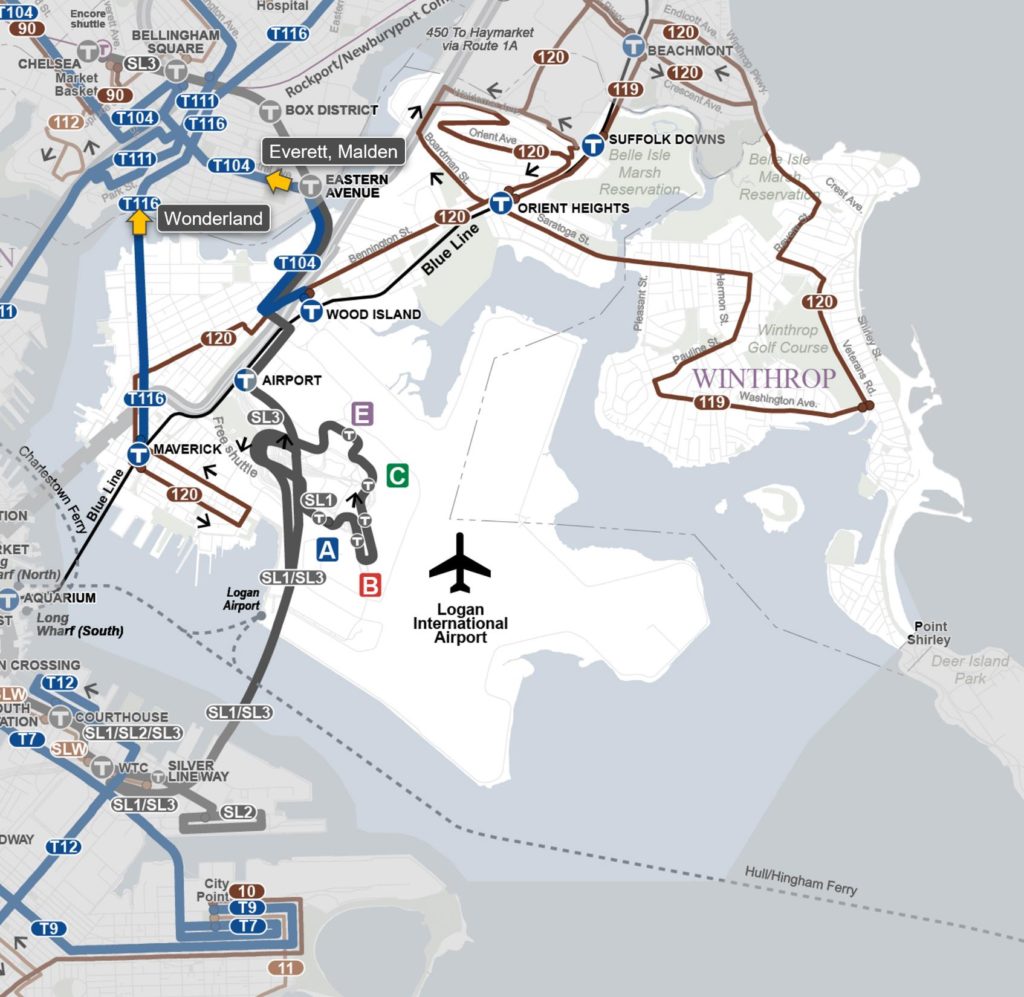 But the T does not appear to have a plan to overcome its short-staffing and other limitations, while recent safety issues and staffing shortages have limited the subway lines to infrequent Saturday levels of service. Aspirations are good, but with no realistic path to get there, more strategic and fewer sweeping changes might be in order.
The MBTA is holding several public meetings on the redesign through the end of July. A complete list is available on the Bus Network Redesign page, but there will be a virtual public hearing July 26 at 6:00 pm, two in person meetings on July 19 at 6:00 pm at the Bruce C Bolling Municipal Building in Nubian Square and July 28 at 6:00 pm at the State Transportation Building downtown. In addition, there will be an open house at Wonderland station on July 21 from 3:00 pm to 5:00 p.m.