Boston, MA— The Boston Ward 1 (East Boston) Democratic Committee has endorsed Michelle Wu for mayor. Wu, who has also been endorsed by Councilor Lydia Edwards, will be on the ballot September 14. The top two candidates for mayor will advance to a general election on November 2.
This endorsement adds to Wu's support among Ward Committees, where she has already earned the endorsement of the Ward 4 Democrats (parts of Back Bay, Fenway and the South End) and Ward 5 Democrats (Back Bay, Beacon Hill, Fenway, and Bay Village). No other candidate in the mayoral race has received the endorsement of any Ward Committee.
"I'm honored and energized to stand with the Ward 1 Democrats in organizing to build community and transform what's possible in politics and policy. The issues affecting East Boston are a microcosm of every challenge throughout our city, and I know that together, we can tackle our biggest challenges through building coalitions for bold, urgent leadership," said Michelle Wu.
I'm excited about the work Michelle has already done to advocate for East Boston, where we have historically had to fight to be heard," said ward committee chair Vicki DiLorenzo.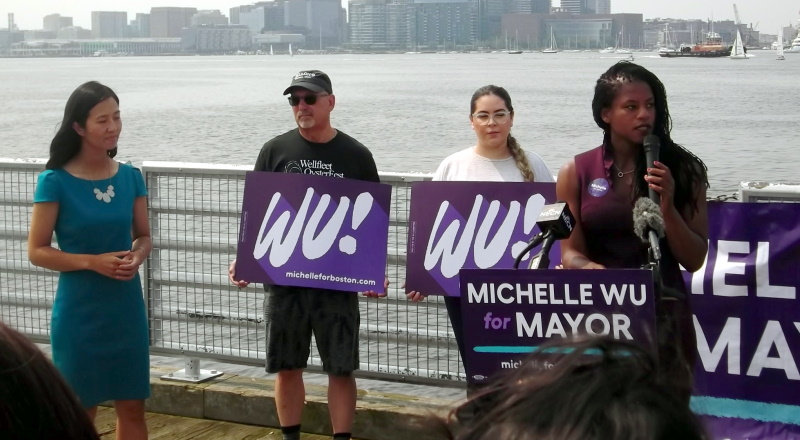 The Ward 1 Democrats endorsement adds to the Michelle for Mayor campaign's enthusiastic coalition of multigenerational, multicultural grassroots supporters including leaders Senator Elizabeth Warren, Boston City Councilor Lydia Edwards, Boston City Councilor Liz Breadon, State Senator and Assistant Majority Leader Sal DiDomenico, State Representative and Assistant Majority Leader Mike Moran, State Senator Julian Cyr, Representatives Tram Nguyen, Tommy Vitolo, Natalie Higgins, Vanna Howard, Maria Robinson and Andy Vargas; former State Representative and Assistant Majority Leader Byron Rushing; labor unions Teamsters Local 25, New England Joint Board of UNITE HERE!, Alliance of Unions at the MBTA, MBTA Inspectors Union Local 600, OPEIU Local 453; climate organizations Sunrise Boston, Sierra Club, the Environmental League of Massachusetts, 350 Mass Action; Progressive West Roxbury/Roslindale; Boston's Ward 4 and Ward 5 Democratic Committees; and fellow municipal elected officials from across Greater Boston and the Commonwealth of Massachusetts. For all of Michelle for Boston's endorsements, visit michelleforboston.com/endorsements.