Chase welcomes customers to its new branch to serve East Boston customers and small businesses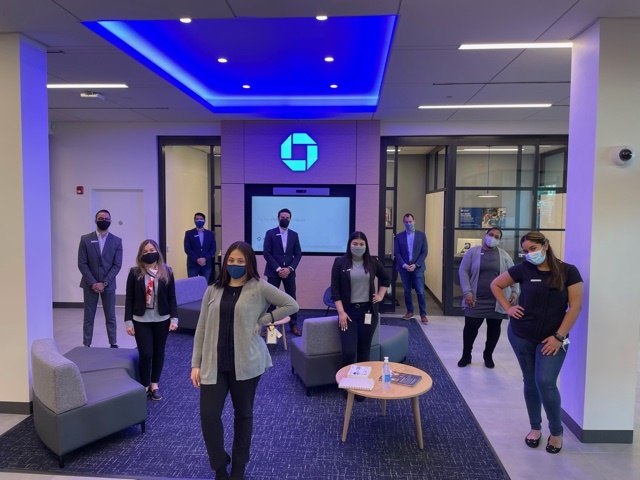 April 5, 2021 – Chase opened its first-ever branch in East Boston on March 30 and the team is beginning to serve the financial needs of local customers and small businesses.
The branch is located at 31 William C Kelly Square and is staffed by eight bankers who live in the local community.
"We are thrilled to open our doors to the East Boston community and support our neighbors' financial needs," said Chase branch manager Lombardo A. Iraheta. "This branch will offer customized financial solutions to help people make the most of their money."

The new branch was designed to create a casual and relevant space for the community. There are various meeting spaces such as casual booths, meeting pods, an open living room, and a digital access bar. The branch will also host regular Chase Chats which are financial health workshops focusing on topics like financial fitness, budgeting and saving, and paths to homeownership.
Chase began opening branches in Boston in 2018 and plans to open 60 retail branches and 130 ATMs in Greater Boston and New England over the next five years and hire up to 350 employees, giving local customers access to its banking services while creating local job opportunities for residents. The firm plans to open 400 new branches and hire as many as 3,000 employees in new markets in the next five years.

About JPMorgan Chase
JPMorgan Chase & Co. (NYSE: JPM) is a leading global financial services firm with assets of $3.4 trillion and operations worldwide. The Firm is a leader in investment banking, financial services for consumers and small businesses, commercial banking, financial transaction processing, and asset management. A component of the Dow Jones Industrial Average, JPMorgan Chase & Co. serves millions of customers in the United States and many of the world's most prominent corporate, institutional and government clients under its J.P. Morgan and Chase brands. Information about JPMorgan Chase & Co. is available at www.jpmorganchase.com.