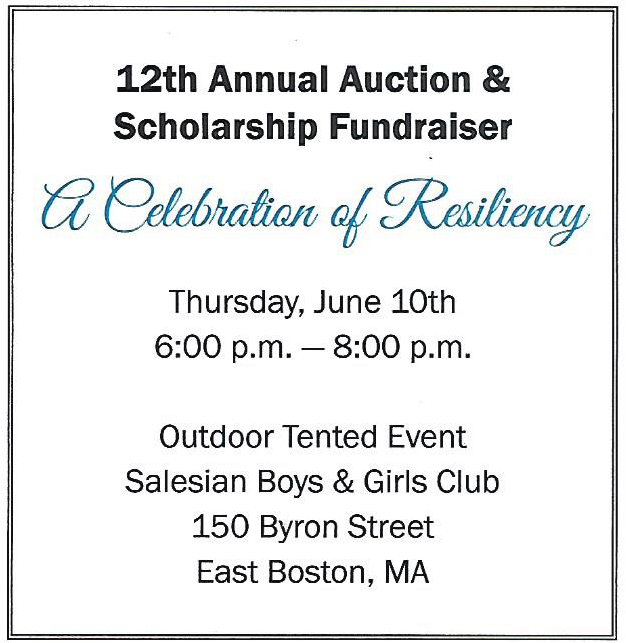 The following is a letter from the Salesian Boys & Girls Club (May 1, 2021)
Dear Friends,
We will be hosting our 12th Annual Auction/Summer Camp Scholarship Fundraiser, a "Celebration of Resiliency" on June 10, 2021, from 6:00 p.m. to 8:00 p.m. This will be a unique outdoor event taking place under a tent at the Club. We will come together to enjoy a fun safe evening with good friends, great auction prizes, delicious food, and drinks while raising money for our After School Program and Scholarships for our Summer Camp Program. Congratulations to our very deserving award recipients: East Boston Neighborhood Health Center Front Line Workers (Community Award) and Michael Merullo (Don Bosco Award). We have taken a brief break from public fundraisers due to the pandemic, and your assistance is needed now more than ever before. This is our largest fundraising event of the year, and we appreciate your support.
The Salesian Boys & Girls Club has been serving youth ages 6 to 18 from the communities of East Boston, Revere, Chelsea, and Winthrop for over 75 years. The Club provides children of all ethnic groups, socio­-economic backgrounds, and religious beliefs a safe, positive, fun learning environment. Our thoughtful and efficient transitioning throughout the pandemic had allowed us to serve thousands of community residents in numerous ways, suuch as providing daily lunch and weekly family dinners, produce, and toiletry distribution, parades for our members where we distributed art kits and outside play equipment during a time when families were close to being trapped at home. We then worked closely with health officials to run a safe and fun summer camp for 80 children in the summer of 2020. In September, we transitioned to "Salesian Elementary" and hosted 75 children for a full-day remote learning program. This program required numerous technology and facility upgrades as well as our staff once again going above and beyond to serve the community's needs. We are currently transitioning again to our after school program and we are accepting applications for our summer program. Family's needs are currently greater than ever and more and more families will be in need of financial assistance for our summer camp.
Our Summer Day Camp has been a family tradition for over 60 years. We provide over 200 inner-city kids ages 6 to 14 with a great summer experience. Campers participate in weekly field trips and several different activities and programs inside and outside the Club and at our neighboring field. We believe that no youth should be denied because of financial reasons. We are committed to raising $40,000 towards scholarships for our summer camp program at this event.
To meet this goal, we are asking for your help. We hope you will join us at this year's event or make a donation, no matter how large or small, from local businesses and individuals such as yourself who have a desire to give back to the local community will help sustain our current After School Program and Summer Day Camp, keeping them affordable for families. Your donation will be acknowledged in the event program and on our social media. We appreciate your participation and thank you in advance for helping us reach our goal to provide underprivileged children in our communities the opportunity to enjoy these programs.
Event tickets are $50 per person. Unfortunately, we have·a limited amount of seating. We will not be offering table sponsorships but will do our best to accommodate seating requests. Please return your reply card to the Club or order your tickets online at www.SalesianClub.com by May 31, 2021, to ensure seating at the event and sponsorship recognition in printed material.
We will follow the CDC and City of Boston guidelines of safety and social distancing. Masks will be required and available at the event (subject to change). Ample parking available on Wordsworth Street in the Salesian Boys & Girls Club field .
If you have any questions or would like to be a sponsor, please do not hesitate to contact me or Anita at 617-784-1744 or abelmonte@salesianclub .com.
Thank you for supporting our kids!
Sincerely
Michael Triant
Executive Director