The transition in winter-spring 1994 from People's Republic of Cambridge to East Boston, then on the cusp of change, was a harrowing leap of faith.
When Peter Modica showed me a property at 82 Webster Street, inside and out, it was derelict. The three-decker had been abandoned for years.
The long and narrow, vast back yard had been the neighborhood dump. Taking a tour, that night, there were Velcro-like weeds stuck to sneaker laces.
It took guts and vision to sink meager savings into what would become my home. Over the next dozen plus years it was where I would live and work. There would be good times, exhibitions, garden parties and even a wedding under the crab apple tree.
Having lived a bohemian life, I knew nothing about finances. There was a defaulted student loan and several years of unfilled taxes. As an adjunct professor of the humanities, I earned so little that it seemed Uncle Sam had little or no interest in me.
That changed abruptly when I applied for a loan. That April, tax season was brutal as I filed for several years and paid penalties. Immediate payment was demanded for the defaulted student loan.
Modica had bought the property for $25,000 and flipped it a week later for $45,000 —plus the build out, as he contracted to develop the property.
That took months as I visited on weekends to see the slow progress. Mostly the improvements, sheet rock and paint, floors sanded, were cosmetic. There were, for example, no lights in the halls.
The top floor evolved as a master bedroom with a wall taken out to make one large room. What had been the kitchen became the laundry room and my office. The bathroom had a Jacuzzi big enough for two with beautiful blue tiles.
Modica swore at me, "You and your damned Jacuzzi!"
Having to finish it in time for the closing, he sent his partner, a banker, out to get hardware and faucets. Modica blew his stack when he returned with expensive ones. It seems the cheapo kitchen ones were chromed plastic as I later discovered when they were replaced.
The "bookshelves" in the living room were made of fiberboard and soon collapsed. It cost coin to have then adequately rebuilt.
Hey, what did I know? Overall, I got a lot of house for the buck.
The ground floor became a rental unit and, at first, I had tenants to help with the mortgage. Then Astrid moved in and I charged her rent which became a standing joke among our friends.
I insisted on a roof deck and an improved ladder. That was a spectacular summer asset particularly for parties and openings of Maverick Gallery. I had one of several house galleries as artists flocked to Eastie. In that sense, I was a pioneer.
Other galleries were run by Michael Beauchemin, Pam Sienna, and James Manning. Years later, the Atlantic Gallery opened in a loft building and now even the Institute of Contemporary Art has moved in.
That spring the pressure was brutal and for relief I partied hard with what came to be known as the Gallery Rats. We raided gallery openings for cheese.
On a personal level, life was running off the rails. In addition to teaching more than full time, on weekends, I was loading the car and making trips. The first floor was filled with boxes.
One of which contained final exams that I never did find.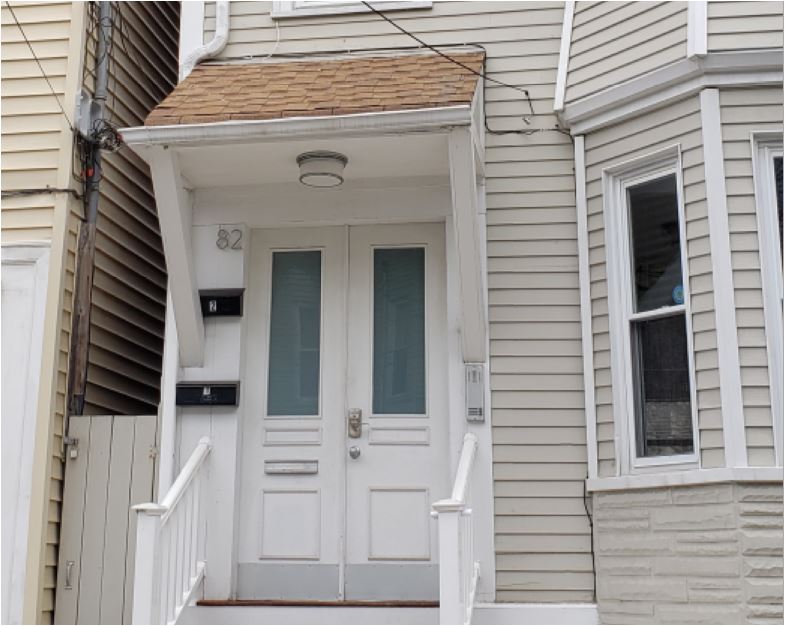 Knocking on the door of the New England School of Art's director I said "Bill, I lost the final exams." He said "What!" or something to that effect. Basically, everyone passed or got upgraded from their midterms.
One day I was on my way to Mass Art and ended up in U. Mass. Boston. I was teaching at both venues at the time. It was a shock to show up at an empty classroom.
As former VP, Dan Quayle, once said "What a waste it is to lose one's mind. Or not to have a mind is being very wasteful. How true that is."
More or less cracking up I offered my resignation but Bill wouldn't hear of it. He was a great guy to work for.
Around April I made the leap and started to live at Webster Street. It was pretty minimal. I put towels over the windows of the bedroom and slept with a bayonet as the house was dark and creepy.
There was one last load of boxes which I was too exhausted to haul in. That night my car was stolen. There was a house of delinquent teens next door who were the scourge of the hood. Likely a visiting friend absconded with my car during an era when there was no Uber.

When I related the story of the theft, Diane Modica, Peter's cousin, laughed and said "Welcome to the neighborhood."
Unfortunately, it was found under a bridge in Charlestown just before I would have had it declared totaled. So, I got it back pretty much messed up.
But things started to get better. I explored the hood and found great bakeries, pizza shops, taquerias and all manner of ethnic restaurants. How I miss them now living in the Berkshires!
In particular, I loved the lunch specials at Hong Kong Harbor and the hole in the wall taco stand, both in Maverick Square. At the other end of Eastie was Saigon Shack for a big, cheap bowl of pho. The Colombian restaurants blared soccer on TV.
Of course, there was the one and only Santarpio's Pizza near the tunnel. It's a North American culinary landmark. Joya Santarpio met her husband taking my art history class at Salem State College. They later divorced. I always get a hug when I drop by for a pie. Which is never often enough.
Piers Park opened and I enrolled in the sailing program. You could take a boat out at the end of the day program. I was an experienced sailor and taught my friend Jim Manning how to sail with me.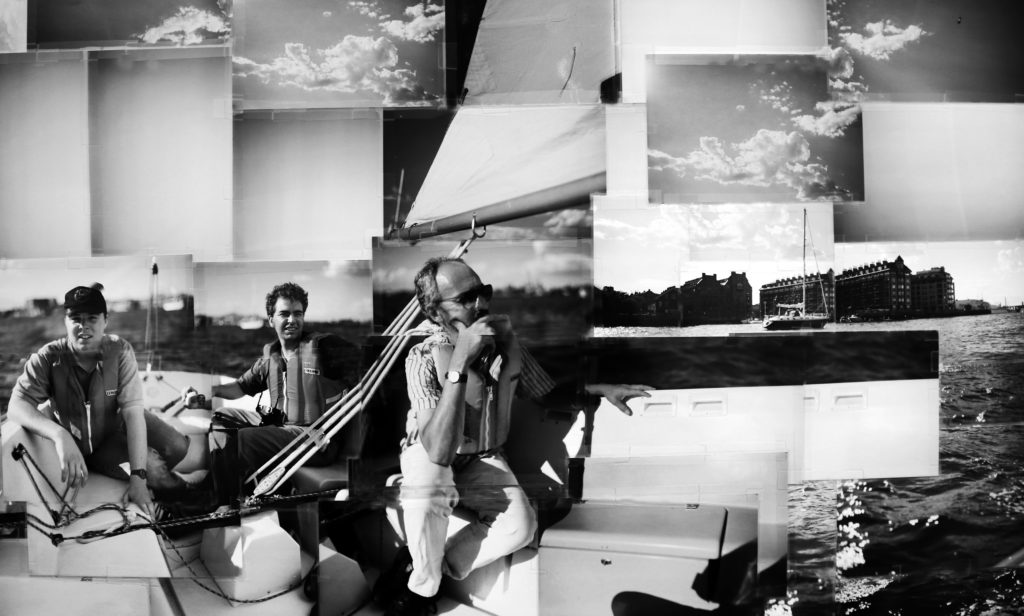 Somehow, I got through the semester and there was a break before summer school.
With the Gallery Rats, we planned an exhibition and house warming party.
I had track lights installed in the halls where work was displayed. There were works by Kay Divant and Linda Raye installed on two floors. Other shows would follow including one for Bob Ferrandini, who grew up in East Boston. We had a talk at the East Boston Branch of the Boston Public Library and many neighbors showed up.
The first opening was held on the Fourth of July Weekend. We watched fireworks from the deck. On New Year's Eve, they were dead ahead from a barge in Boston Harbor.
Astrid, who I had just met, showed up near the end of the opening with her daughter Olivia. I asked her on a date the following weekend.
Over dinner she asked what were my intentions? I mumbled something incoherent and started commuting to her condo in Weymouthport. That winter, when tenants from hell broke the lease, she moved in.
That started a new chapter of life in Eastie.
Charles Giuliano, a longtime author, music and art critic, now edits Berkshire Fine Arts. He lives with Astrid in North Adams, MA. His most recent book is Museum of Fine Arts Boston: 1870 to 2020, An Oral History.
Stay tuned for Part II!.