BOSTON (June 23, 2022)- On Thursday, the Massachusetts Service Alliance (MSA) will announce the launch of Public Health AmeriCorps programs in the Commonwealth. These programs are supported through a new partnership between AmeriCorps (the federal agency for national service and volunteerism) and the Centers for Disease Control and Prevention (CDC). Public Health AmeriCorps, which is supported by a five-year, $400 million investment from the American Rescue Plan Act, will help meet public health needs of local communities in Massachusetts, including the City of Boston, by providing surge capacity and support while also creating pathways to public health-related careers.
This exciting new AmeriCorps initiative will recruit, train, and develop future physicians, nurses, social workers, and other professionals in the public health sphere, to address broader public health needs that have been exacerbated by the pandemic. AmeriCorps members will serve communities across the state by providing health education, helping patients navigate health and wellness follow-up, supporting health-related research, improving housing to lead to healthier outcomes, and assisting with testing and vaccination efforts and more.
"We are all still trying to recover from the stress that the pandemic has put on our Massachusetts communities," said Emily Haber, Massachusetts Service Alliance CEO. "We are thrilled that we will have so many programs in Massachusetts that will be engaging AmeriCorps members in addressing pressing health concerns in our communities thanks to this new AmeriCorps/CDC initiative. The Public Health AmeriCorps members will join over 2,000 other AmeriCorps members that will be meeting critical needs across our communities next year in health, education, the environment, and workforce development."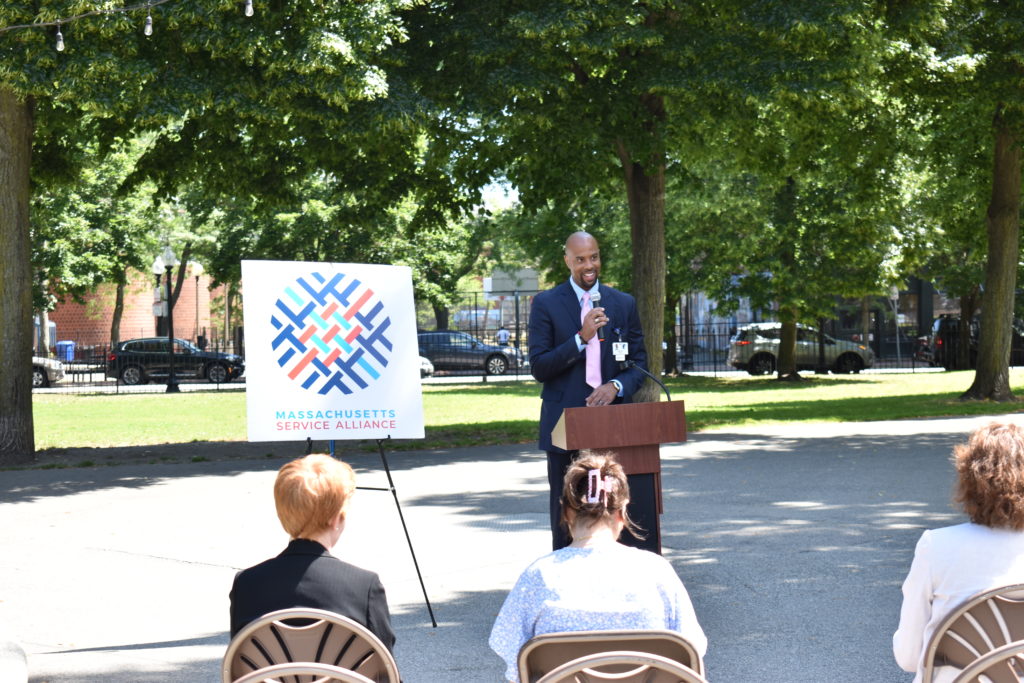 Public Health AmeriCorps is an example of a whole government approach to address our nation's most pressing challenges. The partnership between AmeriCorps and the CDC leverages the expertise of both agencies, capitalizing on AmeriCorps' experience managing some of the most prominent public service and workforce development programs in the nation while benefitting from CDC's technical expertise as the country's leading public health agency.
"East Boston Neighborhood Health Center is honored to partner with AmeriCorps to offer the next generation of healthcare leaders the opportunity to serve with us," said East Boston Neighborhood Health Center Chief Medical Officer Jackie Fantes. "As one of the nation's leading community health centers, we see the power of high-quality, accessible healthcare to change lives every day. For those desiring to support health equity, we invite you to apply to our AmeriCorps post and lay the groundwork for what we feel is a fulfilling and exciting career path."
"Since 2006, we've had the privilege of hosting some of the country's most promising young healthcare leaders through our AmeriCorps partnership," said Boston Health Care for the Homeless Program CEO Barry Bock. "They've infused our program with energy, innovation, and passion, while helping us in countless ways meet the complex needs of our patients."
82 Public Health AmeriCorps grants totaling over $65 Million were awarded to state and local organizations across the country – 7 of which are based in Massachusetts including Boston Medical Center, Boston Public Health Commission, City of Lawrence, East Boston Neighborhood Health Center, Edward Kennedy Community Health Center, Epilepsy Foundation New England, and the Mashpee Wampanoag Tribe.
"The Mashpee Wampanoag Tribe Public Health AmeriCorps Program is a result of the first AmeriCorps program that began with a planning grant in 2017 under the tribe's Emergency Management Department. The original program had ended prematurely due to the COVID-19 pandemic. We wanted to ensure that our tribal community was better equipped and more ready for this type of incident so we applied for this new program with the hope of introducing some of our tribal members into the field of Public Health while serving their community. We are truly grateful to have received this significant funding opportunity and look forward to successful program years ahead as the only tribal recipient of the FY 22 Public Health AmeriCorps grant program" said Nelson Andrews Jr, Tribal Councilman and Director Emergency Management, Mashpee Wampanoag Tribe.
###
The Massachusetts Service Alliance (MSA), established in 1991, is a private, nonprofit organization that expands volunteerism and service in Massachusetts by providing individuals and organizations with funding, training, and support, which enables them to strengthen communities and make our Commonwealth a better place to live. Learn more at www.mass-service.org.
AmeriCorps, the federal agency for volunteerism and national service, provides opportunities for Americans to serve their country domestically, address the nation's most pressing challenges, improve lives and communities, and strengthen civic engagement. Each year, the agency invests in grants for local nonprofit, community, tribal, and state organizations; places more than 250,000 AmeriCorps members and AmeriCorps Seniors volunteers in intensive service roles; and empowers millions more to serve as long-term, short-term, or one-time volunteers. Learn more at AmeriCorps.gov.
The East Boston Neighborhood Health Center (EBNHC) has been a vital part of its community for more than 50 years, providing accessible, person-centered, compassionate, high-quality health care services to all who live and work in our service area. East Boston Neighborhood Health Center provides approximately 500,000 visits per year and employs nearly 1,500 employees – more than any other ambulatory care center in New England. EBNHC's service area includes East Boston and the surrounding communities of Chelsea, Revere, Everett, Winthrop, and Boston's South End, Roxbury, and Dorchester neighborhoods. For more information, please visit www.ebnhc.org.
Since 1985, Boston Health Care for the Homeless Program has been delivering exceptional medical and behavioral health services to homeless individuals and families in Greater Boston. Each year, BHCHP provides care to more than 11,000 patients wherever they are: in the streets and back alleys; at over 40 clinics in adult, family, and domestic violence shelters; at our clinics at Massachusetts General Hospital and Boston Medical Center; and in our 124-bed medical respite facilities, the Barbara McInnis House and the Stacy Kirkpatrick House. For more information, visit bhchp.org or follow us on Twitter and Facebook.
The Mashpee Wampanoag Tribe Public Health AmeriCorps Program proposes to have 6 AmeriCorps members who will focus on the CNCS focus area of Disaster Services in the Public Health arena within the 5-County Contract Health Service Delivery Area of Barnstable, Bristol, Norfolk, Plymouth and Suffolk Counties. At the end of the first program year, the AmeriCorps members will be responsible for public health and disaster service aspects of prevention, preparedness, response, recovery and mitigation. The AmeriCorps members will also be responsible for various environmental stewardship roles.
The City of Lawrence Public Health AmeriCorps Program – 12 AmeriCorps members will implement a proactive inspection program that prioritizes the health and equity of residents in Lawrence and Methuen. Members will reach out and educate tenants about their rights and simple cost-effective changes they can make to improve the conditions of their homes. Members will also educate rental property owners about requirements to be entered into the city's database of rental registrations. Based on those registrations, Members will determine and prioritize which homes need inspections and assist with those inspections and provide healthy home education and referrals to health social services for tenants (i.e. asthma care, lead prevention programs).