Members of the East Boston and Roxbury communities joined Trinity team members and the Boston Housing Authority to honor the late Muhammad, who passed way in 2018.
EAST BOSTON – Trinity Financial and the Boston Housing Authority on Monday joined members of the East Boston and Roxbury communities and the family of Marzuq U.R. Muhammad to celebrate the life of the former Trinity project manager and dedicate the Food Pantry at Overlook Terrace at Orient Heights in his honor.
Muhammad had a decade-long career in real estate development and affordable housing and was project manager for Trinity Financial on the Overlook Terrace redevelopment with the Boston Housing Housing Authority and East Boston CDC. He passed away in Atlanta, GA on May 20, 2018 at the age of 35.
"This was a person who took his assignments very seriously. This was a person that was always reflecting on how what he was doing could be even larger and more important. And he really got to be sort of a ray of sun and beauty when it came to talking about his family," said Patrick Lee, Principal and Co-Founder of Trinity Financial.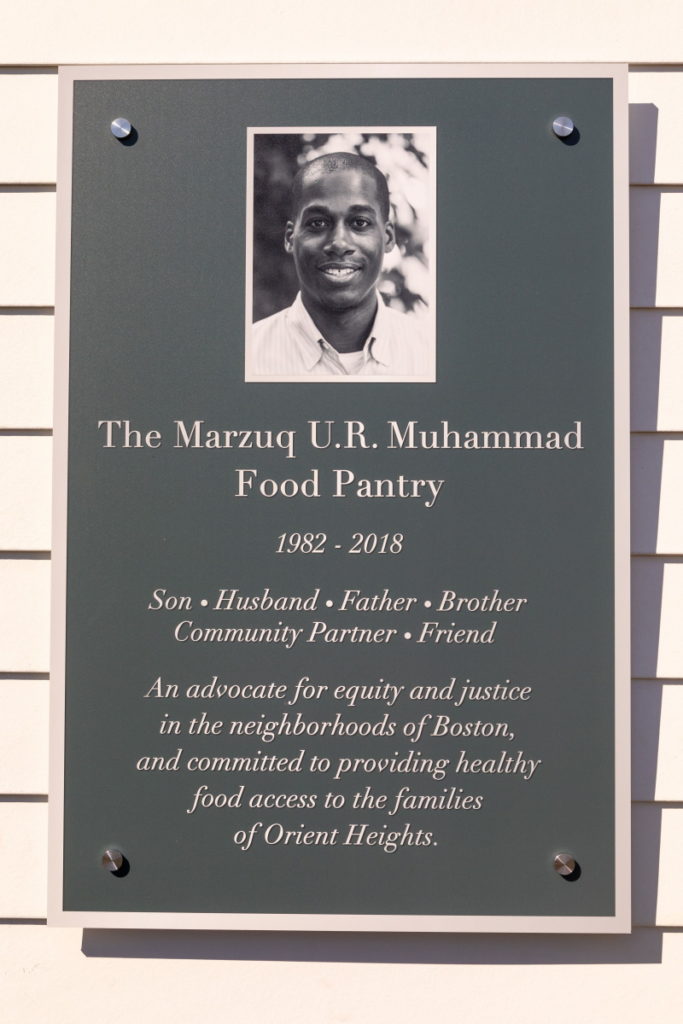 Overlook Terrace at Orient Heights comprises 331 units of public housing terraced into a steep hillside at the northern edge of East Boston's Orient Heights neighborhood. The third and final phase of the revitalization effort to replace and modernize the original housing with state of the art, sustainable housing is underway and expected to be completed in early 2023.
State Rep. Adrian Madaro of East Boston said Muhammad was "someone whose light shined incredibly bright." The Democratic legislator was one of several speakers who spoke fondly of Muhammad and his impact on the community, as well as the transformational affect that the Orient Heights public housing redevelopment is already having as construction continues on Phase 3.
Trinity Financial's Eva Erlich, Vice President of Development Manager, overseeing the revitalization of Overlook Terrace at Orient Heights, worked closely with Muhammad on this, and many other transformational projects during his time at Trinity.
"This dedication is a fitting tribute to the life that Marzuq led: a life committed to improving the lives of others through affordable housing, resources like this food pantry, and being a role model in the communities where he lived and worked," Erlich said. "His great work on Overlook Terrace and the contributions he made throughout his life – exemplary, accomplished and inspiring – will be forever remembered here and throughout the City of Boston."
The newly dedicated Marzuq U.R. Muhammad Food Pantry is a community resource that for years has served people from the surrounding Orient Heights neighborhood and elsewhere in East Boston. It is a partnership with the Lovin' Spoonfuls Inc. food rescue project.
"It's just really moving to be here today … and being reminded how far this site has come. The food pantry is part of the tribute to Marzuq. But I think the entire project really stands as a tribute to him and his dedication," said Boston Housing Authority Administrator Kate Bennett. "For me, Marzuq was always such a pleasure to interact with. He really was a gift to this site."
Muhammad's family joined Trinity Financial team members Overlook residents and staff, Boston Housing Authority officials and representatives of the East Boston Community Development Corp. in honoring the life Marzuq, who was one of seven children.
"He was one who listened and paid attention. And he would use the gifts (he had) to apply common sense to what he learned. To do what makes sense, and what is good. Because when you know better you've got to do better," said A. Alif Muhammad, Marzuq's father, who became a noted civil rights and social justice activist while he was a student athlete at Syracuse University in 1969. "We want to thank Marzuq for his positive influence on the next generation. And we want to thank you for this food pantry: to commemorate Marzuq, (and) to continue the struggle."
About Trinity Financial, Inc.
Trinity Financial is a community-driven, diverse real estate development firm with a proven-track record of redeveloping complex urban sites from Greater Boston to New York.. The work spans half a dozen residential and commercial specialties, from multi-family housing to transit-oriented development. Over the past 30 years Trinity has developed more than $3 billion in innovative development, delivering high quality, sustainable, multi-family housing, ranging from affordable to luxury – all with a commitment to people and place. For more information about Trinity Financial, please visit www.trinityfinancial.com. 
This article was updated on September 28, 2022.