Editor's Note: It's not the way we believe, but others, including our elected officials, say "Goodbye Columbus". So much for the "lived experience" of our Italian-American families as pandering politicians attempt to rewrite history in a "woke" mode. There are many reasons why there isn't a Columbus Day Parade in East Boston as has been scheduled for many of the "even" years. The COVID-19 pandemic upset scheduling when lock-downs ruled; older folks who organized the parade like Buddy Mangini are not to be found; and the political climate is, shall we say, not conducive to celebrating the wonders of discovery that Columbus represented at one time for most Americans. Organizers, if they emerged, could expect less support from City Hall, which has removed the Columbus Day designation for the City of Boston in favor of "Indigenous Peoples Day." As Alice writes "Wow! Times certainly have changed and not for the better."
by ALICE BORSA CHRISTOPHER
SPECIAL TO EASTBOSTON.COM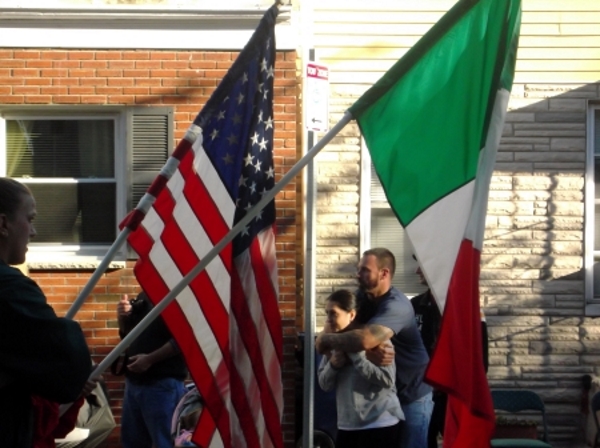 On this day every other year, my kitchen would be a beehive of activity. It was the day I put together the food I prepared for family and friends for the Columbus Day Patade.
Right now I would be filling the stainless steel restaurant pans borrowed from the Orient Heights Yacht Club. The menu was always the same: Baked Ziti, tomato gravy with a million baby meatballs, sliced sausages, ricotta, mozzarella, and parmesan cheese and Eggplant Parmesan made with 7 cooked eggplants.
Everyone always enjoyed the sausage cacciatore, chicken Marsala and garden salad. Of course gallons of red wine and a couple of bottles of anisette to enjoy with your coffee and dessert and cases of beer for the younger generation guests.
Every freezer and refrigerator in this family three decker would be filled with food to be served on East Boston's Columbus Day Parade day.
All folding chairs would be collected from the cellar and Ruggiero Funeral Home to be placed in front of the house in the AM along with the "run" to get the ice for the tonic, water and beer.
Our family Italian flag would be placed alongside our American flag. We would take a minute or two in honour and in memory of our wonderful Italian immigrant family and the courageous Italian explorer Christopher Columbus and go on to enjoy the day as we Italian Americans of joy and goodwill do.
I am going to end this before I get nasty.
Happy Columbus Day everyone.
Alice Christopher, longtime East Boston activist and former manager of Little City Hall, is an Orient Heights resident with years of "lived experience."