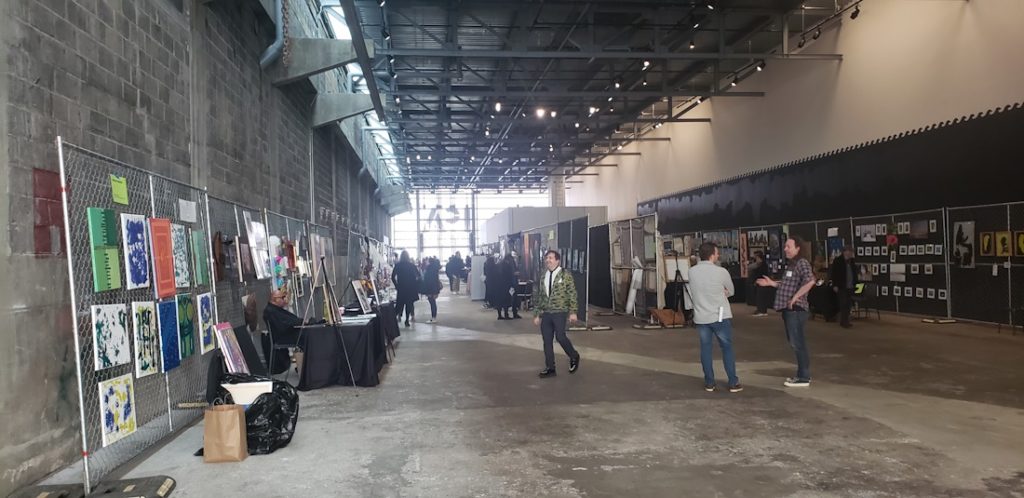 (EAST BOSTON, November 18, 2023) The East Boston Artists Group successfully delivered with its show "Harboring Creativity: Launching East Boston Artists at the ICA Watershed." Featuring the work of 40 local artists who live, work, or create in East Boston, this presentation in the context of modern contemporary institution was a wonderful reflection of the creativity and innovation found in East Boston. The artists were well-received by visitors for over two days to the shed in Jeffries Point. What follows is some of the art work with artists' statements adapted from the show's program. (To learn more about the other artists in the show check out the show's program embedded below as a PDF.)
John Keyes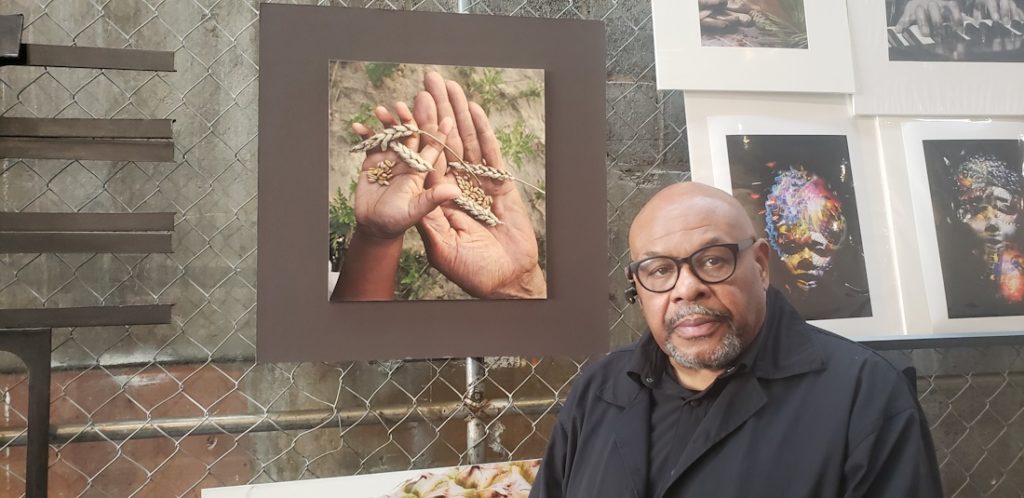 Every living moment is a precise coordinate in a seamless tide of events. I work to blend digital matter, ancestral/jazz music themes, and light to invent realities based on the everyday light that surrounds many ordinary things, to make forms appear to shimmer with visual storytelling.
My recent digital photo collages assemble a core narrative driven by improvisation. Coordinating light and corresponding forms inspires breakthroughs that untap possibilities for my visual narratives to grow new.
Diane Modica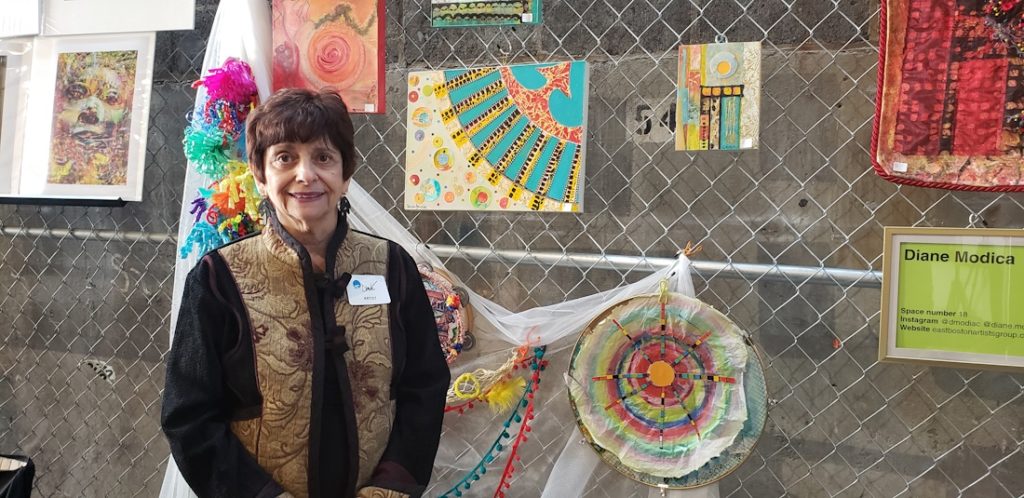 A lifelong resident of East Boston, I recently retired from practicing law to focus on my art. As a self-taught artist, I've gained significant insights from art classes and workshops at Montserrat College of Art, the MFA Boston, and in New Mexico and Italy. My work has been shown at Atlantic Works Gallery, Clip Art Gallery, Boston East Gallery, Attleboro Museum, and Strand Theater.
My knowledge and experience come from years of engagement; intuition is the gift that guides my artistic expression. My work, both abstract and representational, uses mixed media, acrylic, watercolor, oil, collage, textile, and monotype and reflects a special interest in my Sicilian ancestry.
Matt Baynes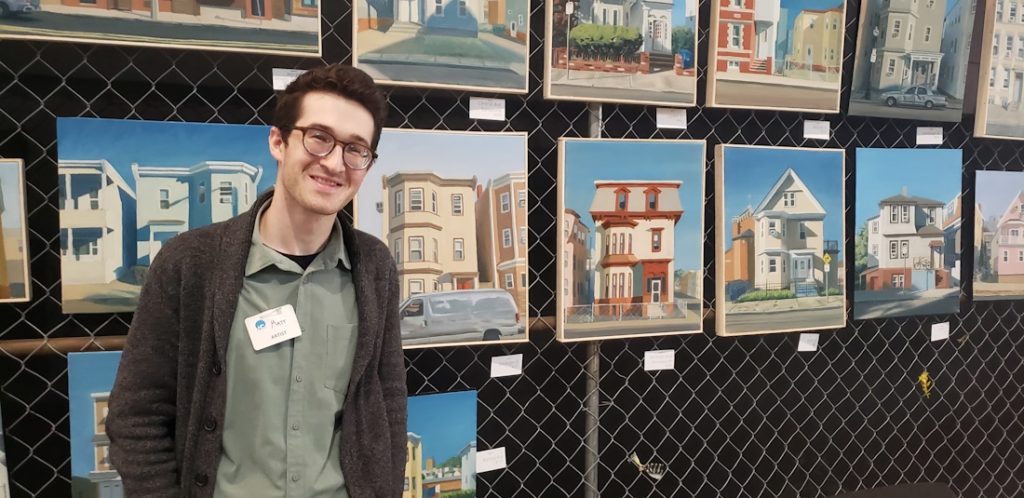 Matt Baynes is an emerging East Boston–based artist. He is a recent graduate of Emerson College and creates oil paintings that explore light, architecture, and a sense of beauty in the mundane, ordinary, and everyday. In his work he also explores his own low vision and the blurriness of the world in his eyes. He also specializes in large-scale art, mural making, and scenic painting
David Riley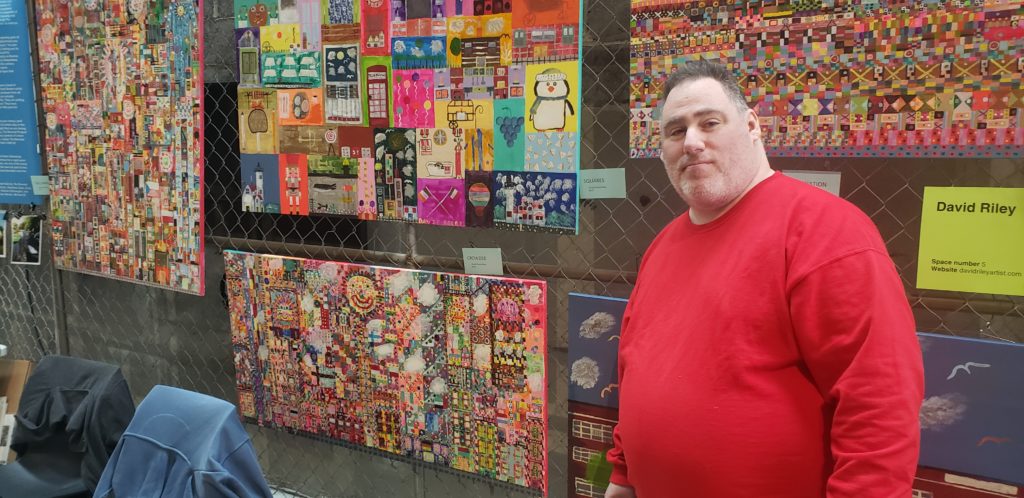 "Everyone has an imagination. Imagination is a human emotion. You'll find that imagination is based on human feeling."—David Riley
Riley's acrylic paintings explode with energy and color, drawing the viewer into his vividly rendered and detailed worlds that depict environments both real and imagined.
Inspired by landmarks in his hometown of Boston, classic television, and pop culture, Riley's work invites his audience into an alternative universe that is both comfortably familiar and delightfully psychedelic. Riley was the subject of a short, 15-minute documentary by filmmaker Cathleen O'Connell. The film was shown on the shed's video monitor during the weekend.
Richard Dorff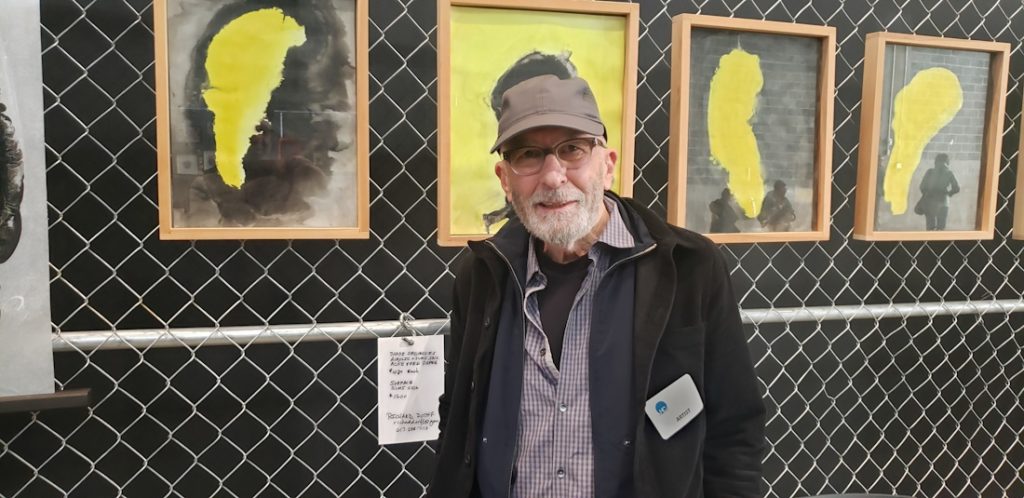 About Atlantic Works Gallery
Now in its 21st year, Atlantic Works Gallery is a co-operative contemporary gallery managed and run by its 30 members, with exhibition space located in the historic Atlantic Works Building at 80 Border Street in East Boston right on Boston Harbor. AWG members' artwork embraces the entire range of artistic disciplines, from traditional and abstract painting, drawing, sculpture, photography, and printmaking to performance, digital, sound, and video art, installation, and mixed media. Over the course of 20 years, Atlantic Works Gallery has become a true community of artists who support artmaking and each other, serving East Boston.
Booklet_Eng_04RDC