(October 1, 2023) For its October exhibition, the Atlantic Works Gallery (AWG), a collaborative of contemporary artists located in East Boston now in its 21st year, is inviting the public to a special cultural event: The screening of a remake of the campy, American filmmaker Ed Wood's iconic 1957 cult science fiction/horror film, Plan 9 From Outer Space with an introduction and Q&A with the filmmaker.
In May of 2014, Atlantic Works Gallery artist Mitchel Ahern was scheduled to exhibit a solo showing of his artwork in the gallery. Rather than hang a traditional gallery exhibition, Ahern enlisted artist members to build sets in the gallery, and casting gallery members and friends, he lovingly reshot Edward Wood's cult masterwork.
In the original film, space aliens seek to stop humanity from destroying itself by implementing Plan 9, calling for the resurrection of the dead. Plan 9 From Outer Space attained cult fame when it was dubbed "the worst film ever made" and "cinema so bad it's good."
But Ahern disagrees. "I think it's one of the greatest films of all times, and I mean that unironically," said the Boston-based visual and performing artist. "I think Wood's filmmaking is extremely direct, improvisational, and flows out of a community. The dialogue is pure poetry."
Nine years after its completion, the Ahern's remake is having its world premiere at the Atlantic Works Gallery. Ahern's film serves not just as a tribute to Wood's original film, it documents the 2014 Atlantic Works gallery, its members, visitors, and especially the East Boston neighborhood where much of it was filmed.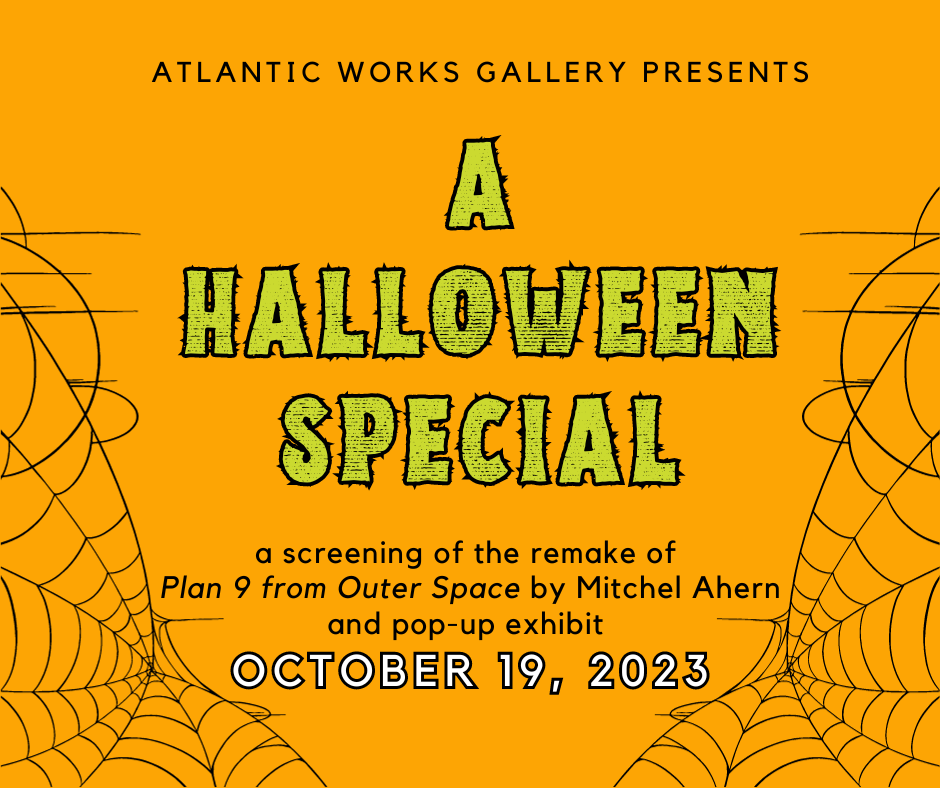 A Halloween Special (details)
| | |
| --- | --- |
| Plan 9 From Outer Space (the remake) Thursday, October 19, 2023 from 6 to 9 p.m.Pop-up Art ExhibitScreening begins at 7:00 p.m. (screen time, 1 hr. 5 min.) | Ten minute introduction by Mitchel AhernQ & A post screeningCostumes encouragedLight refreshments servedPlease RSVP at EventBrite: https://rb.gy/aq6xq |
Atlantic Works Gallery, 80 Border Street, Boston, MA 02128 is a collaborative space for Art and Ideas. For more information, visit https://atlanticworks.org/ .