Boston, MA – February 9, 2023 – Rockland Trust Charitable Foundation is pleased to announce a $75,000 grant awarded to the Community Mentoring Team (CMT) of Roxbury. CMT will use the funds to grow their union trade apprenticeships and workforce development programs for young people of color in Greater Boston area communities, including Brockton, Lynn, and Randolph. Through mentorships and community partnerships, CMT aims to close the racial wealth gap and drive economic security by enabling careers in the trade industries.
"Our foundation is honored to support CMT's work that is so deeply rooted in a passion for giving back and empowering an underserved community," said Andrea Borowiecki, Vice President of Charitable Giving & Community Engagement at Rockland Trust. "Through union trade apprenticeships and workforce development programs, CMT provides the right resources and opportunities for young people of color throughout Greater Boston to pursue meaningful careers and fulfill their tremendous potential."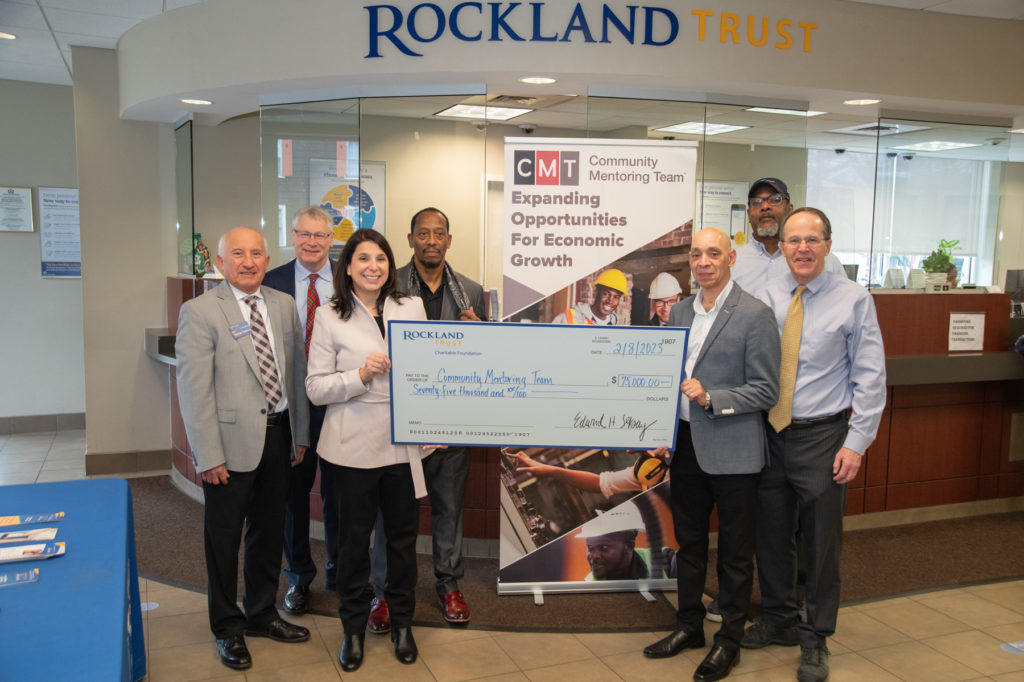 The CMT apprenticeship model matches mentees with mentors who provide career guidance and support services such as career exploration, personal engagement, and industry test preparation. Additionally, CMT provides mentees with financial assistance for occupational classes and exams. To assist with career opportunities, CMT partners with 20 building and construction trades councils. With the Rockland Trust grant support, CMT will welcome new mentees into their program over the next three years.
"The entire CMT community is most grateful for this generous grant from Rockland Trust," noted William Moran, Founder & CEO of CMT. "These much-needed funds will go a long way in helping to ensure that our apprentices have the support they need to become union certified with good-paying jobs. Getting to the certification finish line is not a sprint, but a marathon and Rockland Trust has demonstrated that they are with us for the long haul in helping to close the wealth gap in Boston's Black communities."
About Community Mentoring Team
Founded in 2018, the Community Mentoring Team (CMT) is a workforce development and mentorship nonprofit program for Boston's Black community. Through strategic and innovative partnerships with developers, contractors, labor unions, government officials, and community leaders, CMT provides career development, opportunities, tools, and construction linkages that fuel economic equity. Visit Community Mentoring Team. Follow Us on Facebook, Instagram, and LinkedIn.
About Rockland Trust Charitable Foundation, Inc.
The Rockland Trust Charitable Foundation's mission is to strengthen the communities served by the Bank. We enable individuals and their families to access opportunity and improve the quality of their lives. To date, the Foundation has distributed more than $20 million in grants to qualified non-profit organizations in the communities served by Rockland Trust. For information about the Rockland Trust Charitable Foundation, please visit www.RocklandTrust.com/CharitableGiving.