East Boston leader in affordable housing participates with fellow honorees from around the region in dynamic roundtable to exchange ideas and solutions on combating persistent housing challenges
Boston, MA, May 18, 2023 – Eastern Bank Foundation today announced that it has recognized, Rita Lara, Executive Director, Maverick Landing Community Services (MLCS), with a 2023 Community Advocacy Award and award grant for her organization's role in securing affordable housing in East Boston. Twelve honorees in total from Greater Boston, New Hampshire, the North & South Shores, Merrimack Valley and Cape Cod came together at Eastern Bank headquarters for an afternoon of celebration and a roundtable.
The dynamic roundtable covered many aspects of the affordable housing picture including zoning, access to capital, the key role of grassroots organizations, the importance of business leaders advocating for change, and the significance of philanthropy in partnering for innovative solutions for today's complex challenges. Honorees also discussed how systemic inequities such as high childcare costs, low wages, gaps in education, and racial injustice intersect with the affordable housing issue as a whole.
Each year the Foundation honors a few of the many inspirational people and nonprofits working to address the most critical needs across the communities Eastern serves with the award. This year the focus was on affordable housing, one of the core strategy areas of the Foundation's commitment to expanding economic inclusion and mobility. See full honoree information here.
MLCS works at the heart of the Maverick Landing housing development in East Boston as a key organizer and service provider helping long-time residents avoid displacement from their neighborhoods due to gentrification. During COVID-19, their innovative co-creation and management of the Housing Support Station of East Boston helped over 300 families access more than $1 million in rental aid assistance. While advocating and providing services that underpin the irrefutable connection between housing and health, they also bring workforce development, economic education, digital access and literacy, ESOL training and youth development support to help people not just survive but thrive.
Commenting on the honor, grant and conversation with her peers, Rita said, "Having food, a home and a living wage is essential for community health and family wellness yet that is getting harder and harder to achieve as people are increasingly pressured by inflation, soaring rents and high home prices. This recognition from the Eastern Bank Foundation, and the opportunity to exchange ideas and challenges with peers from across the region, means a lot as we continue to raise awareness and support to meet growing needs and work to preserve our vibrant and diverse community spirit."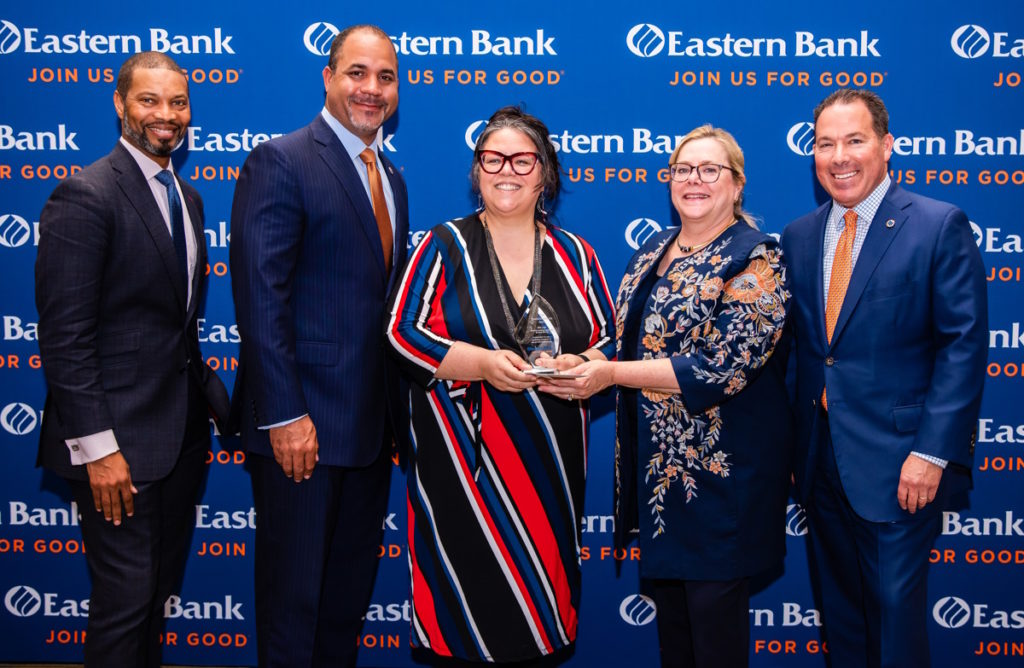 Nancy Huntington Stager, President & CEO of Eastern Bank Foundation, added, "Affordable housing is essential for full participation in our schools, workplaces and neighborhoods but is unfortunately out of reach or insecure for far too many people in our region as the housing crisis worsens. It's more important than ever to spotlight work that is making a difference and to collaborate on solutions. We applaud Rita, Maverick Landing Community Services and all our 2023 Community Advocacy Awards honorees for their innovative, barrier-breaking work."
About Eastern Bank Foundation
Eastern Bank Foundation (EBF), the philanthropic arm of Eastern Bank, actively listens to and partners with our neighbors and fellow change-makers across nonprofit, for-profit and government sectors to further community vibrancy and invest in structural change. We invest with community-led organizations working to build economic inclusion, mobility, and social justice in four strategy areas — advancing equity in the small business ecosystem, enriching early childhood development, securing safe and affordable housing, and promoting workforce development. Knowing the roots of social and economic injustice are as stubborn as they are old, we employ a variety of levers — Philanthropy, Employee Volunteerism, Advocacy, and Collaboration — to lift up and rise with our communities, especially in our region's Gateway Cities. Learn more here Eastern Bank Foundation | Eastern Bank.
Originally posted 5/25/2023