East Boston High School lauded for community partnership and family engagement, a focus on rigorous and equitable teaching and learning, and career connected learning
(BOSTON, MA) November 8, 2023 – EdVestors, a Boston-based school improvement organization, today awarded its $100,000 School on the Move Prize to East Boston High School. The Prize, now in its 18th year, recognizes the schools, leaders, and teachers who create and continuously improve learning environments where all students can thrive. By documenting and spotlighting the stories of advancement, EdVestors aims to assist more schools in making substantial strides in their students' progress.
This morning, Boston Public Schools Superintendent Mary Skipper shared remarks and joined the EdVestors team to announce the winner live and to recognize the two finalists during a ceremony attended by close to 300 community members. WCVB-TV Anchor and Reporter Rhondella Richardson served as emcee at the ceremony, which was attended by business, civic, and education leaders.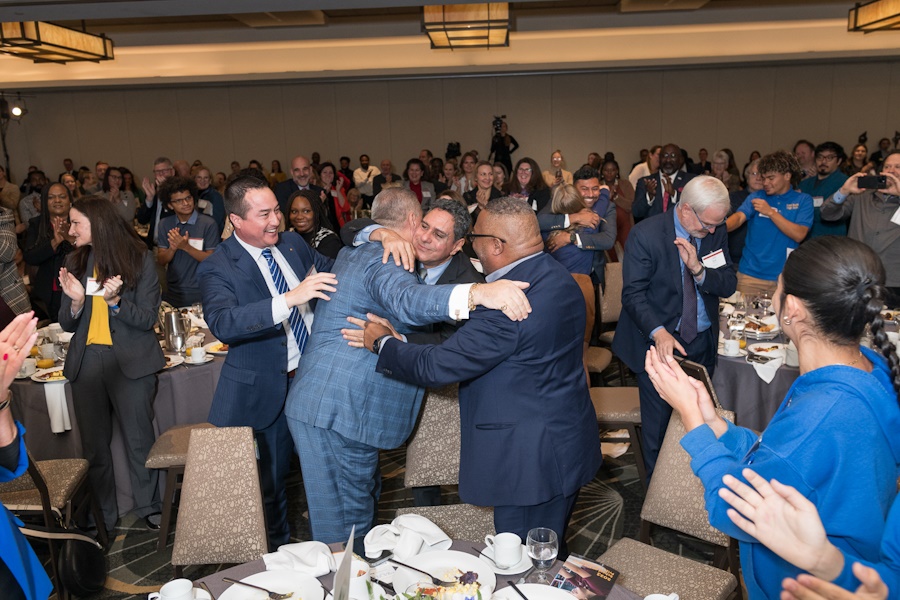 East Boston High School will receive $80,000 in cash and $20,000 is designated toward best practice research, while fellow finalist schools – Boston Green Academy (Brighton) and Fenway High School (Mission Hill) – each will receive a $20,000 award – double the usual runner up prize, thanks to a generous anonymous donor. Each school's unique approach has demonstrated a clear vision and unwavering commitment to preparing their students for future studies, careers, and civic engagement.
"Congratulations to the school leaders, teachers, students, and families at all three finalist schools for their excellence and progress," said Mayor Michelle Wu. "Their outstanding leadership helps set the standards for Boston's commitment to rigorous academics, programming, student support, and facilities that together contribute to the highest quality educational experience for all of our young people."
EdVestors videos of each of the finalist school. Watch the one for East Boston High School here.
East Boston High School is one of the district's largest secondary schools, serving a majority-Latinx student body from the surrounding neighborhood with a strong community spirit. Once on the brink of state takeover, the school has been recognized for its efforts to strengthen instruction over the past decade. With the implementation of graduate-level professional development for teachers, an equitable grading policy, and after-school and summer credit recovery programs, East Boston High School's graduation rate, state ranking, and attendance have all risen steadily despite the pandemic.
"Since we launched the Prize in 2006, our intent has been to shine a light on the bright spots in the Boston Public Schools and share the practices of improving schools as models for others," said Marinell Rousmaniere, President and CEO of EdVestors. "All three finalists provide examples of strong academic and career-connected learning as well as strategic partnerships. East Boston High School exemplifies how meaningful teacher leadership, rigorous academic support, and strong family and community relationship-building are foundational to continued success."
In ten years, East Boston High School has gone from ranking in the 3rd percentile statewide and a graduation rate of 56 percent to the 26th percentile with a graduation rate of 94 percent. Attendance rose consistently, surpassing Boston's average despite the disruptions of the pandemic. In 2022, 10th graders showed high growth on the MCAS in both English and Math and multilingual students outperformed the state average for their subgroup.
"I'm proud of how everyone comes together. I'm proud of how students represent our school and that parents trust to send their students to East Boston High School," said Phillip Brangiforte, Headmaster of East Boston High School. "I think that the future is unlimited for us and that we're going to keep getting better."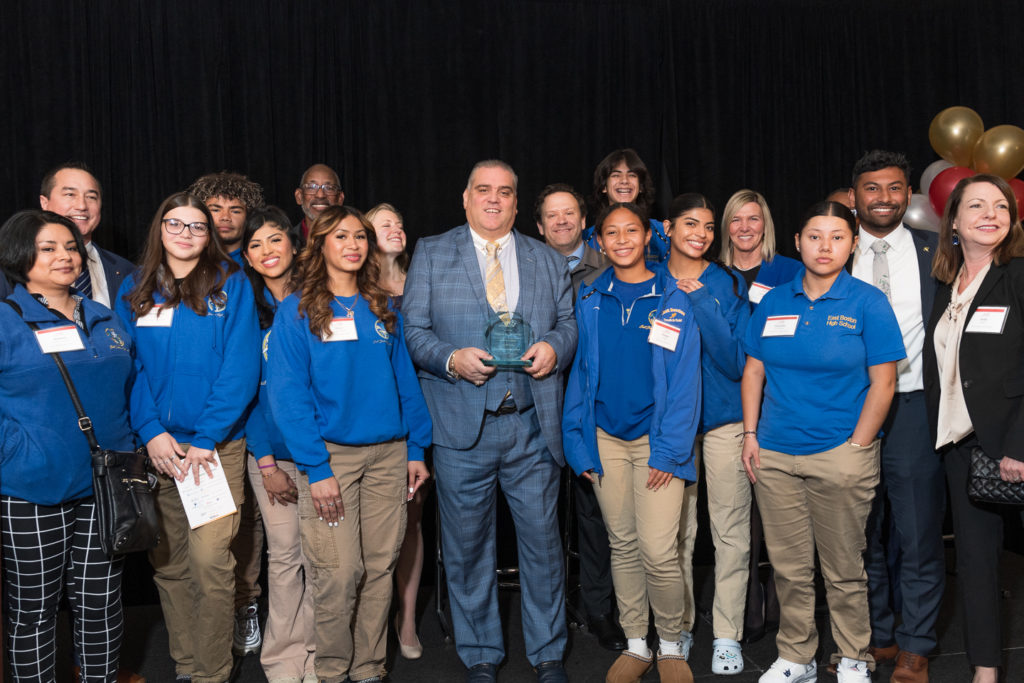 "Our Boston Public Schools community is proud of East Boston High School for this well-deserved award. The efforts of our staff and students at East Boston High School demonstrate what is possible when a school community comes together to deliver on the promise of a high-quality education for every student," said Mary Skipper, Superintendent of Boston Public Schools. "I am so proud of the School on the Move finalists for their commitment to providing challenging coursework and programming; to creating diverse and accessible college and career pathways; and to partnering with Boston's world class institutions, employers, and community organizations. I would like to thank EdVestors for their unwavering support of our district. As we continue to promote equity and excellence throughout the district, we look forward to learning from the accomplishments of all three finalists and implementing their positive practices across our schools."
The School on the Move Prize is made possible by generous support of presenting sponsor – the James M. and Cathleen D. Stone Foundation – along with other 2023 generous sponsors: BerryDunn, The Boston Foundation, Lynne Brainerd & Michael Douvadjian, Charlotte Foundation, Eastern Bank Foundation, Fidelity Investments, Fiduciary Trust, Goldman Sachs, Insource Services, JLL, Larson Family Foundation, Christine and David Letts, Liberty Mutual Insurance, Loomis Sayles, Bauer Family, Parker Family Foundation, Plymouth Rock Assurance, Rockland Trust, Simon Brothers Family Foundation, State Street, William Schawbel & Schawbel Group, WS Development, Vertex Pharmaceuticals, among other generous corporations, foundations, and individuals.
ABOUT EDVESTORS
EdVestors mission is to advance equitable, meaningful education that prepares every Boston student to activate their power and shape their future. EdVestors combines strategic grant-making, content expertise, and collaborative implementation to drive system-level impact in Boston schools. Since 2002, EdVestors has raised and invested over $42 million in school improvement efforts. We drive toward our mission by activating people and resources; learning and iterating in context; and influencing system change. We believe that continuously attending to all three of our drivers ensures our activities will create impact.