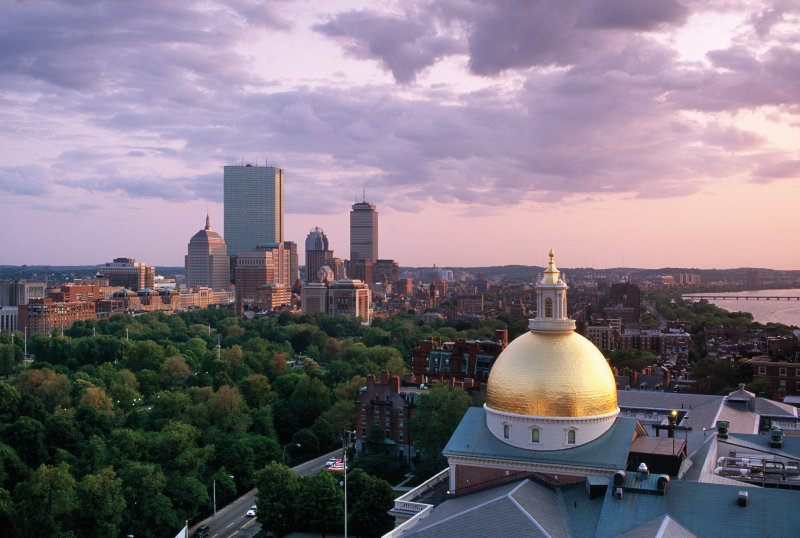 With roughly one month to go before the special Democratic primary for the Suffolk and Middlesex Senate seat, rival candidates Anthony D'Ambrosio and Lydia Edwards are racking up endorsements.
Update: November 8, 2021
Lydia Edwards endorsed by Reps. Aaron Michlewitz, Adrian Madaro
BOSTON – In the special election to State Senate, Lydia Edwards has been endorsed by House Chair of Ways & Means State Representative Aaron Michlewitz and State Representative Adrian Madaro. Primary Election Day is December 14, 2021. General Election Day is January 11, 2022.
Chairman Michlewitz said, "Lydia Edwards is an advocate who understands the power of good public policy. Just in her role as a City Councilor, she has crafted state legislation and built the coalitions around her work to secure real results for the people she serves. Lydia is an incredible public servant and I look forward to working with her in the State House."
Chairman Michlewitz serves as the State Representative for the Third Suffolk district, representing parts of Downtown Boston including the North End, Chinatown, Bay Village, Back Bay, Beacon Hill, and the South End. The current district geographic boundary overlaps with those of the Massachusetts Senate's 1st Suffolk and Middlesex district and 2nd Suffolk district. As a North End resident, he has been a constituent of Lydia Edwards since she was sworn in as a Boston City Councilor in January 2018.
In endorsing Lydia Edwards, Representative Madaro said: "I have worked side-by-side with Lydia Edwards for years now, and I have had a front-row seat to her strength, tenacity and determination. She understands the unique challenges facing East Boston and nearby waterfront communities and she has consistently used her role on the City Council to be a voice for the people. I am excited to partner with her again in the State House. Lydia has my vote on December 14."
Representative Madaro had considered a run for this Special Senate election, but in mid-September, opted not to run to spend time with family, including his infant son Matteo. Rep. Madaro serves as the State Representative for the First Suffolk district, representing Boston's Ward 1 (East Boston). As a lifelong East Boston resident, he is also a City Council constituent and neighbor of Edwards.
Lydia Edwards is a candidate for State Senate representing the First Suffolk and Middlesex District, following the departure of Senator Joseph A. Boncore. For a full and up-to-date list of endorsements, visit: LydiaEdwards.org/endorsements.
Councilor Lydia Edwards is a career advocate, activist, and voice on behalf of society's most vulnerable. She is currently the Chair of the Committee on Government Operations and the Committee on Housing and Community Development in the Boston City Council. Learn more at LydiaEdwards.org/meet-lydia.
Meanwhile, Revere School Committee member Anthony D'Ambrosio is collecting his own local endorsements.
Revere School Committee Members Endorse Anthony D'Ambrosio for State Senate
School Committee Members Michael Ferrante, Susan Gravellese; Northeast Metropolitan Regional Vocational School Committee Member Anthony Caggiano; School Committee Member-Elect John Kingston; Former School Committee Member Peter Martino all proudly endorse Anthony D'Ambrosio for State Senate.
Michael A. Ferrante, Revere School Committee Member
Anthony D'Ambrosio understands that the quality of a child's education shouldn't depend on their zip code. He is a leader that each of our children can look up to. His work ethic, compassion and commitment to education is unmatched in this race for State Senate and I strongly encourage voters to choose Anthony on December 14th!
Susan J. Gravellese, Revere School Committee Member
Anthony is a passionate, progressive voice on the School Committee. From leading the charge to start the first ever Revere Equity Advisory Board and advocating for additional mental health resources, Anthony is the clear choice to be our next State Senator.
Anthony Caggiano, Northeast Metropolitan Regional Vocational School Committee
Our next State Senator needs to have a passion for education and the understanding that apprenticeships and vocational trades are an integral piece to building our economy. Anthony gets that and I strongly urge those living in the 1st Suffolk and Middlesex District to support his campaign.
John Kingston, Revere School Committee Member-Elect
Anthony D'Ambrosio strives for excellence in everything he does. He has shown it time and again on the Revere School Committee. His education, dedication and vision are exactly what we need in the State Senate.
Peter Martino, Former Revere School Committee Member
I have known Anthony his entire life. The 1st Suffolk and Middlesex District will be well served by his experience, knowledge and passion to help others. I proudly support his campaign and urge you to as well.