The following was sent by the Health Center on January 29, 2021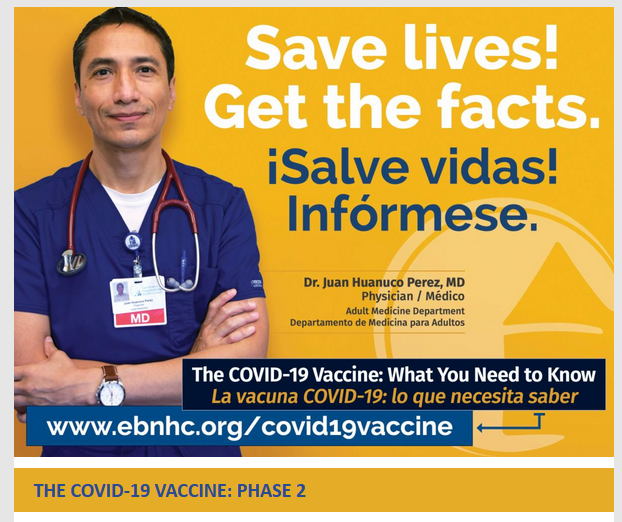 Dear Patients and Residents:
Beginning next week, East Boston Neighborhood Health Center (EBNHC) will offer COVID-19 vaccination to patients and residents ages 75 years and older.

Vaccine Eligibility EBNHC is following the Commonwealth of Massachusetts' vaccination plan, which enters Phase 2 next week. EBNHC is committed to providing vaccines to our eligible patients and community residents. Appointments will be available based on the state's plan and our vaccine supply. Please visit our website at ebnhc.org to stay updated on your eligibility and how to schedule an appointment at our vaccination sites. We will also contact patients directly through text message and email.
In the weeks ahead, residents 65 and older, and residents under 65 with two or more serious conditions, may become eligible to receive the vaccine at our vaccination sites. Again, we will let you know when we are prepared to schedule this group for vaccination.

Our shared goal is to get everyone in our community vaccinated. This will likely take some months. Please continue to stay up to date on the state's phases and eligibility timeline by visiting mass.gov or ebnhc.org for more information about scheduling your vaccine.

Vaccine Clinics and Scheduling
Residents 75 years and older can be scheduled for vaccination at one of EBNHC's vaccination sites beginning next week. Vaccination is free to all residents. We will ask for your insurance information if available and bill your insurance, but you do not need to have insurance. Eligible residents (currently residents 75+) can request an appointment by calling 617-568-4870. Vaccinations at EBNHC locations are available by appointment only. You must call for an appointment. The scheduling phone line will begin taking calls on Tuesday, February 2. Vaccination clinics are located at:
Thank you for your patience and continued commitment to our collective safety: masking, socially distancing, and hand-washing are still critical to protecting our community.