BOSTON – On April 26, 2023, the Massachusetts House of Representatives passed its Fiscal Year 2024 (FY24) budget. Funded at $56.2 billion, the House's FY24 budget provides strong support for many crucial programs, services, and agencies in our communities.
"From critical investments in health care and workforce development, to funding for new initiatives that are designed to increase educational opportunities, better support working families, and provide for a safer and more reliable public transportation system, the House's FY24 budget will help to make Massachusetts more affordable for residents, while allocating support for the Commonwealth's most consequential institutions," said House Speaker Ronald J. Mariano (D-Quincy).
"This budget builds off the successes of the last few years by prioritizing our residents. Whether it is greater investments into programs like housing stability, food security, or early education, these initiatives are a reflection of our shared values," said Representative Aaron Michlewitz, Chair of the House Committee on Ways & Means (D-Boston). "By reinvesting in the people of the Commonwealth, we will continue to assist those recovering from this pandemic while making our economy more competitive and equitable for years to come."
The House budget includes funding for several initiatives that Representative Adrian Madaro of East Boston has proposed in the Legislature. As the lead sponsor of legislation to make childcare universally accessible and affordable to all residents, Rep. Madaro is proud to see that the House budget includes $100 million in rate increases for subsidized childcare providers across the Commonwealth.
For several legislative sessions, Representative Madaro has also been the lead proponent of a reduced fare program for low-income MBTA riders to increase access to affordable transit. In response to effective advocacy from Rep. Madaro, as well as leaders within community-based organizations and organized labor, the House has set aside $5 million to adopt a pilot program to explore this initiative.
To begin to address the housing crisis, the House budget makes permanent a pandemic-era measure that protects renters with pending applications for emergency rental assistance from being evicted. Additionally, the House is requiring public schools to provide universal school meals to all students free of charge, making Massachusetts the sixth state in the country to make the program permanent.
Additionally, as the Chair of the Joint Committee on Mental Health, Substance Use and Recovery, Rep. Madaro appreciates the important funding being provided for mental health and substance use treatment services in Massachusetts. This includes $208.2 million for the Bureau of Substance Abuse Services (BSAS), $584.9 million for adult support services, $42.9 million for the Early Intervention program, and $117.9 million for children's mental health.
EAST BOSTON
Representative Madaro is especially pleased to secure meaningful funding through the House budget for organizations working in East Boston.
"The FY24 Budget passed by the House prioritizes many of the greatest needs in our communities and across the Commonwealth," said Representative Adrian Madaro (D-East Boston). "I am proud to bring critical investments home to East Boston to support the vital work of local nonprofits that serve people across our community."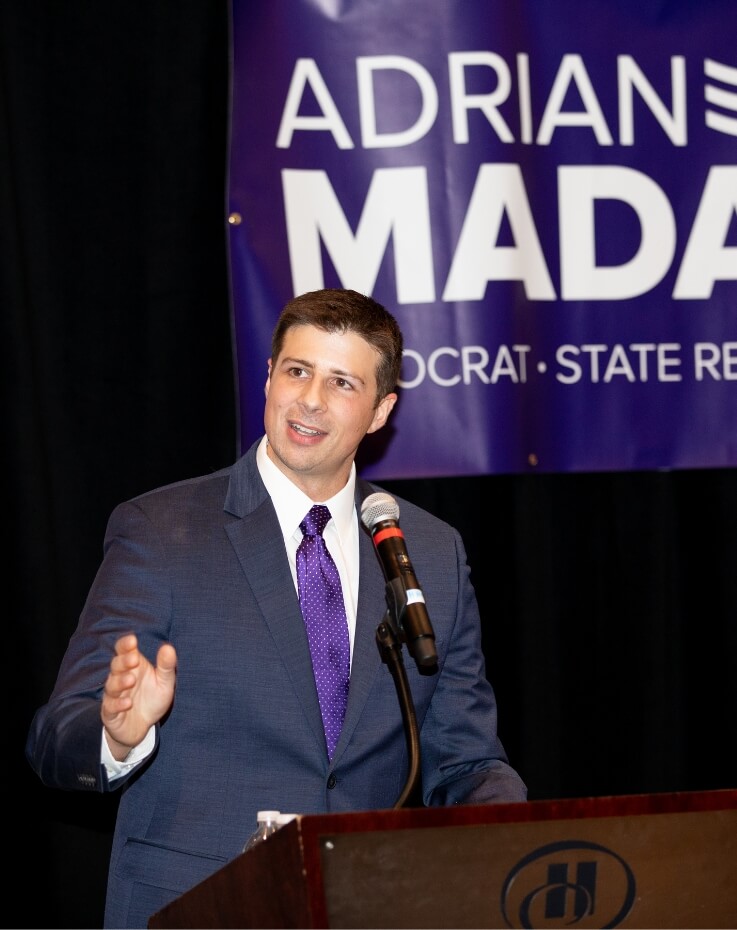 This funding includes:
$50,000 for Mutual Aid Eastie, a support network that advocates for residents by creating community spaces that build unity, trust, solidarity, and community care. This funding will help sustain Mutual Aid Eastie's work to advance food justice, fight housing instability, create spaces of emotional support and healing, and more. "Mutual Aid Eastie is grateful to see these funds reinvested in our community and we are committed to use them reciprocally, building unity among our neighbors," said Mutual Aid Eastie in a statement.
$75,000 for Neighbors United for a Better East Boston (NUBE), to support programming that includes canvassing, phone banking, and public forums to inform residents about local election and issues, especially in historically disenfranchised groups, such as limited English proficient people, low-income people, and people of color. These resources would also be used for capital improvement projects as NUBE works to establish a more permanent location. "We are immensely grateful for the funding that has been allocated to us, which means a lot to our organization and to the community we serve. This funding supports a decade-old dream of building social movements, community, culture, and abundance," said Enilda Lovo, Executive Director of Neighbors United for a Better East Boston (NUBE). "It also supports civic work, which allows us to reach more voters in Black and Indigenous communities and other communities of color and build community power through voting. Thanks to Rep. Madaro for helping to build a more abundant and just community in East Boston."
$50,000 for Tree Eastie, a local grassroots organization dedicated to enhancing the tree canopy in East Boston. This allotment will support Tree Eastie's efforts to foster public health through a bigger tree canopy, which provides cleaner air, shade, and noise abatement. "As an Environmental Justice community with the city's lowest canopy, East Boston desperately needs more trees. This exceptional funding will support Tree Eastie's mission to plant and maintain trees as well as educate residents on the important benefits that trees provide," said Bill Masterson of Tree Eastie. "Our deepest thanks to Representative Madaro and the House for this inspiring investment in our future, health and environment."
$75,000 for Maverick Landing Community Services, to fund their Housing Support Lab. The funding from this line item will help maintain MLCS's efforts to address housing insecurity in conjunction with other local nonprofits by providing direct assistance to residents, including renters and owner-occupants, trying to remain in their homes. "Since 2020 the housing stabilization lab at MLCS has provided critical housing assistance and eviction defense in collaboration with the Northeastern Law School Advocacy Clinic and with deep support from State Representative Adrian Madaro's office. As housing costs continue to destabilize families, we need this support more than ever. To date over 300 families have been able to stay housed. Housing determines a family's physical and mental health and overall stability; if it were a human right, homelessness would not exist," said Rita Lara, Executive Director of Maverick Landing Community Services.
$40,000 for Crossroads Family Shelter, serving women and children from East Boston and surrounding communities who are experiencing homelessness and poverty. "Crossroads Family Center in East Boston provides shelter and critical wraparound support services to 27 mothers, fathers, and children experiencing homelessness, poverty, and trauma, as well as a weekly food pantry serving over 1,000 East Boston community members annually. We are deeply grateful for the partnership of Rep. Madaro and our local legislators in securing earmark funding to support comprehensive behavioral health supportive services for our residents and furthering our mission to break down barriers for families experiencing homelessness and poverty," said Charles Smith, Program Director at Crossroads Family Shelter.
$50,000 for YouthConnect, a program that provides community-based mental health services to young people and families who have come into contact with the criminal legal system. Through a social worker placed at the East Boston police station, YouthConnect redirects intervention from police officers to a mental health professional who is specifically trained in this area. "We are grateful for the State's support and State Rep. Adrian Madaro and Senator Lydia Edwards' advocacy to ensure that we at YouthConnect continue to do our work in the East Boston community," said Kevan Barton, Executive Director of YouthConnect. "These funds allow us to provide much needed community-based mental health supports to youth and their families."
$50,000 for the East Boston Social Centers to help reestablish their English-language classes for members of our community. Existing ESOL programs have long waitlists fueled by high demand, and this program will address the gap in current offerings. "We at East Boston Social Centers want to express our deep gratitude to Representative Adrian Madaro for his steadfast support for our community, and for our children and families," said Justin Pasquiarello, Executive Director at the East Boston Social Centers. "This important funding will advance our Every Child Shines work to help all East Boston children enter Kindergarten ready to learn, joyful and thriving by supporting ESL instruction for parents and other community members. We know supporting parents is critical if we are to help children thrive. Thank you to Representative Madaro and the Massachusetts House for recognizing that in your budget!"
$300,000 for the East Boston Neighborhood Health Center to make important door and sidewalk upgrades at their Emergency Department, improving patient access in compliance with federal regulations and ensuring safe and easy access for members of the community seeking care. "On behalf of our patients and staff, we thank Rep. Madaro and Chair of Ways and Means Aaron Michlewitz for this important investment to further enhance the safety and accessibility of our Emergency Department," said Greg Wilmot, President & CEO of East Boston Neighborhood Health Center. "Our emergency department is the 4th busiest in Boston and investments from the Legislature have helped improve our quality of care and capacity to treat anyone who comes to us for service."
$30,000 for the East Boston Play Shed on the Mary Ellen Welch Greenway. Run by the City of Boston, the play shed will create a community recreation lending library where kids and members of our community can access toys and other resources, encouraging active play at Bremen Street Park and all along the Greenway.
$700,000 for the East Boston Ferry to continue operations. This funding will keep the Ferry going for another season, extending this popular and enjoyable method of public transit across Boston Harbor. With the Blue Line facing extended repairs and the Sumner Tunnel closure this summer, the Ferry provides an important additional mode of transportation to connect East Boston with Downtown.