Pilot program designed to ease congestion and improve safety to start in the Fenway
BOSTON – Thursday, March 14, 2019 – Mayor Martin J. Walsh today launched a pilot program that designates curb space for pick-ups and drop-offs, facilitating ride-sharing services such as Uber and Lyft. Announced in the Mayor's Boston Municipal Research Bureau Speech last week, the Boston Transportation Department and the Mayor's Office of New Urban Mechanics will begin to pilot dedicated zones for ride-sharing activity, starting with the intersection of Boylston Street and Kilmarnock Street in the Fenway. Anyone may use the designated zone for pick-ups and drop-offs from 5:00 p.m., overnight and into the early morning hours. Enforcement of the pilot will start tomorrow, Friday, March 15, 2019.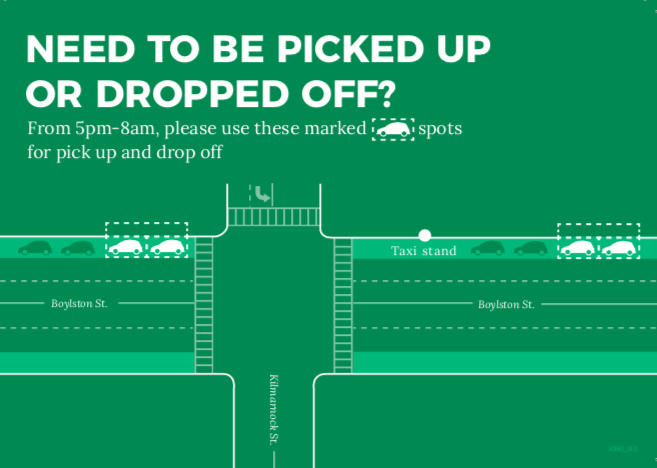 "Our goal through this pilot, and through all of our transportation initiatives, is to make sure Boston's neighborhood streets are safe, accessible, and equitable for all residents," said Mayor Walsh. "Ride-sharing services have changed the way people travel — and with 35 million trips starting in Boston every year, this pilot will help us improve streets in our city, and bring us further towards our Go Boston 2030 and Vision Zero goals."
This pilot was created to minimize traffic disruptions that often accompany ride-sharing services. Ride-sharing vehicles that stop in the middle of the street to pick-up and drop-off passengers create hazardous conditions for their customers and contribute to congestion on Boston's roadways. The new curbside zone in the Fenway will allow these vehicles to continue to offer their transportation services, but in a way that supports the City of Boston's Vision Zero safety goals and helps to improve traffic flow on Boston streets.The pilot is designed to ease congestion caused by double parking and to increase safety for passengers entering and exiting vehicles.
The Boston Transportation Department will install signage to help drivers and passengers find the zones, and will evaluate the program to gauge its impact. The pilot zones will only apply to the blocks where they are located. Consequently, the locations affected will be the immediate blocks to the west and east of Kilmarnock Street on Boylston Street.
"We're thrilled to see the Mayor's Office of New Urban Mechanics explore innovative projects like this one," said Tyler George, Lyft's New England General Manager. "These zones will not only make moving around the area more convenient and frictionless, but it can meaningfully reduce congestion and improve the experience for drivers, riders, and the Greater Boston community."
"We're excited to partner with the Mayor's Office on a proposal that will limit congestion and make it easier than ever for riders to get to and from Fenway. The pick up and drop off zones will not only make trips seamless for riders, but also more convenient for drivers, and we look forward to continuing to work with the Mayor on our shared goal of reducing congestion," said Koosie Boggs, Uber's Head of Rides for New England.
Other transportation and infrastructure improvements recently announced by Mayor Walsh in his Boston Municipal Bureau Speech include lowering speed limit on city streets to 20 MPH; designing a pilot for adaptive traffic signals; launching a citywide education campaign on road safety; expanding the bus lanes pilot to more neighborhoods; and providing MBTA Passes to all students grades 7-12.
Mayor Walsh has also submitted transportation bills to the Massachusetts Legislature aimed at efficiently supporting residents by providing investment in transportation infrastructure, reducing carbon emissions from motor vehicles, and providing for safer streets. An Act Relative to Transportation Network Company Rider Assessments would add a charge to transportation network companies like Uber and Lyft operating during rush hours to be invested in local roads and transit, including improvements to bicycle and pedestrian infrastructure. It would also reduce charges for pooled rides and the use of electric vehicles.
The pick-up/drop-off pilot aligns with Mayor Walsh's initiatives to reduce carbon emissions from motor vehicle driving behaviors such as circling the block or idling to find a passenger. The pilot also furthers the goals established in Go Boston 2030, the City of Boston's comprehensive transportation plan. Execution of the plan is well underway with action being taken on more than half of the 58 projects and policies identified. These initiatives work to reduce congestion, encourage travel by transit, bike and on foot, and ensure safety and equitable access for all users of Boston's streets.