Santiago calls for City Hall to publicly finance affordable housing and for 25% of new development to be homeownership opportunities for families making less than $100k
BOSTON — Today, Rep. Jon Santiago announced his affordable housing and equity platform, a bold vision focused on protecting, preserving, and expanding affordable housing, homeownership opportunities, and stabilizing the renter class.
For Santiago, the issue of housing is personal. His family depended on rental vouchers while living in Roxbury as a child. In his work as an ER doctor during the pandemic, the importance of housing was further underscored.
"COVID demonstrated the importance of having access to safe, affordable, and stable housing," said Santiago. "For some during the pandemic, it meant life or death. The reality is that far too many residents in Boston do not have access to affordable housing and even more are being displaced from their neighborhoods. We need urgent and bold action now to guarantee affordable housing for every resident."
Santiago was joined at today's press conference by Boston residents directly impacted by Boston's housing crisis.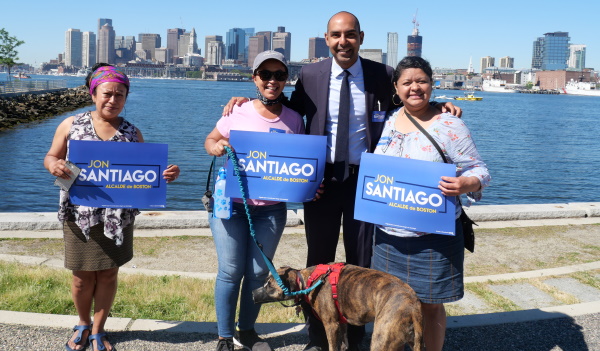 Tito Lugo, a Boston resident who was nearly evicted during the COVID-19 pandemic, introduced Santiago saying, "During COVID, I lost my job and struggled to get by. My neighbor found Jon Santiago's number. Jon responded to my call and helped me keep my housing. We need to vote for a person like Jon Santiago who is committed to the people."
Santiago calls for publicly financing affordable housing projects, raising capital through city bonding. His plan also calls on raising Linkage Fees and ending the parking exemption to capture additional revenue from developers. The platform seeks to end the use of Area Median Income in favor of a Boston Median Income, lowering prices and more accurately reflecting the incomes of Boston residents. Lastly, Santiago pledges to partner with Community Land Trusts (CLTs) and Community Development Corporations (CDCs) by establishing specific funds that would allow for both to build more affordable housing and offer more vouchers.
Santiago also calls for more resources for affordable homeownership opportunities. Going farther than any other candidate, Santiago pledges to use city hall as a mortgage guarantor for first time homebuyers to help folks overcome credit score barriers to purchasing a home. He also commits to 25% of new development being homeownership opportunities for individuals or families making less than $100k. The platform also allocates specific funding to programs like One+ Boston and STASH while creating affordable overlay districts, paving the way for targeted city intervention that will require long-term affordability in certain neighborhoods.
Santiago specifically outlines renter protections, anti-displacement, and rent stabilization policies. The policy also includes expanding housing voucher programs to help tenants remain in their neighborhoods. Santiago supports the Tenant Right to Counsel bill, codifying the Boston Condo Conversion Law, and the HOMES Act.
The platform articulates homelessness prevention and support services, including a proactive Office of Housing Stability that will reach out to at-risk tenants long before they receive a Notice to Quit. It also specifically enumerates policy addressing veteran homelessness.
Lastly, Santiago calls for property tax reform to provide relief to struggling families getting squeezed out of our neighborhoods due to rising home values. In his property tax relief plan, he will establish transparent criteria for assessing, increase the appeal period from 30 days to 90 days, and increase the senior exemption for those 65+.
For the full plan, please visit: https://www.jonsantiago.org/housing-affordability-preservation-and-equity/
Jon Santiago is currently serving his second term as the State Representative for the 9th Suffolk District representing the South End, Roxbury, Back Bay, and Fenway neighborhoods of Boston. He is an emergency room physician employed at Boston Medical Center, the city's safety net hospital. He serves as a captain in the U.S. Army Reserve and has deployed overseas. Prior to these experiences, Santiago served as a Peace Corps volunteer in the Dominican Republic. He lives in the South End with his wife, Alexandra.