BOSTON, MA – Tuesday, Boston City Councilor At-Large Ruthzee Louijeune, testified before the State House Housing Committee in support of a bill presented by Representatives Mike Connolly and Nika C. Elugardo that would allow municipalities access to resources that would help defend the rights of tenants and address the affordable housing crisis. Louijeune is currently in the second week of her tenure in Boston City Council.
In her testimony, Louijeune pointed to a case in which renters are being forced from their homes in Mattapan. "Through sweat equity and endless advocacy, Mattapan residents and allied elected officials persuaded the MBTA to add a commuter rail line stop nearby," Louijeune said. "Now, Fairlawn Apartments have been rebranded "SOMA Apartments at the T" by outside owners who have been pushing drastic rent increases."
Community organizations like City Life Vida/Urbana have been at the forefront of efforts to combat the displacement of residents in instances like the Fairlawn Apartments. "Our members fighting bravely are always heartened by the support from public officials such as newly elected Councilor Ruthzee Louijeune," City Life organizer, Steve Meachem said in a comment. "Her testimony at the hearing connected to our ongoing struggle at Fairlawn Apartments, where she supported our rally last month."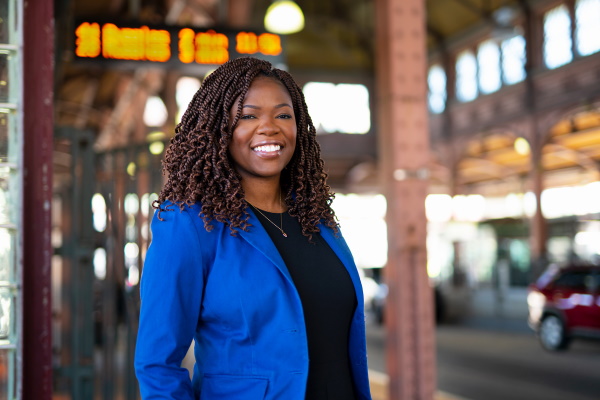 Louijeune spoke of her experience representing families facing eviction in Boston housing court and pointed to the need to protect poor and working-class families in cycles of poverty and displacement. She closed her testimony by sharing that her father is a landlord, renting out her childhood home below-market to low-income families. She called for the need to give cities the ability to decide what rent stabilization measures look like to best meet the needs of the community.
Louijeune brings seven years' experience working on political and advocacy campaigns, fighting for working people and Black and Latinx communities on issues of housing, education access, and voting rights. Recently, Louijeune started her own legal and advocacy business, The Opening PLLC. Previously, Louijeune served as Senior Counsel for U.S. Senator Elizabeth Warren's presidential campaign. Prior to that, she was a lawyer at Perkins Coie LLP.
The daughter of Haitian immigrants, fluent in Haitian Creole, French, and conversant in Spanish, Louijeune is the first Haitian-American to hold elected office in Boston city government.