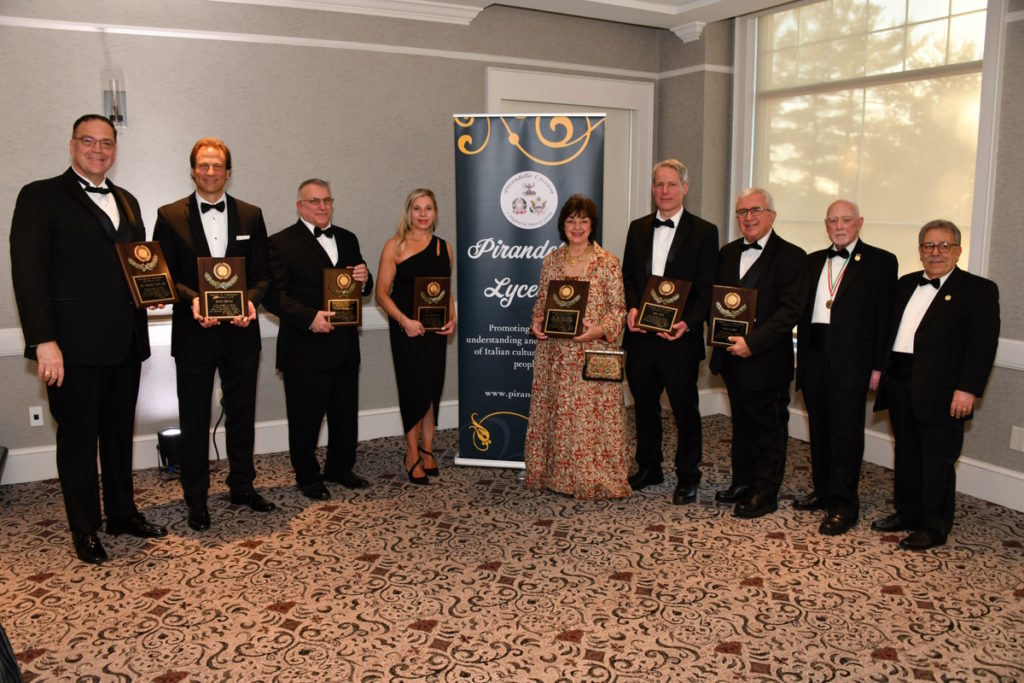 Again, The Pirandello Lyceum recognized some outstanding Italian Americans at its recent Awards Dinner and, said Dr. Peter Campisano , "it was no surprise that the recipients were among the most outstanding examples of the Italian American story ".
The Pirandello Lyceum is a prestigious Italian American organization with members from academia, medicine, government and business. It was established in 1980 to maintain and share Italian language and culture in America.
Recognition by the Pirandello Lyceum is a significant honor. Boston Magazine has said that receiving the I Migliori Award is one of the most prestigious that can be bestowed on an Italian American. The Award represent " …excellence in mind and deed".
Receiving the coveted I Migliori Award were: Davod Santulli, International Entrepreneur and Philanthropist; Jeffrey Turco, Esq., for Law and Public Service; Cavaglieri Dr. Gilda Battaglia Rorro Baldassari for Literature and Education; Rocco Scenna, Business Management; Saveria Manago, Higher Education; Daniella Messiina, Esq., Business Development; Greg Stone, Entrepreneur and Author, ad Vincent Petronella, Ph.D., Higher Education.
Chairman Rosario Cascio, Past President of Pirandello, said to a capacity crowd of dignitaries that it was significant that so many past I Migliori Award recipients were attendance. He said that it was indicative of the sense of family that Italian Americans have. He said that it was important that Italian Americans continue to recognize their Heritage and the unique contributions they have made to America.
The event , which was held at Spinelli's Function Hall in Peabody, was led by Debera White and Dr. Lori Azzara. The Master of Ceremonies was Thomas Damigella, President of the North End Historical Society and a Vice President of the Italian American Alliance.
The evening's Special Guest was the Consul General of Italy in Boston, Arnaldo Minuti, who congratulated the recipients of the coveted I Migliori Award saying that they were outstanding examples of the influence of Italian values.
The keynote speaker was Dr. Domenic Amara, President of the Pirandello Lyceum and Chairman of the Italian American Alliance. Dr. Amara spoke of the need for Italian Americans to remember their past and share it with the next generation. He emphasized that it must stand together as a community in order to counter a growing antipathy to the contributions of Italians and Italian Americans to America. The full text of Dr. Amara's remarks are given below.