FORT KNOX, Ky. – The remains of a Soldier killed during the Korean War will be interred Oct. 22, at Holy Cross Cemetery. Graveside services for Army Cpl. Joseph J. Puopolo will be performed by Magrath Funeral Home, Boston, preceding the interment.
A native of East Boston, Puopolo was a member of C Battery, 38th Field Artillery Battalion, 2nd Infantry Division Artillery, 8th U.S. Army. He was reported missing in action Dec. 2, 1950, after his unit attempted to withdraw from Kunu-ri, North Korea, Nov. 30, following the Battle of Ch'ongch'on. It was reported by four POWs who returned during Operation Big Switch in 1953, that Puopolo died a prisoner of war in February 1951, at Prisoner of War Camp #5. He was just 19 years old.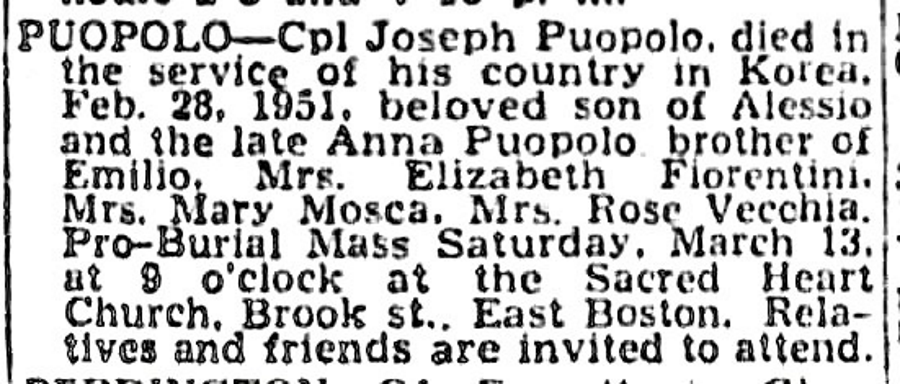 One set of remains disinterred from Camp #5 and returned to the United Nations Command by North Korea during Operation Glory in 1954, was designated Unknown X-14430 and buried at the National Memorial Cemetery of the Pacific, known as the Punchbowl, in Honolulu.
In December 2019, the Defense POW/MIA Accounting Agency disinterred Unknown X-14430, as part of Phase Two of the Korean War Disinterment Plan and sent the remains to the DPAA laboratory at Joint Base Pearl Harbor-Hickam, Hawaii, for analysis.
Puopolo was accounted for by the Defense POW/MIA Accounting Agency Aug. 23, 2022 after his remains were identified using circumstantial evidence as well as dental, anthropological and mitochondrial DNA analysis.
His name is recorded on the Courts of the Missing at the Punchbowl, along with the others who are still missing from the Korean War. A rosette will be placed next to his name to indicate he has been accounted for.
More than 7,500 Americans remain unaccounted for from the Korean War.
"For additional information about Cpl. Puopolo, go to this link at the Defense POW/MIA Accounting Agency: Soldier Accounted For From Korean War (Puopolo, J.)
To learn more about the Department of Defense's mission to account for Americans who went missing while serving our country, visit the DPAA website at http://www.dpaa.mil.