Representative Adrian Madaro was humbled to accept the Michael V. Dalton Making a Difference Award from the Thinking of Michael (TOM) Foundation on Friday, May 19 at the foundation's 4th annual Trivia Night at the Four Points by Sheraton Wakefield Boston Hotel & Conference Center.
The Thinking of Michael Foundation was established by Dick Dalton and his wife, TOM President Carmela Dalton; their son Jamie Dalton; and daughter, Stacey Dalton Cook, after Dick and Carmela Dalton's son Michael Dalton, a hockey and football standout at St. Sebastian's School who went on to star at Colby College, died in 2018 at the age of 39 from an opiate overdose while in outpatient treatment.
"I feel in my heart that through Michael's death, something good has come out of it and we are helping so many people. It's a good feeling," said Carmela Dalton. "It's sad on one hand, but it's also so very meaningful. We couldn't do this without the help of our friends and family and the board, which is fabulous."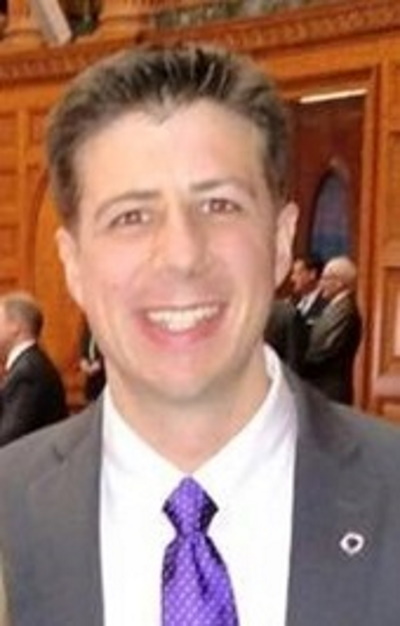 Carmela Dalton said Representative Madaro, who serves as the House Chair of the legislature's Joint Committee on Mental Health, Substance Use and Recovery is "so worthy of this award for his exceptional work and contributions to the foundation's mission and the impact he has had in the community. He's been a tireless advocate for legislation and funding that is making a difference."
Representative Adrian Madaro said he's privileged to partner with "some amazing individuals and advocates across the state who are doing transformative work in behavioral health care and this is such a beautiful way to honor Michael's memory."
"The Think of Michael Foundation is doing amazing work not only raising money to make sure that folks have opportunities for scholarships to get into sober homes, but also doing the work each and every day of breaking barriers that those in recovery and those with substance use disorders have to deal with as well as combating the stigma of addiction that's still very alive and well," said Representative Madaro. "Thank you for what you do."
Dick Dalton said the Making a Difference Award is for "great people doing great things."
"We felt it's so important to give them credit for the good things they are doing, so that people know there are so many people who are working to make a difference helping those in recovery succeed," he said.
The foundation provides financial aid in the form of scholarships to recovering addicts to help defray the cost of living at sober houses as they transition from rehabilitation to the real world. It also provides scholarships to high school students. The foundation has since expanded its mission to other endeavors, including job assistance.