The grand prize winner will take home $20,000, and all finalists will receive personalized consultation from business banking officers
Hanover, MA – March 1, 2022 – Rockland Trust has just launched its annual Small Business, Big Dreams contest. This competition offers small business owners the chance to take their enterprise to the next level. Participants will be narrowed down to three finalists that will be paired with a Rockland Trust Business Banking Officer (BBO) who will provide one-on-one consultations to coach the participants through the competition and help them build a comprehensive business plan to present to a panel of judges. The grand prize winner will receive $20,000, and both runners-up will receive $2,500.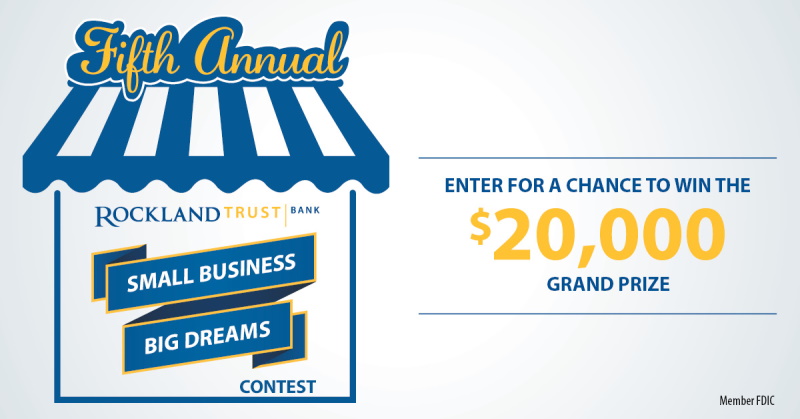 "We are thrilled that our fifth annual Small Business Big Dreams contest is underway. This initiative has taken on an even deeper meaning during the pandemic as so many of our local small businesses deserve to be recognized for their incredible resiliency," said Mary Chetwynd, Senior Vice President and Director of Business Banking at Rockland Trust. "It is inspiring to hear the stories of the small business owners who enter the contest, learn about their business goals, and then develop strong relationships with our three finalists and help them work toward achieving their ultimate dream."

Beginning March 1st through April 1st, businesses throughout Massachusetts and Rhode Island who have been running for two years or more and have an annual revenue of less than $3 million are invited to enter the contest. To be eligible, contestants must complete an online questionnaire describing their business goals and how they would use the $20,000 grand prize to finance their dreams. Entrants do not need to be customers of Rockland Trust. For the complete official rules and detailed entry instructions, including eligibility criteria, please click here.
For more information on the contest or eligibility, please visit www.RocklandTrust.com/smallbusiness.