MAY 8 – JUNE 12, 2021
Carmen Sasso: A Study in Contrasts
Dan Hofstadter:Light & Shadow, Drawings 1990-2020
This month Carmen Sasso and Dan Hofstadter return to offer two solo shows suggesting two different approaches to representational art.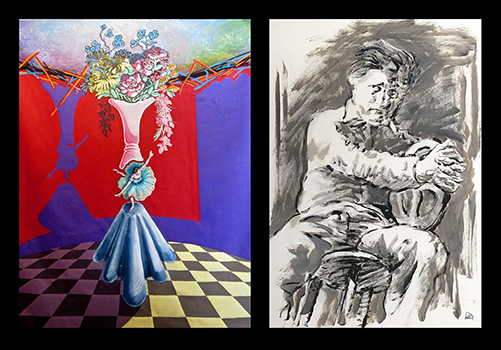 At the gallery Dan Hofstadter offers a sampling of thirty years of freehand drawing. These show a variety of subjects, including portraits of friends and family, figure pieces, and a suite of monotypes. The latter, composed from fantasy in a direct technique the artist picked up while teaching primary-school art classes, explore several shadowy themes that have haunted his imagination. Other drawings, executed in willow charcoal, pen-and-ink, and ink wash, create a concrete impression of people known and places lived.
Carmen's show offers mixed-media paintings that explore off-beat stylistic combinations. Some of the pieces juxtapose northern Renaissance perspective and abstract expression; others pair conscious rendition with unconscious discoveries or the visual translation of sound. Still others quote historical masterpieces in a resonant decidedly present-day context.
Join both artists on Saturday, May 8, at the Gallery from 2-5 PM when they will lead an open discussion on art making.
Masks and social distancing required. Gallery will be monitored to limit visitors at any given time.
Gallery Hours: Fridays and Saturdays 2-6pm
For information or private appointment contact 857-302-8363 during gallery hours or write
Dan at DHworks5012@gmail.com or on the contact page of his website at www.dhworks.net.
Source: Atlantic Works