East Boston News
The Farm will be expanded with funding from the City of Boston's Grassroots Program and Community Preservation Act Funding to support more climate-smart and community-sensitive urban agriculture and increase the availability of fresh food in East Boston
BOSTON – June 30, 2021- Mayor Kim Janey joined the East Boston community to celebrate all the work Eastie Farm, Inc., has been doing during the COVID-19 pandemic. The celebration included recognition of the City of Boston awarding $332,400 in Grassroots and Community Preservation Act funding, spread across three sites on Summer Street and Meridian Street, and a recent land conveyance on Chelsea Terrace from the City of Boston's Grassroots Program to Eastie Farm. The renovation of 6 Chelsea Terrace will create a community gathering space and a geothermal greenhouse for growing food and engaging school children in experiential learning.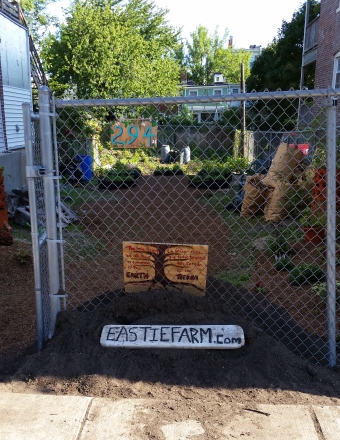 "The Grassroots Program supports gardening and farming opportunities in all of Boston's neighborhoods. I am excited to announce the recent renovation and expansion of this beautiful community farm in East Boston. I want to also honor and thank the Eastie Farmers for their commitment to the East Boston community, especially throughout the COVID-19 pandemic," said Mayor Janey. "We are pleased to support the success of Eastie Farm, and I want to thank the farmers and residents of East Boston for their work."
The City of Boston's Grassroots funding already enabled Eastie Farm to expand and upgrade their space in Jeffries Point with a new water connection, create a retaining wall, build a tool shed, produce an ADA-compliant ramp, provide stormwater management equipment, build raised garden beds, and update the landscaping and irrigation. The new improvements will beautify the farm, increase its accessibility and engagement with residents and support urban farming in Boston, which is designed to increase the availability of fresh fruits and vegetables in neighborhoods across Boston.
"We want to thank Mayor Janey for supporting community-led efforts and for celebrating the successes of bottom-up solution-building. Eastie Farm grows food and builds community. A little kid pulls out her first carrot here. An immigrant women's cooperative is launched here. Many hands together plant a tree here. With the help of support from the City of Boston, foundations, and community members, East Boston has turned the abandoned lot at 294 Sumner into a community asset: supporting food security; serving as an informal learning space for growing food, building soil, conserving rainwater, and reducing food waste; and providing a relaxing open green space in an otherwise dense urban block. By turning into a meal and produce distribution spot, this space proved integral in East Boston's resiliency during the food crisis caused by the COVID-19 shutdown. Now we offer a CSA (Community Supported Agriculture) program to increase the availability of locally grown fresh and healthy produce to residents. And we host budding musicians, comedians, and other artists. It's a fun, positive, and active community space. With city and state funds, we look forward to setting up 6 Chelsea Terrace, just conveyed to us by the City of Boston, with a greenhouse for use as a nursery and a year-round learning space, powered by clean renewable energy. Spaces like 294 Sumner and the collaborative work of organizations like Eastie Farm with government and the private sector are a testament of the collective power and resiliency of our society," said Kannan Thiruvengadam, Director of Eastie Farm.
The community process for Eastie Farm effort began in 2014, which included a partnership between the City of Boston and East Boston residents, who have been active in both the redevelopment and management of the new farm and garden space. The redevelopment of this land on Summer Street, Meridian Street, and 6 Chelsea Terrace has been funded by more than $282,400 in Grassroots Funding and $50,000 in Community Preservation Act Funding.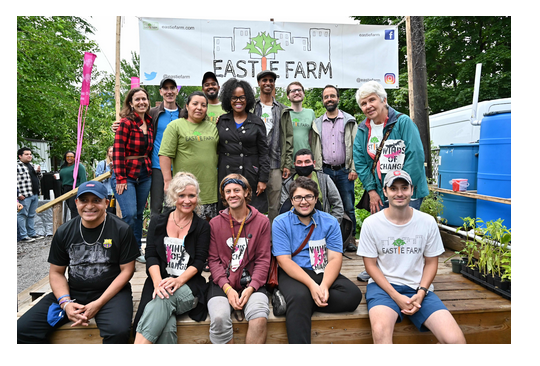 Established in 2015, Eastie Farm is dedicated to pursuing climate justice, improving food access, and fostering community resilience through the development of interactive urban agricultural spaces and environmental education programs. Programming encourages residents of all ages and backgrounds to learn and take part in the production of healthy, locally-grown, and culturally relevant foods.
"Before I got involved with Eastie Farm, like most of my friends, I used to think my life is about my own success," said East Boston resident and Eastie Farm volunteer Salvador Cartagena. "Now, I understand it's about the well-being of my community. A resilient community is critical to the health and safety of every individual in that community, especially the most vulnerable. I want to thank all the partners for helping make this farm a reality for the East Boston community."
Since transforming the vacant lot, Eastie Farm has planted several fruit trees, hosted more than 300 volunteers, donated more than 5,000 pounds of fresh produce, herbs, and fruits to food security organizations in East Boston, and given more than 2,000 seedlings of food-bearing plants, as well as gardening supplies to the community members engaged in gardening. In 2016, they won the City of Boston Greenovate Award for Community Engagement.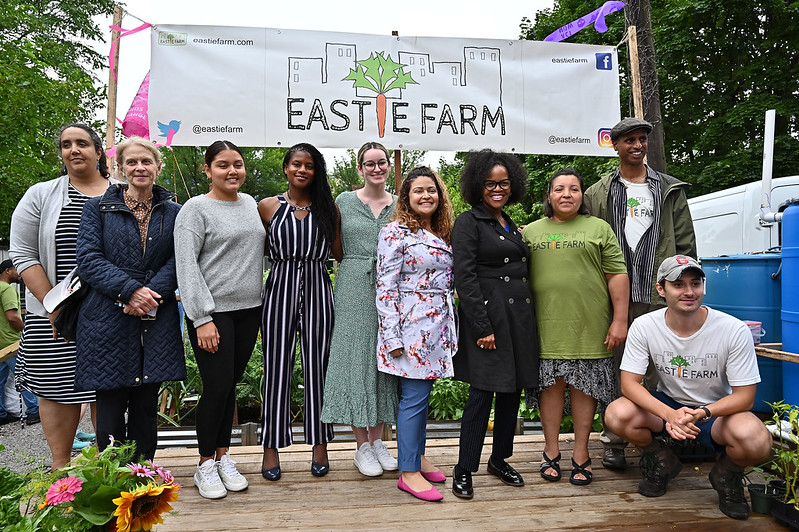 "Eastie Farm has been an incredible partner in helping us live our community values, while also ensuring business sustainability," said the owner of Tawakal Halal Cafe Yahya Noor. "Without Eastie Farm, we would not have gotten through the first part of the crisis before any other form of support became available. Eastie Farm has made us feel welcome in the East Boston family and held our hands in getting integrated. This is a sincere organization, a rare find, more than just a farm, and an asset for families in the community. I want to thank the City of Boston for supporting organizations like Eastie Farm and mom-and-pop businesses like Tawakal Halal Cafe."
In 2020, Eastie Farm received over $300,000 in grant funding through the Boston Resiliency Fund to tackle food insecurity in East Boston and respond to the growing pandemic. With this funding, they spearheaded an effort to provide hot healthy meals for food-insecure individuals in their community. They partnered with local Bon Me restaurant locations, which helped the Eastie Farm team provide over 5,000 meals per week to East Boston and Chinatown residents. Their work with the Boston Resiliency Fund enabled Eastie Farm to buy these meals at cost, helping restaurants stay in business and even paying community members a living wage to deliver these meals. They also partnered with Tawakal Halal Cafe to provide halal meals to the community, stressing that it was important for recipients of these meals to get food that is not only healthy and hot but culturally appropriate.
"Eastie Farm has been an important part of our mutual support network. Eastie Farm addressed the most fundamental need during and after the pandemic: food. Families lost their jobs during the crisis, and are still without a stable income. Eastie Farm has brought food security to more than 1000 families (5000 individuals), delivering prepared food and produce, and supporting the local economy. In addition, by serving as the fiscal sponsor for Mutual Aid Eastie, Eastie Farm has demonstrated how mutual support and solidarity within community individuals and organizations create resilience during a crisis," said Mutual Aid Eastie Coordinator Eny Lovo.
The Department of Neighborhood Development's Grassroots Program provides grant funds and technical assistance to neighborhood groups and non-profits, like the Eastie Farm, Inc., create open space, to organize, develop, own, manage, and maintain community gardens and open space in Boston's neighborhoods. The Grassroots program has awarded millions of dollars to improve and create community gardens, as well as several urban agriculture projects and other open space initiatives. In return for the Grassroots investment, Boston neighborhoods receive improvement and permanent preservation of a community open space along with new amenities.
ABOUT EASTIE FARM
Eastie Farm is dedicated to improving food access, pursuing climate justice, and fostering community resilience through the development of interactive urban agricultural spaces and environmental education programs. Programming encourages residents of all ages and backgrounds to learn and take part in the production of healthy, locally-grown, and culturally- relevant foods. For more information and to become part of the Eastie Farm family, visit eastiefarm.com
ABOUT THE DEPARTMENT OF NEIGHBORHOOD DEVELOPMENT (DND)
The Department of Neighborhood Development is responsible for housing people experiencing homelessness, developing affordable housing, and ensuring that renters and homeowners can find, maintain, and stay in their homes. As part of the ongoing coronavirus response, the Office of Housing Stability is also conducting tenant's rights workshops to educate residents about the eviction moratorium and their rights. The Boston Home Center continues to provide down payment assistance to first-time home buyers and home repairs for seniors and low-income residents. The Supportive Housing Division works with various partners around the city to rapidly house individuals who are experiencing homelessness. For more information, please visit the DND website.
ABOUT THE COMMUNITY PRESERVATION ACT (CPA)
After Boston voters adopted the CPA in November 2016, the City created a Community Preservation Fund. This fund is capitalized primarily by a one percent property tax-based surcharge on residential and business property tax bills that began in July 2017. The City uses this revenue to fund initiatives consistent with statewide CPA guidelines: affordable housing, historic preservation, and open space and public recreation. The funding of any project requires a recommendation from the Community Preservation Committee and appropriation by the City. For more information, please visit the Community Preservation webpage.