(EAST BOSTON, June 6, 2022) East Boston Neighborhood Health Center (EBNHC) is undergoing one of the largest construction projects in the health center's more than 50-year history at its Dr. James Taylor building located at 10 Gove Street in East Boston.
A phased, multi-million-dollar project, the four-floor facility renovation will transform the building's interior to significantly improve patient and staff experience and expand services for the community.
This week marks the completion of the facility's renovated pediatric patient rooms, the first major milestone in the project.
Since its founding, East Boston Neighborhood Health Center has experienced steady growth, expanding primary care and specialty services to meet demand at the 10 Gove Street facility and other locations. East Boston Neighborhood Health Center provides approximately 500,000 visits per year and employs nearly 1,500 employees – more than any other ambulatory care center in New England.
The center has opened several facilities over the past ten years, including sites in Winthrop and Revere, as well as an expanded presence in East Boston.
A new site in Everett will open later this year. After acquiring the South End Community Health Center in 2020, East Boston Neighborhood Health Center expanded services to Boston's South End, Roxbury and Dorchester communities.
In line with the health center's goal to enhance patient and staff experience, the renovation will allow the Taylor building to provide a more welcoming space that supports patient-centered, coordinated care.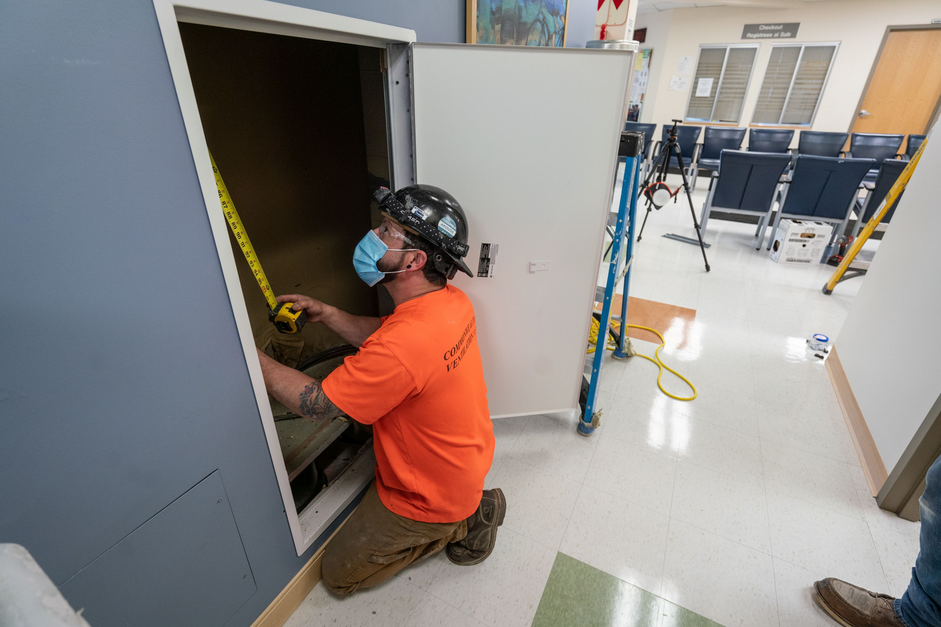 Beginning in November 2021, EBNHC, in partnership with Wise Construction, isgenuity and others, East Boston Neighborhood Health Center began renovating more than 100 exam rooms across Pediatrics and Adult Medicine housed at the 10 Gove building.
Renovation of the Emergency Department is currently underway and will continue through this summer and fall. Diagnostic imaging spaces will be updated with state-of-the-art CT scan technology for patient care and the facility will be modernized with features such as improved internal air filtration and new cooling and heating systems.
During this phase of the renovation process, which is expected to wrap this winter, the Taylor Building will maintain normal hours and the emergency department will remain open 24 hours, seven days a week, to serve the community.
The investments in the Taylor Building are being funded by multiple funding sources, including both health center and state resources, as well as federal resources including an American Rescue Plan (ARPA) Funding for Health Centers grant.
The building is dedicated to and posthumously named for Dr. James Taylor, a community health visionary who served as EBNHC's Chief Medical Officer for four decades until his retirement in 2011.
About East Boston Neighborhood Health Center
The East Boston Neighborhood Health Center (EBNHC) has been a vital part of its community for more than 50 years, providing easily accessible, high-quality health care to all. EBNHC's service area includes East Boston and the surrounding communities of Chelsea, Revere, Everett, Winthrop, and Boston's South End, Roxbury, and Dorchester neighborhoods. For more information, please visit www.ebnhc.org.