BOSTON, Massachusetts – Private First Class Joseph J. Puopolo will be honored with a heroes square in East Boston on Saturday, Nov 19, 2022 at 10:00am. This ceremony will officially name the corner of Bennington St and Putnam Street Joseph J. Puopolo Square.
Puopolo was born on February 2, 1932 and lived in East Boston Massachusetts. Puopolo was 17 years old when he enlisted in the United States Army. Puopolo had the rank of Private First Class. He died as a prisoner of war in February 1951 while serving in the Korean War.
Puopolo was a member of C Battery, 38th Field Artillery Battalion, 2nd Infantry Division Artillery, 8th U.S. Army. He was reported missing in action on December 2, 1950, after his unit attempted to withdraw from Kunu-ri, North Korea, on November 30, 1950 following the Battle of Ch'ongch'on. In 1953, four POWs who returned during Operation Big Switch reported Puopolo had been a prisoner of war and died on February 28, 1951 at Prisoner of War Camp #5.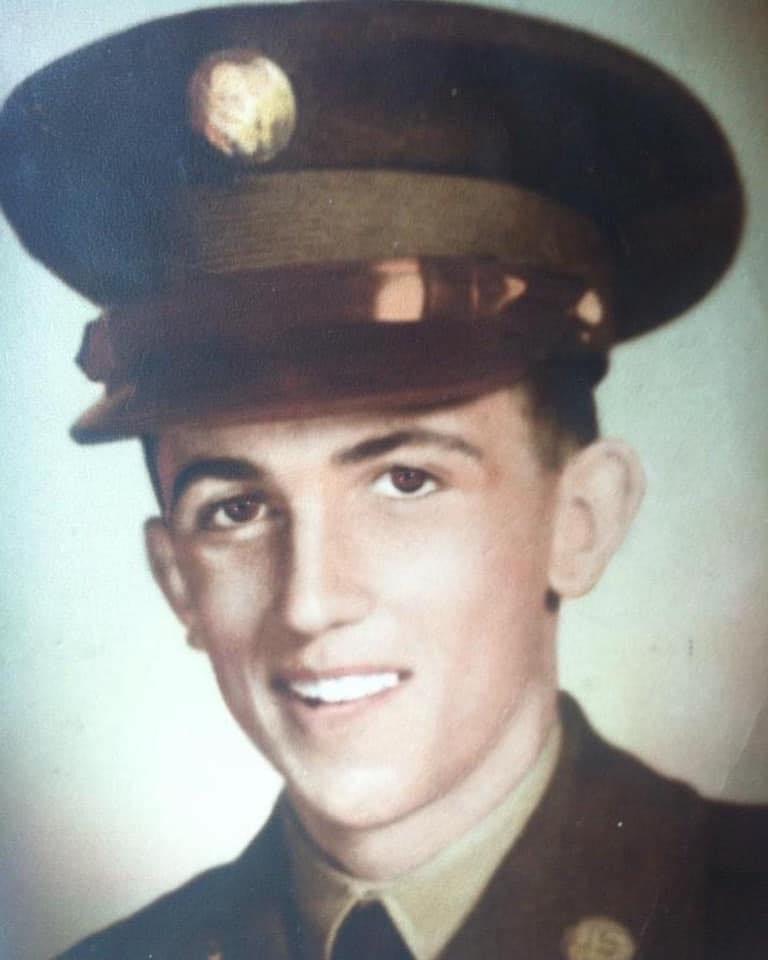 Says Commissioner of Veterans Services Robert Santiago, "We are honored to have the opportunity to remember the life of Corporal Puopolo. Having been missing for more than 70 years, we are thankful that he is finally at rest here at home and his service is recognized by the East Boston community and the City he loved and called home."
Puopolo's identity was recently confirmed by the Department of Defense on August 23, 2022. He was brought home to his family on October 18th and is resting in peace with his mother Anna Puopolo and younger brother Nicholas Puopolo in Holy Cross Cemetery in Malden, MA.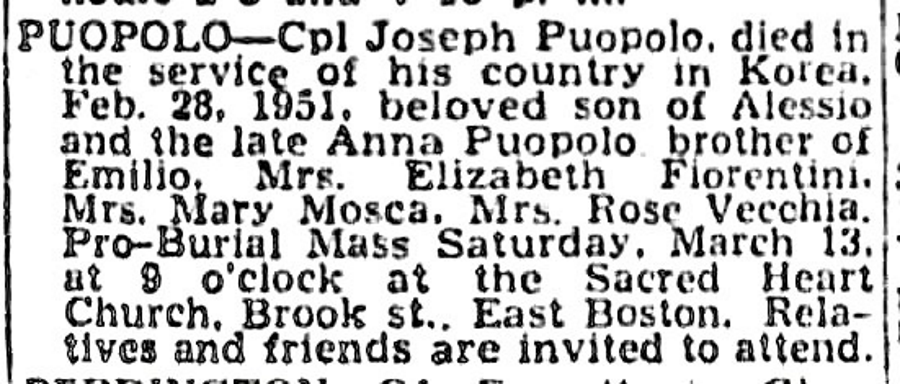 Read Mia Delores Eulogy
I'd like to thank everyone who has joined our family today in celebrating the life of Joseph Puopolo, Butchie to his friends and family, returned to us after 70 years.
I would also like to take a moment to acknowledge and thank my Aunt Roseanne and Uncle Alan as well as my dearly departed Auntie Mary and Auntie Rose. If it were not for their willingness to work towards this result and provide the invaluable DNA samples that would later identify Butchie's remains we would not be sitting here today.
Thank you to Jeff Hyde and Stephen Puopolo for everything you have done for our family these past few weeks. I know we all feel an enormous debt of gratitude to you both for this experience.
My Great Uncle Butchie was the youngest of six children born to Alessio and Anna Puopolo. He would spend the majority of his life at 219 Bennington Street in East Boston, a home which remained in our family til just a few short years ago. Butchie was the baby of the family, youngest brother to Emilio, Elizabeth, Mary, Rose, and Nicholas. As the years passed Butchie's life was a happy one as he was doted on by his three sisters and cherished by his older brother. In his youth he enjoyed going to Wood Island Park with his family where they partook in its beach and lush green lawn. It is believed that Butchie's love of sports began at the park's little league fields. As Butchie grew up it was not at all unique to find him with cap, bat and ball heading down Putnam to Bennington to Breeman then Neptune to spend his afternoon on the diamond. He was mischievous, cool and handsome, and an Eastie kid through and through.
In many of the letters he sent home to his sisters he'd write that receiving the local papers while deployed made him feel like he was back in Boston again. He loved the Red Sox, hated the Yankees and if that didn't make him just like us – I'm not sure what does.
It came as no surprise that Butchie chose a life of service to his country, one inspired by the profound example set by the men in his family. First, his older brother Emilio who served in the US Navy. Two of his brother-in-laws, Frank Vecchia and Frank, Lucky, Mosca also served in the US Navy, and my grandfather, Gene Fiorenini, served in the US Army, stationed in Germany during WW2. Emilio and his wife Eva, and Gene and his wife Elizabeth would each go on to name sons Joseph after Butchie, and while my Uncle Joey Fiorentini passed in childhood, Joseph Puopolo is with us today as a reminder to what Butchie meant to his brother and sisters.
Butchie enlisted in the United States Army in October of 1949, when he was just 17 years old. Like so many young men who enlisted in the late 1940s, he was deployed to Korea to support the UNC-backed South against the KPA, Soviet-backed North. He served as a wireman, responsible for constructing, operating, and maintaining the phone networks among various headquarters. By mid-October, 1950 the United Nations Command was in full pursuit of the Korean People's Army. For many US troops serving at that time, an end was in sight and victory for the UNC and its allies felt imminent. Butchie and his unit, the 38th Field Artillery Battalion, worked in support of those advances to drive them North. Sadly, the circumstances surrounding his loss take us to late November, where he and his unit would be forced from an offensive to defensive position as a result of the PCR and Soviet intervention in support of the KPA.
Here is what I would like you to know about our family's hero, my Great Uncle Butchie. Besieged by the KPA, Joseph Puopolo and his fellow troops destroyed their weapons so as to lighten their loads. They broke into small groups, attempting to evade the KPA by escaping through the treacherous terrain which blanketed their journey through the mountains of Northern Korea. I believe with all my heart that Joseph Puopolo made that journey with the images of his family at the front of his mind. The circumstances of his capture took place sometime in those first few days of December and by the 19th of that month my great-grandfather would receive a telegram from the US Army notifying him that Butchie was considered missing.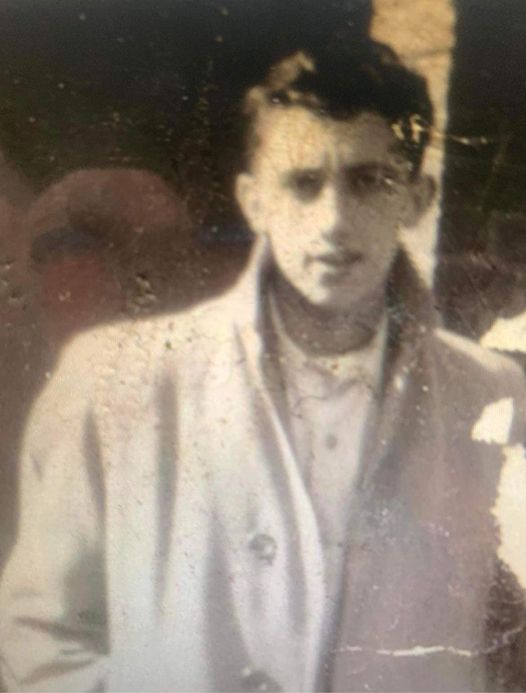 We would come to learn that Butchie would eventually be taken to Camp 5, a US POW Camp held by the KPA where he would live out his remaining days. And while his death brings us no comfort, it is the acts of his fellow POWs that have brought Butchie back to us today. First, in 1953 after Operation Big Switch when four soldiers were able to confirm Butchie's presence and his death while at Camp 5. But moreover, that on his death his fellow troops interred his body in a manner with such integrity that our family was able to receive nearly all of his remains, a miracle in itself after 70 years.
There is a common Italian phrase I'd like to share with you today – la famiglia e tutto. It means that family is everything.
When I think back to East Boston in the 19 years of Butchie's life I think about just that – family, being everything, three sisters, three brothers, and a triple decker on Bennington Street.

Uncle Butchie – thank you for your service and the honor you brought to our family. While it pains us that many of our dearest loved ones are not here to bear witness to your return, we find comfort in knowing you are all together in the arms of the lord. And so, for Mel and Eva, Geno and Betty, Mary and Lucky, Rose and Frank, Pa, Anna, Antonina, Nicky and all of your nieces, nephews and cousins gathered here today – welcome home Uncle Butchie, we are so glad to have you back.