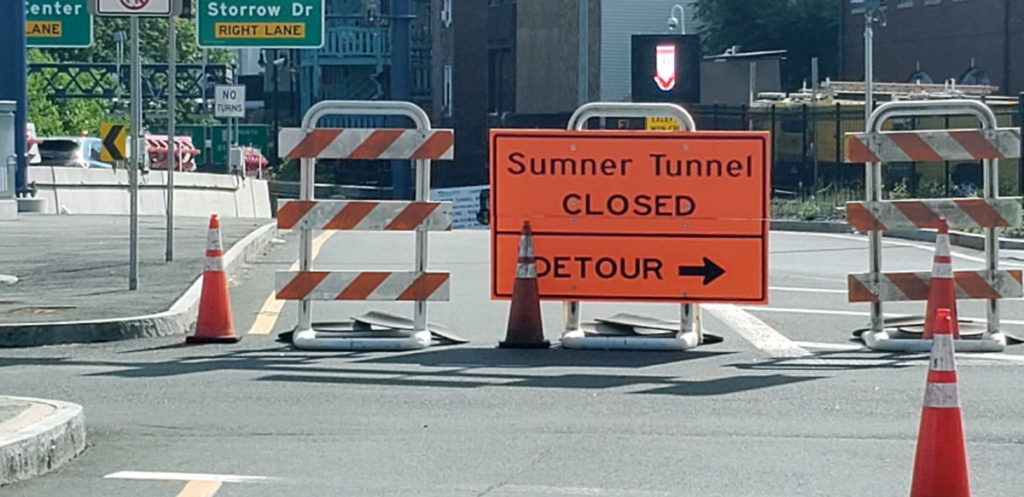 Full Closure Continues through Thursday, 8/31
Tunnel Closed
July 5, 2023 – August 31, 2023
The Sumner Tunnel/Route 1A South will continue to be closed for 8 weeks until Thursday, August 31, 2023.
Travel Tips through the First Full Closure of the Sumner Tunnel
Travelers are encouraged to Ditch the Drive and use alternative means of travel. MassDOT has created a menu of safe, efficient commute options while the tunnel is closed for repairs. Travelers can utilize MassDOT 511 to help review traffic conditions and MBTA's Trip Planner to plan their public transit trips. Additional details on travel options are below:
TRAVEL TO/FROM EAST BOSTON AND NORTH END MBTA Blue Line and Parking
The entire Blue Line in both directions will be fare-free to riders. Gates will be open at all Blue Line stations from Wonderland to Bowdoin.
An additional train will be added to the Blue Line in the midday period to help support more riders riding the line.
All MBTA parking lots and garages on the Blue Line will be reduced to $2/day. Additional free parking is available near Wood Island Station.
For paratransit customers, trips within ¾ of a mile of the Blue Line will also be fare-free to riders.
Visit mbta.com/Sumner for additional information.
Discounted Tolls
Discounted tolls will be provided for the Tobin Bridge and Ted Williams Tunnel for those registered in the Resident Discount Program.
Real Time Traffic monitoring will be available at 13 local intersections.
MBTA East Boston Ferry
The East Boston ferry will be free during the tunnel's closure.
The East Boston ferry service operates between East Boston at Lewis Mall and the downtown Boston area at Long Wharf. East Boston ferry service schedules are available online with all ferry service schedules available at mbta.com/ferry.
Seaport Ferry
Travelers can also use the existing Seaport ferry, which offers service between North Station and the Seaport and East Boston and the Seaport.
TRAVEL TO/FROM THE NORTH SHORE
Commuter Rail and Parking
Zone 1A ($2.40) fares along the entire Newburyport/Rockport Commuter Rail line directly into North Station. Parking at Salem and Swampscott is reduced to just $2 per day. Free parking will be available at all MBTA lots north of Salem, including Beverly, Gloucester, Hamilton/Wenham, Newburyport, North Beverly, Monserrat, Rowley, and West Gloucester.
Blue Line benefits also apply. Travelers are encouraged to consider the Wonderland Station parking lot if coming from the North Shore.
Lynn Ferry
Beginning Monday, June 26, 2023, a new Lynn Ferry will operate five days/week on weekdays only, with 10 trips per day. Schedules are being finalized and will be released as soon as they are available.
During the Sumner Tunnel shutdown, riders may use a Zone 1A fare ($2.40). The Lynn Ferry will operate between the Blossom St. dock in Lynn to Long Wharf, Gate 4, in Boston (near Aquarium).
Free parking at the City of Lynn-owned lot will be available near the Blossom St. dock. Bicycles are allowed on the ferry.
Winthrop Ferry
MBTA will operate Winthrop Ferry service beginning this summer. During the Sumner Tunnel shutdown, riders may use a Zone 1A fare ($2.40).
The route will provide service to Winthrop, Quincy, Logan Airport, Aquarium and Seaport five days a week. Schedules are being finalized and will be released as soon as they are available.
Salem Ferry
Travelers can also utilize the existing Salem ferry. Schedules are available online.
TRAVEL TO/FROM CHELSEA
Five bus routes in Chelsea will be free during the closure: 111/112/114/116/117.
SL3: inbound and outbound will be free at these stops: Airport, Eastern Ave, Box District, Bellingham Square; Chelsea, Silver Line Way.
TRAVEL TO/FROM LOGAN AIRPORT Logan Express
There will be a 25% discount when you buy tickets online, and children under 17 ride free.
Adding additional parking capacity at Braintree Logan Express.
Providing passengers who take water transportation to the airport a "Ticket to Skip" to the front of the line for checkpoint screening.
Added stop at Logan Airport by the Winthrop Ferry.
Silver Line
An extra bus will be added to the SL1schedule between 8 AM – 2 PM to add more service frequency due to increased trip time on the Ted Williams Tunnel.
The SL1 stops at Logan Airport and is always free for commuters traveling from the airport to Boston.
Traveling to and from Logan Airport
Typical driving routes to the airport will remain available for use including the Ted Williams (I-90), for travel in both directions, and the Callahan Tunnel (Rt 1A North), which carries traffic to Logan Airport/East Boston from downtown Boston.
If you're driving from Logan Airport and headed to I-93 North or the North End neighborhood of Boston, a number of signed detours will be in effect during the closure of Sumner Tunnel (Rt 1A South). Follow the links below to view the detour routes and plan your trip.
Logan Airport to Downtown Boston
Travel tips to the North End and Downtown Boston
Signed detour maps for travel to the North End and Downtown Boston can be found here:
East Boston to Downtown Boston
In certain situations, the buildup of traffic exiting Logan Airport can extend out into East Boston. In an effort to minimize traffic backups throughout Logan Airport and on neighborhood streets, MassDOT can make real-time changes to travel lanes in the Ted Williams Tunnel. While these changes do not entirely eliminate congestion, they are implemented in an effort to balance traffic volumes during weekend closures of the Sumner and provide safer driving conditions inside the Ted Williams Tunnel.
Anticipated Activities
July 5 – August 31
During this 8-week closure, MassDOT will be removing the existing suspended tunnel ceiling, installing precast ceiling panels, updating light fixtures, installing new camera systems, and repairing roadway slabs. Work will be taking place continuously, 24/7, throughout the 8-week closure.
Local and Regional Impacts
Mitigation plans for dust, noise, vibration, pest control, and traffic will be in effect during construction.
How can I find more information?
Stay up-to-date and informed by following the @MassDOT Twitter account and Mass 511 for real-time updates, visiting the project website, or emailing us with any questions.
You can also sign up to receive project updates via email by clicking this link.
Project website: mass.gov/sumner-tunnel-restoration-project
Project email: Sumner100@dot.state.ma.us
Construction Hotline: (508) 510-2920