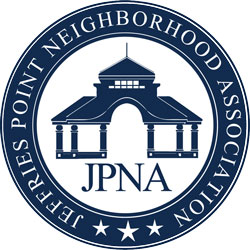 The JPNA P&Z Meeting will be held ONLINE via ZOOM. The registration link is provided in the meeting notice below. If you have any difficulty registering or attending, please contact us at board@jeffriespoint.org.
If you are an abutter within the 300′ radius to a development project and wish to be considered to speak aloud (not via chat), you must register at least 24 hours in advance of the meeting. This is so we may verify your abutter status. Not sure if you're a project abutter? Click here to find out. Thank you!
The JPNA will be recording these meetings and may post the recordings online.
Wednesday, February 16th, 2022; 7 – 8:30 pm
Zoom Video Conference
REGISTRATION REQUIRED! PLEASE CLICK HERE TO REGISTER FOR THIS MEETING.
AGENDA
(subject to change)
230 Everett Street – Second Presentation – Erect a 7 unit residential dwelling with roof decks. Developer: Karina Mejia Represented by: Richard C. Lynds
231 Everett Street – First Presentation – Erect a new residential structure with 4 units and two roof decks on vacant land. Developer: Crespo Group LLC Represented by: Drago + Toscano LLP