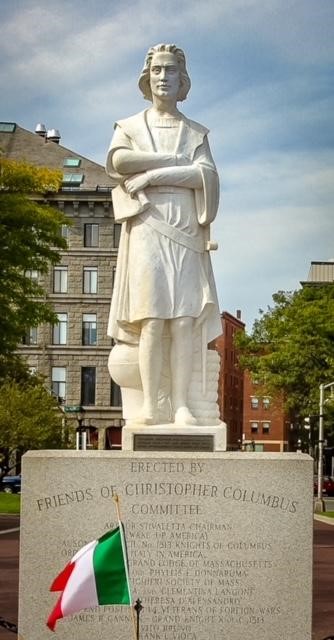 From the Boston Herald:
Wednesday's move — or, more specifically, even the hint that it was coming, after Janey put out her public schedule Tuesday night saying that there would be an event involving an executive order for Indigenous Peoples Day — immediately drew pushback.
Diane Modica, a former city councilor now with the Sons and Daughters of Italy in America, put out a statement decrying "Acting Mayor Janey's erasure of Italian Americans," and saying that while the suffering of Natives should be acknowledged, doing so shouldn't involve taking away a source of pride for the Italians.
At the signing, Modica called out a question: "What about the Italian-Americans?"
A couple of young people in the row of chairs in front of them stood up and stared them down, leading Modica to tell them, "We're not going to do anything violent."
Comments by District 1 City Councilor Lydia Edwards
"City Councilor Lydia Edwards, who represents the North End and the "largest Italian American community" in Boston, criticized Janey's move Wednesday afternoon on Facebook.
"Today's unilateral action by the acting mayor was a surprise to me and I don't believe it encourages the honest, transparent, healing conversation we need," she wrote.
Edwards, who has endorsed City Councilor Michelle Wu in the mayoral race, wrote that "with the right conversation, led by our new elected mayor," the city could find a way to honor both indigenous people and Italian Americans (Janey, who as City Council president replaced Walsh as acting mayor in March, finished fourth in the city's preliminary mayoral election last month and did not advance)."
Battenfeld: Massachusetts pols slink away from Columbus Day
State Senate Candidate Anthony D'Ambrosio's Statement on Mayor Janey's executive order
"Mayor Janey's actions have caused more division and anger in Boston and throughout Massachusetts. I am proud of my Italian immigrant roots. No insider politician's decision will change that.
This could have been done in a way that recognizes the plight of Indigenous people while not offending many Italian Americans.
When will political insiders learn? True leaders unite people, not divide them."
UPDATE: LYDIA FOLDS
From Boston.com
In her post Thursday morning, Edwards clarified that "as a city and as a country, we need an Indigenous People's Day."
"It's a day to acknowledge and address the historic, systemic and ongoing harms towards Indigenous people," she wrote. "More importantly, it's a day to empower people and celebrate Indigenous leaders and heroes. It is also opportunity for learning, healing and truth."
Edwards added that "we need to divorce" the explorer Christopher Columbus — whose legacy and treatment of indigenous people has been increasingly scrutinized — "from the celebration of Italian heritage. Period."