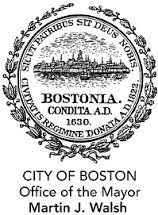 With the appointment of Mayor Marty Walsh to President Joseph Biden's cabinet, the city council is mulling when to hold this year's city election. A hearing will be held at City Hall on Tuesday, January 26.
The following is a statement from District 1 City Councilor Lydia Edwards.
BOSTON – Boston City Councilor Edwards has released the following statement regarding Docket #0155 – An Act Relative to the Office of the Mayor in the City of Boston:
"As chair of the committee that will be hearing this proposal, it is my responsibility to move it forward deliberately and in a way that can't be questioned later. How we plan and conduct this hearing is as important as what we will be discussing during the hearing itself. My goal has always been to have a hearing, review this proposal and have a finished product ready for a council vote in a timely manner.
Before scheduling the hearing, I needed to research our state's conflict of interest laws so that I, as chair, and my colleagues were all clear on any issues with potential conflicts. I have sought guidance from the City Council's staff attorney, the Massachusetts State Ethics Commission and the city's corporation counsel. I also plan to meet with the Secretary of State's office.
I look forward to holding an ethical and transparent hearing on Tuesday at 3pm."
Meanwhile, the Boston Herald explores the legal justifications on any vote to change the election.