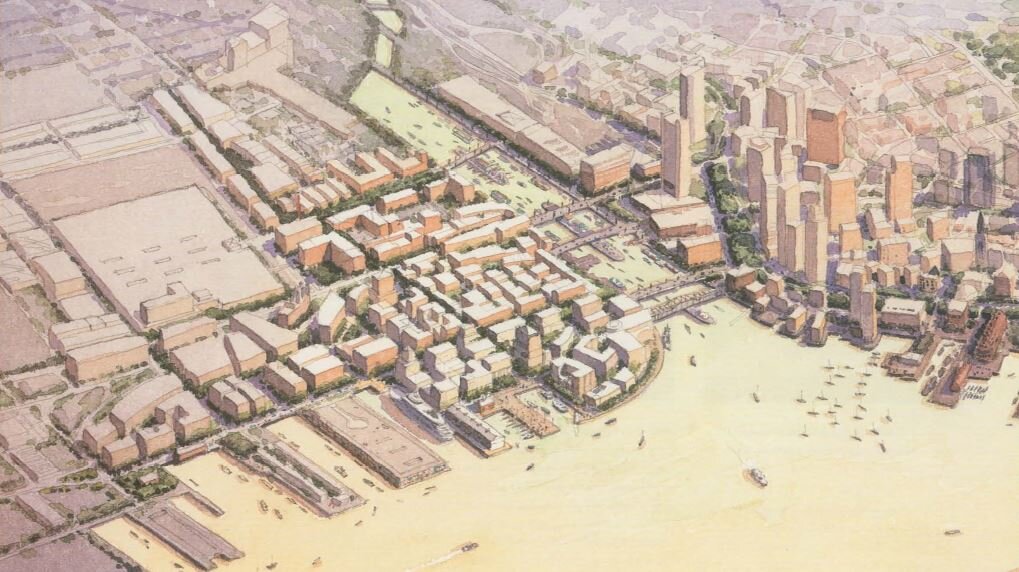 Excerpt:
In East Boston, at the old Suffolk Downs racetrack, another new neighborhood is being planned. The109-acre site—the last major individual land parcel—had the track itself, a grandstand, stables and a parking lot. In addition, it was served by two stops on the Massachusetts Bay Transportation Authority's Blue Line: the eponymous Suffolk Downs and Beachmont. East Boston has historically been a working class neighborhood and many streets are lined with Boston's traditional triple deckers, as well as denser tenement buildings. Once known for its shipyards that built some of the fastest clipper ships ever to sail, today its main feature is Boston's Logan International Airport.
Owned by the developer HYM Investment Group, they have proposed to build a bunch of towers in a park, with modern glass curtain walls, no street grid and too much parking. In addition, 1,430 units of affordable housing will be created, while 40 acres will be left as "green space." Renderings show boxy, separated buildings on individual blocks.
Despite the project's literature committing to concepts like fine-grained, walkable urbanism, it's clear from the design that this is just spin. The large roads, single block buildings and 6,760 parking spaces all suggest a design for cars no amount of green roofs can compensate for.
Read more about Boston development at Strong Towns.